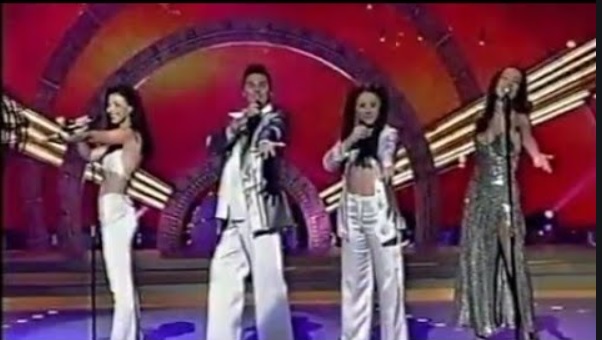 A chaotic national final let to Germany almost missing out on the 1999 Eurovision Song Contest. But in the end, Sürpriz made it to the contest in Jerusalem with a song simply titled 'Reise Nach Jerusalem'. The song finished third, but to many Eurovision fans, that was not deserved.
In the last year of the last millenium, Germany held a national final; Countdown Grand Prix 1999. Among the 11 contestants, there were familiar faces such as Corinna May (Germany 2002), Michael von der Heide (Switzerland 2010), and Wind (Germany 1985, 1987 and 1992). Corinna May won the National Final with her song Hör Den Kindern Einfach Zu. However, on the 16th of March 1999, it was announced that Corinna May's song had been performed in 1997 by another artist, so it was disqualified. Eventually, after this disqualification, group Sürpriz who received the highest televotes after Corinna May started their Reise Nach Jerusalem.
After the national final, the German OGAE fanclub tried to get the song disqualified for being too similar to another Ralph Siegel song; Wo Geht Die Reise Hin. As a result, Germany missed the registration for the Eurovision Song Contest, but EBU went in and decided it wasn't plagiarism, and allowed the country to take part.
In Jerusalem, the group took the stage 21st in the line-up. They performed their ethno -pop song in four languages (German, English, Turkish and Hebrew). The song was written by legendary Ralph Siegel and Bernd Meinunger.
Germany received 140 points and placed third at the 1999 Eurovision Song Contest.
Reise Nach Jerusalem – opinions from fans
In order to find out what Eurovision fans today think of this German entry from 1999, we asked our Eurovision Fan Panel. It includes team members as well as fans from all over the world.
🇩🇰 Charlotte J. – I don't like Turkey's Eurovision entries if they sound too Turkish, and in 1999, it was proven that it has nothing to do with the country, but only the sound. A title in German is not enough to make this German. It's a Turkish entry representing Germany, and unfortunately it doesn't appeal to me. I just heard it again in order to be fair for this opinion, and it's guaranteed that it will be a very long time before I put this on again.
🇹🇷 Gunec G. – This one got me so excited as I was not expecting an entry in my mother tongue from another country. And this was fantastic. The message, the ethnic sound, the melody, different voices, four languages made this a world entry. Thank you guys and gals 🙂
🇩🇪 Pascal W. – I knew this song way before I got into Eurovision. It is not a song I personally would listen to, but I appreciate the oriental elements of the song and the fact that it is about the host city of Eurovision 1999 (also in the title of the song).
🇨🇿 Josef S. – What an unexpected song from Germany. If I should guess the country I would easily go with Israel or Turkey. Even though on a first listen it sounds like a mixture of more songs together, I think that it's general message is what brought it bronze medal from Eurovision 1999. And also, maybe the song was used just because Eurovision 1999 was held in Jerusalem, but it was a clever move from Germany. Not "the best", but I would sum it up as "pretty good and enjoyable".
🇬🇧 Michael O. – Alas not my cup of tea, I was Charlotte all the way in 1999 (Sweden's Eurovision winner) and when I saw this creeping up the score board I was horrified. Normally I like Germany's entries, but this one is a big no from me.
🇸🇪 Sara T. – I only sort of like this song. The singing is fine, and I like the verses, but the song as a whole is too messy. It feels like a jigsaw puzzle where the different pieces don't really go together. Each piece is fine on its own, but they sound strange together.
🇷🇴 Mihai D. 1999 had one of the most unfair and debatable editions. Easy for me to look at it detachedly because my country didn't qualify that year despite a better song than half of the finalists. Germany's 3rd place song was like a bad joke, it sounds like the title says, like a song from a tourist promotion video. A few Middle East melodic inserts, a rhythm that makes you think of Hava Nagila (the faster part) and the contest product was ready. Countries like UK, Denmark, Croatia, France, Ireland, Slovenia, Norway, with much better songs were lower in the rankings. Spain was the last one with only one point.
🇬🇧 🇬🇷 Melanie G. – This has a very ethnic sound not one of my favourites but has seemingly good musicians. Not really my cup of tea as we say in England.
🇩🇪 Andrew G. – This is definitely musical chairs as the title is translated into English. Sung in four languages topped off with ethno pop music. Giving a shout out to all the Turkish population in Germany. This song came second in the German final. Due to the winning entry already been released in 199, Sürpiz got the spot. It's like Ana Sophie in 2015. Always send the winner or start from scratch. Four languages overload the song. And I feel like it's a reload of the group Wind. Maybe one of my least favourite entries from Germany.
🇫🇮 🇨🇴 Alvaro S. – This is a very interesting song specially considering that it was Germany who sent them and that the contest was held in Jerusalem. The multilingual lyrics, the melodies set this multicultural atmosphere that is lovely to listen.
Enjoy Sürpriz's performance from the 1999 Eurovision Song Contest in the embedded video. Below the video, you can read more about them.
Sürpriz – a mini biography
Sürpriz is a group of six that consisted of German – Turkish musicians named Cihan Özden, Deniz Filizmen, Yasemin Jazz Akkar, Filiz Zeyno, Savaş Uçar and Bülent Ural. The group was established specially for the Eurovision Song Contest in 1999 by Cihan Özden. After a disqualification of the winner in the Germany national final, they group got the spot. They placed third with 140 points.
The group failed to reach the charts in Germany, and their self-titled album from 2000 was only released in Turkey. Changes to their line-up was tried, but they were unable to stay together, and in 2002, the band separated. In 2013, Jazz Akkar appeared in The Voice of Germany.