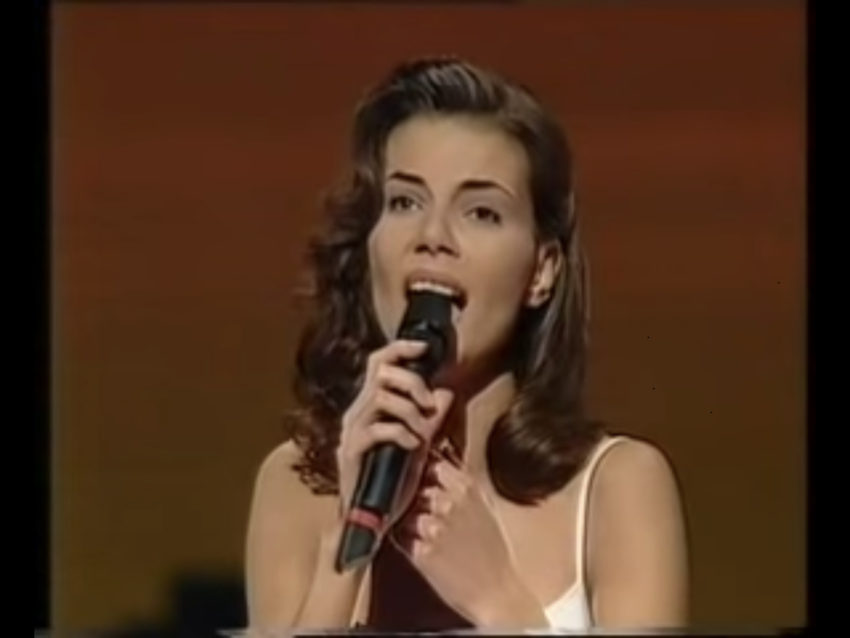 Poland, along with six other countries, made their debut in the Eurovision Song Contest 1994. Edyta Górniak did best with her song, To nie ja!.
In the mid nineties, when Ireland were kings of Eurovision, Eastern European countries began showing an interest in taking part in the contest too.
Polish Television (TVP) were one of the interested parties, and selected Edyta Górniak internally to represent them, with the song,
What a great choice it turned out to be as Edyta, performing second to last, ended up scoring 166 points. She placed 2nd, receiving top marks from United Kingdom, France, Austria, Lithuania and Estonia.
To nie ja! – opinions from fans
In order to find out what Eurovision fans today think of this Polish entry from 1994, we asked our Eurovision Fan Panel. It includes team members as well as fans from all over the world.
Michael O. – not only do I think this is Poland's best ever entry, but I think it's one of Eurovision's best ever too. What a debut, perfectly performed. A touch of class, this really deserved to win the contest.
Frank S. – Yes!!!! One of my absolute favourites of the 1994 Eurovision and definitely in my all time top 10: To Nie Ja!. It seemed to be a quite middle of the road song until that one special moment when Edyta raises her voice to the highest and purest I had ever heard! It was simply breathtaking to hear that woman sing accompanied by the RTE Orchestra and the amazing backing vocals! It was one of the biggest "WOW"-moments ever for me at the ESC and still is. And to be fair: this should have been a big win! And I mean a BIG one! Still love it!!!
Charlotte J. – I am not a part of the big crowd of fans loving this song. Don't get me wrong, it's a fine song and she is vocally strong, but the song just becomes bland to me. I don't feel like skipping it, but it's not one I would put on myself. It scored very well. It might have sneaked into my top 10 but only because 1994 is actually quite a weak year, but no way would it be my second!
Adi S. – Maybe the best debut ever. Such a strong and mesmerising performance. You can see how important this is to her. Even though I do love the Irish song and did not think she was robbed, as many people do.
Alvaro S. – It is a pretty good song and the best result from Poland so far so there must be a reason. Although I liked the Hungarian and French enter better than Gorniak's ballad. It is good but I think it did not age well. Not one of the songs from the 90s that would be in my playlist.
Jill R. – In my opinion 1994 wasn't´t a very good year. I only remember a few of the songs. To nie Ja! is one of them. I like the song but it was Edyta´s beautiful and powerful voice that really made it stand out. It definitely deserved second place, but I don´t think it would have placed quite as high another year.
Enis H. – Never been a fan of this one. I know its a fan favorite but I don't get the hype. I don't know how it got second place tbh.
Gunec G. – Edyta is a real star and I have been a fan of hers since the 90's. She shows her beautiful voice very effectively with To nie ja!. A very good debut for Poland a classic from beautiful and elegant Edyta of Poland ❤
Wouter V. – Please never ever let me listen to this song again… it's pure agony.
You can watch the 1994 performance from Poland below, and read a bit about Edyta after the viewing.
Edyta Górniak – a brief biography
Edyta was born in Ziębice, Poland on November 14th, 1972. She began her career at the age of 18, before being chosen to represent Poland at the Eurovision Song Contest in 1994.
She was the original singer of Perfect Moment which gave Eastenders star Martine McCutcheon, a number one hit single in 1999, and also One And One, an international hit for Robert Miles and Maria Nayler.
Edyta's second, self named album sold half a million copies. After Eurovision her career ascended in Poland, making her one of their biggest pop stars. She eventually released one live album and seven studio albums, the last one, My, made number 4 in the Polish charts.
Edyta has voiced many Disney characters for the Polish release of the movies, and attempted an unsuccessful Eurovision return in 2016. Despite her success, Edyta has also been plagued as being a bit of a controversial artist, with some of her opinions.