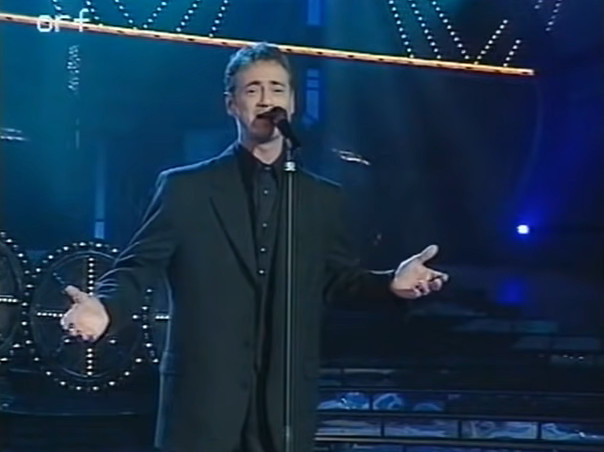 He has been so much involved with the organisation of the Eurovision Song Contest, and the Swedish Melodifestivalen selection, that it's easy to forget that Christer Björkman's own Eurovision journey started on the stage in Malmö, Sweden in 1992 representing his country on home field.
1.544 songs were submitted to Melodifestivalen 1992. The many songwriters and artists all hoped that their song would be selected to represent Sweden at the Eurovision Song Contest that year. A contest that would be held in Malmö, Sweden following Carola's Eurovision victory the year before.
A good mix of well known established names and upcoming new talents took part in the national final; Melodifestivalen which was held on the 14th of March 1992. 10 acts had been selected from the 1.544 submissions. Melodifestivalen veteran and double Eurovision participant (Sweden 1982 and 1985) Kikki Danielsson was among the 10 acts. She finished 5th in the competition that was won by Christer Björkman and his song I Morgon Är En Annan Dag (Tomorrow is another day).
With only 9 points, Christer Björkman and Sweden finished second to last at the Eurovision Song Contest. This happened despite going into the contest as bookmaker favourite. The 9 points came from Denmark and Yugoslavia with 4 points each and then one from France. The song is written by Niklas Strömstedt, known from the Swedish super trio Glenmark, Eriksson, Strömstedt (GES). Niklas himself also recorded I Morgon Är En Annan Dag in 2009. That version can be found on YouTube. Christer himself recorded the song in French too. Björkman's original version did become a hit in Sweden though.
I Morgon Är En Annan Dag – opinions from fans
In order to find out what Eurovision fans today think of this Swedish entry from 1992, we asked our Eurovision Fan Panel. It includes team members as well as fans from all over the world.
🇨🇿 Josef S. – Let's judge this as the other songs, without thinking of Christer having maybe the biggest influence in the Eurovision world. And this song, a usual 90s ballad in Swedish, is really nice, Christer has good vocals and I love the harmonies with his backing vocalists. Even though some would say this is too cheesy, I rather say it's classy.
🇩🇰 Charlotte J. – When you know Christer Björkman for his work at the Eurovision Song Contest, and Melodifestivalen, it's a little strange to see him as a Eurovision participant himself. I remember this from 1992. Back then we of course had no idea which direction Christer would go. But I liked this back then, and I still do. A 22nd place is too hard judged, I think. Though, he didn't exactly look like the most comfortable on that stage, it's a pleasant entry, and I think it deserved a top 10. I admit 1992 was quite a strong year, but in my opinion all three Scandinavian entries were judged too hard that year.
🇬🇷 Kostas C. – One thing is for sure, Sweden didn't want to win again. Maybe not the worst of the night, but nothing to stand out. Quite boring with a very bad and poor stage presentation, even for the 90s. The singer had no charisma and no shine at all. Couldn't imagine scoring higher.
🇬🇧 Michael O. – Despite its slow pace, this is actually quite the sing a long in the chorus. Of course, it was never going to score high, but I rather like this ballad.
🇸🇪 Sara T. – I don't really know what to say about this one. As a Swede, I recognise and appreciate all that Christer Björkman has done for Melodifestivalen, but he's really not a good singer or performer… The song itself is just as bland, despite being written by one of Sweden's greatest songwriters in the 90s. I guess the rest of Europe agrees with me since we received one of our worst results ever with this song.
🇬🇧 Aaron S. – I love Christer Björkman as a producer and presenter, so I really wanted to like his song which represented Sweden in Eurovision 1992, but I think while it was a nice entry it just didn't appear to stand out or be very memorable. That being said, it wasn't too bad for a host entry, and he does have a nice voice, and the Swedish language is always enjoyable.
🇨🇴 🇫🇮 Alvaro S. – The man we love to hate. I am not impressed by his performance. He has a talent putting a show every year at Melodifestivalen and planning the next Swedish victory, but his performance in 1992 was rather dreary.
🇵🇹 Ines M. – A calm and melodic performance. It is a song that fulfils. It's not a jaw-dropping performance, but it's also not bad. It is a good song, which would adapt to Eurovision nowadays easily. The singer is talented and has a good presence on stage.
🇮🇱 Adi S. – One of many off-key songs that sound the same from a bad decade. Not worth the 3 minutes it takes to listen to it.
🇵🇹 Linete A. – I like the song especially because of the instrumental part played by the live orchestra. Christer's voice is good, but not wonderful and the song is pleasant but not very memorable or special. Representing his host country he didn't keep up with the previous year's win by Sweden. I'm actually not surprised that this song came 2nd last in the Eurovision Song Contest 1992.
🇪🇸 Alexander S. – Christer Björkman represented Sweden back in 1992 (and now look at him). I did not remember the song at all. I don't like It … a very dark, hard song that got just 9 points (Denmark, Yugoslavia, France voted for him), a disappointing and very poor position (22nd) one of the lowest for a successful country. A song and a performance not to remember.
Enjoy Christer Björkman's performance from the 1992 Eurovision Song Contest in the embedded video. Below the video, you can read more about him.
Christer Björkman – a mini biography
Singer, television producer and host – and hairdresser with own salon. Swedish Christer Björkman born in August 1957 can add a lot of titles to his CV. He has had an interesting work career so far with a lot of work surrounding the Eurovision Song Contest. But it all started far from that. He is trained as a hairdresser, and from 1980 to 1987, he had his own salon in the city of Borås where he is also born. The city is located 45 minutes drive east from Gothenburg, Sweden's second largest city.
A few singles were released in the mid 1980s, but Christer's big breakthrough came in 1992 when he won Melodifestivalen and as such was selected to represent Sweden at the Eurovision Song Contest. With the song I Morgon Är En Annan Dag, he however finished second to last. That didn't stop Christer Björkman who also took part in the Swedish selections in 1993 and 1999.
Melodifestivalen and the Eurovision Song Contest would however forever be linked to him through his work that started in 2002. He started working for SVT as Supervisor for Melodifestivalen. He went on to be producer, a role, which he is stepping back from after the 2021 edition.
Christer Björkman was first Show Producer for the Eurovision Song Contest in 2013. After that, he took on the role as producer several times – latest for the 2019 edition in Tel Aviv, Israel. That ended quite abruptly for Christer. Just before the final, he was hit by a blood clot in the throat and was hospitalised. He made it in time, but it was a serious warning not to work too much.
Previously, Christer Björkman has also been a part of EBU's Reference Group.