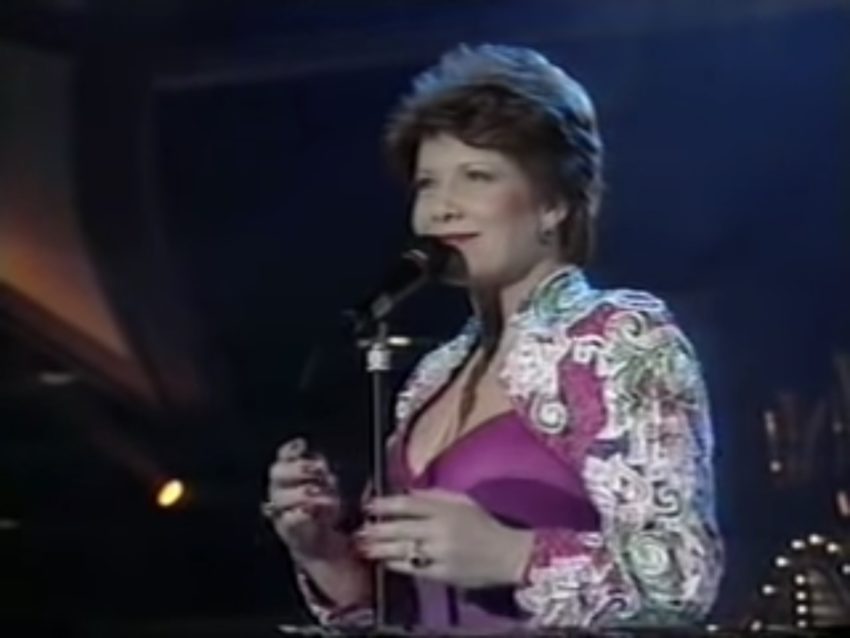 Malta returned to Eurovision in 1991 after a 16-year absence. The Netherlands withdrew allowing a slot to open up for Malta. They did so well, that the eligible countries number was increased to allow them to return in 1992.
Mary Spiteri, on 14 March 1992, was one of 10 competitors in the PBS show to pick Malta's Eurovision entry for that year. Other acts included future entrants Mike Spiteri and Moira Straface, as well as Malta's last entrant from the seventies, Renato.
Each act performed their song in Maltese and English.  Mary won the competition with the song, Tfajjel Ċkejken or Little Child.
Little Child earned 123 points on 9 May 1992, at Eurovision in Malmö, Sweden gaining top marks from Spain, Sweden, Portugal and Luxembourg, earning Malta third place. That meant all the English sung songs finished in the Top 3 with Ireland and United Kingdom taking the top 2 slots.
Little Child – opinions from fans
In order to find out what Eurovision fans think today about the 1992 entry from Malta we asked our Eurovision Fan Panel. It includes team members as well as fans from all over the world.
Christopher D. – What an honour to comment on Mary Spiteri's song. She is the reason why I have turned into an avid Eurovision fan. She was totally robbed that year by the United Kingdom and it still pains me after all these years. The song was perfection in itself for those days of contest and Mary Spiteri is an amazing artist. It still sends shivers through my spine every time I play the song. There is a Maltese version and it is amazing just the same as the English version. Little Child, the true winner of Eurovision 1992.
Michael O. – The lady of many voices from child like simpering to full out belting. This is a real old-fashioned cabaret type song, but I love it. This song is well suited to having an orchestra and Mary performed it perfectly. A forgotten gem.
Vivienne F. – When I hear this song it reminds me of a 1960s song in the style of Shirley Bassey and Cilia Black and also the singer reminds me of those two singers as well as she has a lovely tone to her voice and really belts the song out yet keeps it soft and gentle at the same time. Of course being Irish (maybe) I preferred the Irish song, Why me by Linda Martin. I'm not sure where I would have placed Little Child as there were quite a few great songs that year.
Tina M. – I had actually forgotten about this song from Malta, thanks for reminding me of it. The song Little Child by Mary Spiteri is a very nice and I will say grand song. Mary's great voice is perfect, lifting the song along with the orchestra to a perfect whole. I think this song has something magical about it, and I can easily understand that it got such a nice placement. A song I like. 8/10 points.
Josef S. – Unlike other older Eurovision songs, I already knew Little child. And it is one of my favourite ESC songs from the 90's. I love how the melody is built, how it's sung by Mary and that it includes my favourite key change and a long note at the end as well. Simply perfect. On top of that, I just adore Mary's dress, that combination of colours is just so nice. Nothing to complain about here, sorry.
Andrew G. – I find Eurovision 1992 a very forgettable year. Looking back at all the songs nothing is very memorable. Now to Mary, she reminded me of a Shirley Bassey /Eartha Kitt impersonator. With a Whitney Houston style ballad. No drama no feelings. As a little child I would run away. Sorry, not a highlight in Eurovision history. But I'm sure drag queen's would kill for her dress even today.
Charlotte J. – With many songs, and in particular with ballads, I need to feel the song. And that's exactly my problem with this one; I don't feel it. It doesn't get under my skin and instead leaves me unaffected. It's a fine song and vocally Mary is strong too, but I like the dress more than the song. I can't put my finger on what's wrong, aside from that I am just not feeling it.
Alvaro S. – I like the stage presence of this singer. It sounds elegant and at the same time Mary's voice sounds so sweet almost like the voice of this child she's talking about. She has a remarkable voice that makes this song stand out.
Luke B. – I believe that this still remains one of the best entries from Malta, even to this day. It's a classical ballad sung note perfect by the Maltese diva that oozes so many emotions to the point that makes the listener picturing the lyrics in front of his eyes. Gone are the days of such quality songs, although lately such songs are indeed shining through as Eurovision songs.
Wouter V. – A very strong composition, though unfortunately the song doesn't appeal to me at all.
Mary Spiteri – a brief biography
Mary Spiteri was born in Naxxar, Malta on October 25, 1947. Mary tried to represent Malta at Eurovision when they participated in the seventies. Unfortunately her songs, Who Are You,, Try A Little Love Today and Live For Tomorrow did not make it.
However, as the second entrant for Malta in the nineties, she did very well at Eurovision with Little Child finishing third.
She continued to be a successful cabaret singer back home and tried again for Eurovision in 1995, 1997 and ten years later in 2007, but was unsuccessful on each occasion.
In 2008, she failed to win again with the song If You Believe.
Mary campaigned for the Labour Party in Malta, and after their win gave a concert in celebration. The party are still in power in Malta, but Mary seems to have retired from concert performances since.