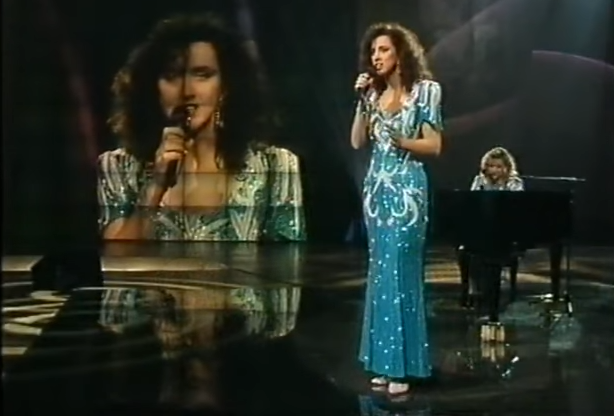 A bitter fight in court became the end for the popular Dutch sister duo Maywood. Before heading to Eurovision in 1990, they were already a well known name. Their Eurovision entry scored below expectations, and also below what some fans think it deserved.

Two February semi-finals with ten songs in each had provided the acts competing to represent the Netherlands at the 1990 Eurovision Song Contest. The national final of Het Nationaal Songfestival consisted of ten acts that didn't know how they had scored in their semi-final, just that they had been among the five qualifiers. On the 10th of March 1990, at Congresgebouw in the Hague, they had their last battle. Sister duo Maywood pulled home the victory ahead of among others Gordon, who would later make it to Eurovision in 2009 as part of De Toppers.
At the Eurovision Song Contest Maywood's Ik Wil Alles Met Je Delen (I want to share everything with you) finished in 15th place out of 22 entries. They managed to gain 25 points from a total of 10 countries with the highest being 6 points from France.
Ik Wil Alles Met Je Delen – opinions from fans
In order to find out what Eurovision fans today think of this Dutch entry from 1990, we asked our Eurovision Fan Panel. It includes team members as well as fans from all over the world.
🇨🇿 Josef Š. – This is something. Really a nice surprise. I love those songs that sounds very mystic, dramatic and has that theatrical sound and/or staging. I love this song even today. It's quite modern even compared to today's music. This was a good choice from the Netherlands.
🇳🇴 Stine F. – 'Elegant' is the word that comes to mind when I listen to this song. The melody is nice and moving, the dress glamorous and the vocals effortless and strong. The Netherlands had deserved a better result than 15th in my opinion.
🇩🇰 Charlotte J. – A powerful entry which deserved so much more. It was in my top 5 in 1990, and I still remember singing this one quite a lot back then – without understanding much of the lyrics, and most likely my Dutch pronunciation was more German. I was 14 years old, and we were a small group of girls, the same age, hooked on Eurovision. Ik Wil Alles Met Je Delen was a hit with me. I still enjoy the song.
🇳🇱 🇩🇰 Wouter V. – I've grown up with Paul de Leeuw's cover version of this song in the background, rather clueless about its original, or it's Eurovision participation. And yet my first pop music cassette tape was Maywood's compilation album "De hits". Anyway, I can't not love Ik Wil Allles Met Je Delen but I don't know if that's because the song is good, or for sentimental reasons.
🇦🇺 Michael R. – I love this song, it has a wonderful build up to the chorus and it maintains the listeners interest the entire way through without feeling too repetitive. 15th? Should've been top 5.
🇺🇸 Grace W. – The song itself is good, but for a "romance" song, the tune is kind of heavy. I've certainly overlooked it in the slew of 80s and 90s songs, and it's one of the Netherlands' underrated entries.
🇵🇹 Linete A. – I like the song and the singer has a lovely voice. Songs with live orchestra are always extra special and I really love that. The song has a great ending and I love the melody. Furthermore, it's completely sung in the Dutch language which is also very important and makes the song genuine.
🇳🇱 Frank S. – The Maywood Sisters had an already established career in the Netherlands (and beyond) when the won the 1990 Dutch National Final with Ik Wil Alles Met Je Delen and I remember that I was quite disappointed when I heard the song for the first time. I mean, the sisters had some great hits and their music and voices were quite recognizable. This for me wasn't outstanding, however, I still love the way the orchestra played this song in Zagreb. It wasn't really my cup of tea and for me not the best possible entry for my home country that year.
🇹🇷 Güneç G. – I discovered this masterpiece early last year. So powerful yet emotional. It's very professionally performed. It's another piece that tells us that "music is not fireworks".
🇨🇴 🇫🇮 Alvaro S. – It was an elegant performance. The song and the interpretation were powerful and the orchestra helped to create this powerful atmosphere through the whole song. Maybe the sound was outdated even for 1990. That would be my explanation on why it ended so low.
🇬🇧 Michael O. – I believe this had been one of the favourites, although I don't know why. A totally dreary number where both sisters looked bored. Nowhere near deserving of top 10 material and ended up where it deserved.
Enjoy Maywood's performance from the 1990 Eurovision Song Contest in the embedded video. Below the video, you can read more about them.
Maywood – a mini biography
The two sisters, Aaltje and Doetje de Vries formed a duo. They each took on a stage name; Aaltje (the blonde) became Alice May and the darkhaired Doetje turned into Caren Wood – and there you have Maywood.
By the time the duo represented the Netherlands at the 1990 Eurovision Song Contest, they were already a well known name in the Netherlands. Furthermore, they had a few hits abroad behind them too. Maywood was active recording from 1978 to 1992. Their 1980 release Late At Night not only hit the charts in the Netherlands where it topped the charts, but also abroad. In Sweden, f.ex. it reached #11. Their follow up, Give Me Back My Love went #2 in South Africa.
Success after success followed for some years – until it ended fairly bad with the sisters fighting against each other in court. They disagreed on who had the rights to use the name Maywood. The court awarded Alice the sole rights to the name in 1995, something which Caren had a hard time accepting causing yet another clash in court four years later. But the name belonged to Alice who could go on with other artists using the name Maywood.
In 2013, the two sisters shortly re-united for a series of Gerard Joling (the Netherlands 1988) concerts.