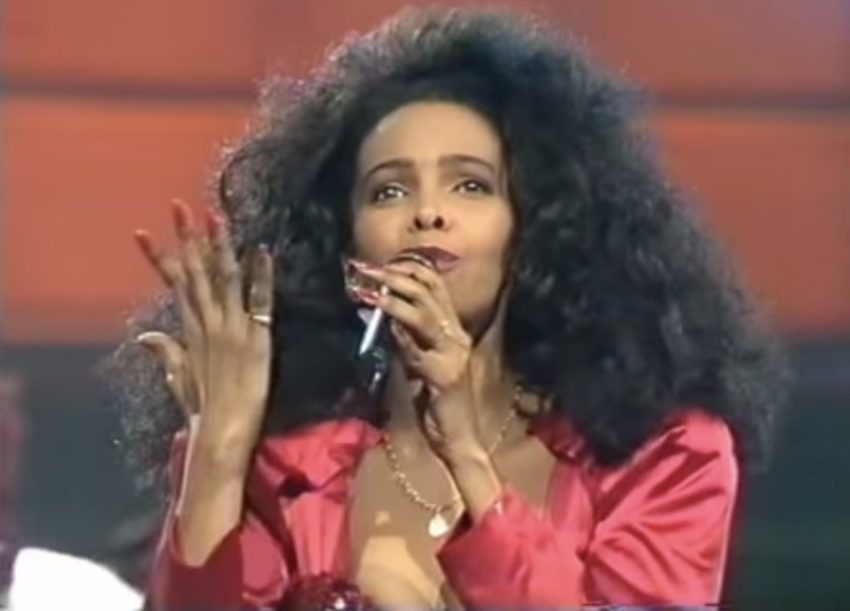 A new decade, and having not won Eurovision since 1977, France thought it was time to raise the bar in 1990, with the internal selection of Joëlle Ursull, to represent them.
A track from her album, Black French was internally chosen by television channel, Antenne 2 to represent France at the Eurovision Song Contest 1990.
Written by Serge Gainsbourg and Georges Augier de Moussac, the song was originally titled, Black Lolita Blues, but Joëlle balked at the title and requested it be changed.
Joëlle Ursull performed 14th on 5 May 1990 in Zagreb, Yugoslavia, and received 132 points, including maximum from The Netherlands, Iceland, Norway, Switzerland, Yugoslavia and Finland.
She finished in 2nd place. The song also finished in second place in the French charts, ironically kept of the top, by her old group, Zouk Machine.
White And Black Blues – opinions from fans
In order to find out what Eurovision fans today think of this French entry from 1990, we asked our Eurovision Fan Panel. It includes team members as well as fans from all over the world.
Michael O. –  As seen on the preview video, the song was described as not too exciting. However on the evening of Eurovision, this was the stand out, and I believe deserved to win. After seeing the visual presentation, I heard it better and still love it to this day.
Pascal W. – I did not enjoy watching this. I don't exactly know why, but it just didn't really entertain me. Doesn't really stand out and seems a bit ditsy.
Alvaro S. – This French song would have made a worthy winner. I actually think a French victory with a song that showed a part of the European culture that at the time was mostly ignored would have had a bigger impact that the Swedish winner. And apart from the meaning that this victory would have brought the song is good.
Eric O. – I don't really like this song, especially the 'live' instrument performance, which looks very fake. Though it's an interesting composition of French lyrics with English chorus, it just doesn't seem to have a wow factor for me. And I don't understand why they ended in shared 2nd place, while Spain's Azucar Moreno ended 5th, which was a much better song and more powerful performance. Anyway, not my cup of tea.
Charlotte J. – I do know that many fans love this one, but I am not one of them. To me, it's a plain annoying song which I can't relate to at all. How on earth did this come second tied with Liam Reilly's beautiful Somewhere In Europe? And how could it beat entries like those from Iceland, Yugoslavia, Cyprus, Netherlands, Sweden, Portugal and not the least Norway?? 1990 was a very strong year. I don't get Spain finishing 5th either…
Egemen O. – I had been aware of this nice song (written by legendary Serge Gainsbourg) but I didn't remember the lyrics. And to be fair, I didn't expect it to be an anti-racist song of which the message is the equality of people from all colours. Plus, the Caribbean tune makes it more catchy. On the other hand, there are 2 things to mention. First, her dress is awful. Second, in the chorus, she says: "Africa my love, I have got you on my skin." whereas she is actually from Guadeloupe (a French overseas territory in the Caribbean).
Josef S. – This is just weird. I didn't know this song before, so I wasn't aware of what to expect from this. And I don't know why, but I just don't like it. It looks and sounds like a wrong combination of style, genre and artist. Or maybe it's just me who doesn't get it and therefore the mistake is not in the song nor artist, but me.
Linete A. – Very interesting song for those times! I love the orchestra and especially the drums. The dancing was a bit weird and the singers voice and English pronunciation weren't very good. The overall vibe of the song is quite nice, although I don't like the dancers and her voice. The song is overall quite different and very catchy.
Enjoy Joëlle Ursull's performance from the 1990 Eurovision Song Contest in the embedded video. Below the video, you can read more about her.
Joëlle Ursull – a mini biography
Joëlle Ursull, was born on 9 November, 1960 in Pointe-à-Pitre, the capital of Guadeloupe. She won the Miss Guadeloupe contest when she was 18 years old.
As well as being a model, she joined the all female trio, Zouk Machine, releasing the album and single, Sové Lanmou.
After leaving the group, she released the album, Miyel, pursuing a solo career, which led to her representing France in the 1990 contest with White and Black Blues.
Her album Black French featured her Eurovision song, and was a minor success in several European countries.
Although she released two more albums, and the single, Babydo in 2003, Joelle decided to wind down her singing career, after giving birth to her two daughters.