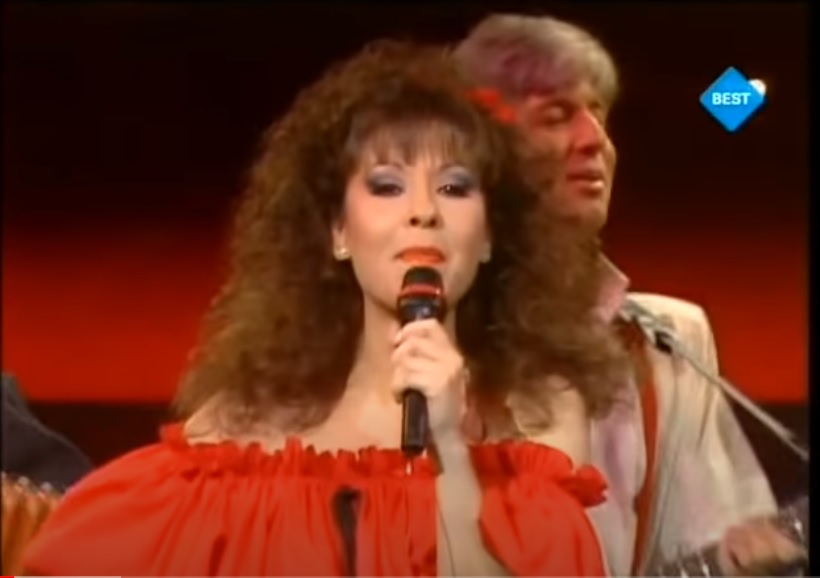 Israel had already proven their success in the Eurovision Song Contest, when Yardena Arazi returned to the contest to represent her country in 1988 with the song 'Ben Adam'. Today, this song is still enjoyed by Eurovision Song Contest.

Yardena Arazi, the member of the group Chocolate, Menta, Mastik, that represented Israel in 1976 and one of the hosts of the 1979 Eurovision Song Contest, was selected internally to represent Israel by IBA (Israeli Broadcasting Authority) in the Eurovision Song Contest in 1988. She was very popular in Israel at the time. Kdam (the National Final) took place at the IBA studios in Jerusalem on the 27th of March 1988 and was hosted by Rivka Michaeli.
Yardena Arazi performed four songs. The four member jury selected the mid-tempo, ethno-pop piece Ben Adam to take the stage in Dublin.
In Dublin, on the 30th of April 1988, Yardena Arazi took the stage 8th in line and performed her song in her black and red costume. She received 85 points and was placed 7th after Yugoslavia.
Ben Adam – opinions from fans
In order to find out what Eurovision fans today think of this Israeli entry from 1988, we asked our Eurovision Fan Panel. It includes team members as well as fans from all over the world.
🇩🇰 Charlotte J. – This is interesting. I really love the chorus, but the verses are a bit too weak for my taste. The fast part is also a bit lost on me. I don't directly dislike the song, it's fine background music, but not one I would choose to play myself.
🇲🇹 Christopher D. – Giving feedback on these early songs of Eurovision is making me aware of amazing songs that I have never heard before. This song is really catchy and although an entry of 1988, it really sounds a contemporary Baltic Eurovision entry. I especially enjoyed the last part of the song. And kudos to the singer.
🇩🇰 🇳🇱 Wouter V. – Such a cosy, middle eastern sound. To me, it's not the best in its kind, but I totally enjoy this, and I can't stop smiling and dancing to it. Back in my folk dancing days I always enjoyed dancing to songs that would, ever so slowly, speed up at the end. It's so much fun trying to be among the last to give up, and trying not to fall. Ben Adam does this too, so kudos for that, but unfortunately it gets hit by the 3-minute rule here, and it doesn't have the time to do this properly.
🇹🇷 Gunec G. – Very classy, elegant, sexy and ethnic. Gives me nice nostalgic feelings. Yardena is a real showgirl. She is said to be a superstitious lady. She was told by an astrologist she consulted before the contest that the 9th in line in the Eurovision Song Contest will win in Dublin. Israel picked the 9th position and Yardena agreed to represent Israel. And when Cyprus withdrew, Israel moved to 8th place to take the stage and Switzerland which moved to 9th place won the competition.
🇬🇧 🇹🇭 John E. – This song couldn't be anything other than Israeli, but I found it to be rather old-fashioned, and I much preferred her earlier entry Emor Shalom with Chocolate, Mentor, Mastik. I also remember her being a contest host. Carefully choreographed, I found the song pleasant but unremarkable, and it did better than I expected.
🇬🇧 Michael O. – This was a good entry but was so much like many Israeli entries. I thought they were all going to collapse at the end with the pace of the song. Unfortunately it was nowhere near as good as Switzerland, Luxembourg or Norway, but it received a fair placing.
🇮🇪 🇦🇺 Vivienne F. – I like the beginning of it with the mandolin, I think it is, and I like the rest of the instruments. At times, it reminds me of Fiddler on the Roof as it gets faster and faster, which I enjoy. When it was slow, it was a little boring but as it speeded up I enjoyed it more. When she goes low, it reminds me of Marlene Dietrich. A nice song.
🇵🇹 Linete A. – Very pleasant and nice song from Israel. Love the melody, performance and costumes. Yardena has a beautiful voice, and you could see that she gave everything on stage! Love the orchestra and the way the song builds up in the end. Great entry from Israel and deserved a better position.
🇬🇧 🇬🇷 Melanie G. – Love love love has total nostalgic memories. This is good and how I feel a country should represent themselves. It has tradition and I love the orchestra. Not to everyone's taste but for me, I love it. Great production all round … Bravo Israel 1988
🇩🇰 Tina M. – Now the trip comes to Israel in 1988. Another Eurovision contribution which has slipped into oblivion with me. For me, this contribution is a spoonful of Balkan music – and I must honestly admit that I'm not impressed – maybe that's why I totally forgot the song. However, the vocals are incredibly strong and confident, but it does not outweigh the monotonous and boring music. I will give it 3/10 and my points go to the vocals. Not a song I like.
Enjoy Yardena Arazi's performance from the 1988 Eurovision Song Contest in the embedded video. Below the video, you can read more about her.
Yardena Arazi – a mini biography
Yardena Finebaum (aka. Yardena Arazi) was born on the 25th of February 1951 on kibbutz Kabri, Israel. At the age of 16, she joined the group Beit Rotschild as the lead vocal. In the 70s, she was a member of the girl trio Chocolate, Menta, Mastik with whom she represented Israel in the Eurovision Song Contest in 1976 with the song Emor Shalom. The trio toured the world and released many singles in English, French and German. They also appeared on TV shows in various European channels. In 1979, Yardena co-hosted the Eurovision Song Contest along with Daniel Pe'er in Jerusalem. After the 1979 contest, she appeared on Dutch TV with the victorious Israeli group Milk and Honey.
The 80s was the golden decade for Yardena. She toured Poland with the Israel Philarmonic Orchestra conducted by the legendary Zubin Mehta. She also toured Australia, Turkey, the United States and Egypt. She took part in Kdam (the Israeli National Final) as a singer in 1982,1983 and 1985 and as co-host in 1987. In 1988, she won Kdam and represented Israel in Dublin – Ireland.
After Eurovision, she released many singles and albums. Since 1997, she has been in the TV business hosting different TV shows.
She was announced the most popular Israeli singer of all time during the celebrations of the 60th anniversary of the Independence Day.