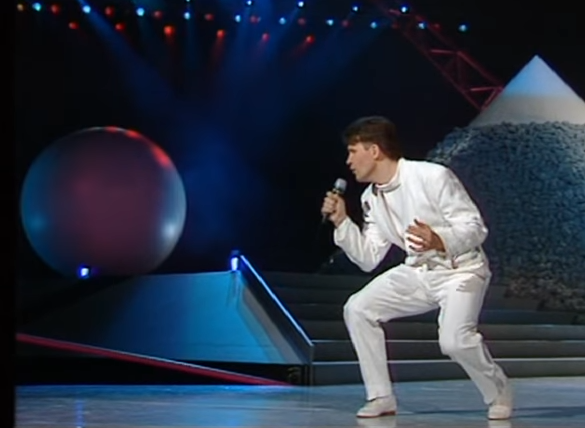 Johnny Logan's second Eurovision in 1987 proved that he is here to stay. Today, 33 years later, he is still going strong with a solid fan base following him. 'Hold Me Now' is a Eurovision classic still loved and enjoyed by many fans.
The 1987 Eurovision Song Contest was a strong one of its kind. Several songs had potential to win, and the year did provide more than just one considered a classic. Who doesn't remember Umberto Tozzi & Raf's Gente De Mare representing Italy? In most other years, it could have won. In 1987, it finished third.
Johnny Logan came to Eurovision for the second time after winning the Irish national final on the 8th of March 1987. He was up against eight other acts, among those Charlie McGettigan who would later go on to win the Eurovision Song Contest in 1994.
At the 1987 Eurovision Song Contest, the Irish win was secured by the maximum 12 points from 8 nations and another three awarding Johnny Logan with their 10 points. Two countries, Iceland and Greece did not have any points for Ireland which finished with a total of 172 points. Germany came second with 141 points.
Hold Me Now – opinions from fans
In order to find out what Eurovision fans today think of this Irish entry from 1987, we asked our Eurovision Fan Panel. It includes team members as well as fans from all over the world.
🇩🇪 Andrew G. – Hold Me Now bring back memories of my first love. We met and separated with Johnny Logan's beautiful ballad in the period of one year. His entry will always be very personal to me. You can feel the hurt he is going through in his performance on stage in Brussels. The passion in his voice is so heartfelt. His song is hands down the best of the evening. And for me one of the best in 80s Eurovision history.
🇩🇰 Charlotte J. – Does it get more perfect than this? Not in my opinion. This is one of three Eurovision entries, which I love equally and consider my favourites. His 1980 entry is one of the other two. But back to 1987. This is fantastic. Johnny Logan of course is vocally spot on, he performs the song with this lovely mix of being vulnerable and fragile, yet extremely secure. I am drawn into it, I am feeling it, and when it ends, I just want to give the man a big hug. Hold Me Now is perfection, in my eyes.
🇬🇧 Michael O. – Well it would be churlish to criticise this song, but this second win,elevated mr Logan way above his station, such that he thinks if he isn't involved Ireland won't win again. It's an ok ballad but doesn't come close to Italy's Gente Di Mare, another time Italy were robbed.
🇮🇪 John D. – This very popular winner was to me initially too good to be true. So much so that I didn't think it would win. It reminded me a little of Dolly Parton's I will always love you and that was enough for me to think the juries might go for something else. That something else was for me Gente Di Mare from Italy which remains an all time favourite of mine. Johnny on the night however gave a stellar performance and won easily. His charisma, experience and the orchestra were vital ingredients.
🇳🇴 Stine F. – Johnny Logan! A living legend! I simply love this song and can't get enough of it. It is one of those gems that has kept on living, even outside of the Eurovision universe. Being born in 1981, this is probably my first Eurovision-memory, and what a great memory it is.
🇨🇴 🇫🇮 Alvaro S. – Hold Me Now is the best of the two winning song from the Eurovision king himself, Johnny Logan. I love the stage presence of this young Johnny Logan, the way he looks to the camera with decision and passion as he sings. The chorus of the song is so powerful and unforgettable that as part of the audience (in retrospective) you just follow the music. A strong ballad that still to this date thrills me.
🇬🇧 Ashleigh K. – This is one of those songs that all Eurovision fans recognise whether they were born before or after it won the contest. I don't like these types of ballads really, so this song is a bit lost on me…
🇸🇪 Jill R. – Johnny Logan embodies the Eurovision Song Contest for me and Hold Me Now is an iconic song that I will never forget. It will always be a happy memory from my childhood. At the time I spent a lot of time rewinding my tape recorder to listen to it over and over again and to write down the lyrics. I still like the song a lot and I'm particularly fond of the softer parts in the beginning and end of the song. It really deserved to win in 1987. But maybe I have heard it too many times or maybe it is somewhat dated by now since I am getting a bit tired of hearing it.
🇬🇧 Paul G. – Well what I can I say about Ireland's entry in 1987? It was a ballad, it was brilliant, it was Johnny Logan and it won. In my opinion one of the Top 10 best winners of all time!
Enjoy Johnny Logan's performance from the 1987 Eurovision Song Contest in the embedded video. Below the video, you can read more about him.
Johnny Logan – a mini biography
Seán Patrick Michael Sherrard, who would later take the stage name Johnny Logan is born in May 1954 in Australia. His father, Irish tenor Patrick O'Hagan was living in Australia back then. When Seán was three, the family moved to Ireland.
Johnny Logan released his first album In London in 1979, where he also first set his eyes on the Eurovision Song Contest. With the song Angie, he finished third in the Irish national final. The following year, he returned, and won – both the Irish selection and the Eurovision Song Contest. He would move on to achieve two more wins; in 1987 and 1992, the latter as composer for Linda Martin.
More than 20 albums later, Johnny Logan, or the King of Eurovision, as fans and media like to refer to him as, is still going strong. The past 15 years his success mainly brings him to the Scandinavian countries, Germany and the Netherlands. In those countries, he still have a large committed fan base.
5 national final and Eurovision appearance by Johnny Logan
1979: Johnny Logan performed the song Angie, which came in as third in the Irish national final
1980: Johnny Logan won first the the national final and later on also the Eurovision Song Contest with song What's Another Year
1984: Johnny Logan composed Terminal 3, with which Linda Martin finished in 2nd place at the Eurovision Song Contest
1987: Johnny Logan won the Eurovision Song Contest for the second time as Hold Me Now took Europe by storm.
1992: Johnny Logan achieved his third Eurovision victory as Linda Martin won with his composition Why Me.