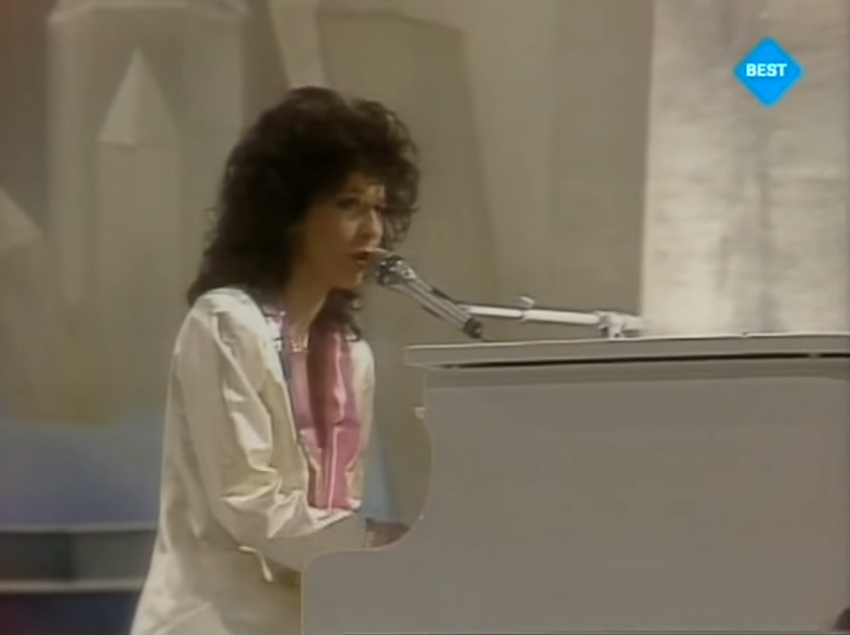 The first ever winning country of our beloved contest Switzerland has two victories with 33 years apart. They were really close to another victory in 1986 with 'Pas Pour Moi' sung by Daniela Simmons.
The Swiss national final to select their entry for the Eurovision Song Contest in 1986 in Bergen took place on the 25th of January 1986 in Schweizer Radio DRS Studios in Zurich. The event was hosted by Paola Del Medico, Switzerland's representative in 1969 and 1981.
Nine entries competed on the night of the national final. The songs represented French, Italian and German cantons equally with three songs in each languages. The five juries consisted of: One jury from each canton, one jury of journalists and one jury of music experts. Eventually, Daniela Simmons' Pas Pour Moi composed by Atilla Şereftuğ and written by Nella Martinetti won the honour to represent Switzerland in Bergen.
At the Eurovision Song Contest in Bergen, Simmons took the stage 10th in line, playing a white piano in her pink and white outfit. At the end of the night, she received 140 points and brought the 2nd place to her country.
Pas Pour Moi – opinions from fans
In order to find out what Eurovision fans today think of this Swiss entry from 1986, we asked our Eurovision Fan Panel. It includes team members as well as fans from all over the world.
🇩🇰 Charlotte C. – I like the music a lot, and in particular the piano play. I am however not a fan of her voice. The performance is a bit too static too for my taste. All in all, I am a bit mixed with this one. 1986 is a contest I know very well, but this is not one of my favourites from that year.
🇬🇧 Michael O. – A pleasant enough entry but don't think it deserved second place, I felt Luxembourg and Yugoslavia were way better. But it's not horrible and it's confidently sung.
🇹🇷 Gunec G. – This one has a special place for me as the composer and the conductor of the entry is the Turkish musician Atilla Şereftuğ whose song, Ne Partez Pas Sons Moi by the legendary Celine Dion, won for Switzerland only two years later. The gorgeous Daniela looked like in a fairy tale with her white outfit playing a whole white piano. The song is catchy and memorable.
🇨🇿 Josef S. – Piano is really an iconic prop to use on stage, it is today and obviously was even back in the 80's. Switzerland got great entries back then and Pas Pour Moi is not an exception. A typical French ballad, which is well sung. That was a combination that paid out in 1986 but today, it would not be enough. The performance is maybe a little bit boring and sterile (taking into consideration their white clothes) but overall it's a good song.
🇦🇺 Michael R. – Switzerland has had its ups and downs at Eurovision but during the 80's they were at the top of their game. Pas Pour Moi is a jazzy little number that's performed well and instantly grabs your attention. I think it's a great song and certainly deserved its place
🇳🇱 🇩🇰 Wouter W. – No thanks. This song represents pretty much everything I dislike about a certain segment of songs from the 1980's.
🇩🇪 Andrew G. – A deserved 2nd place. In a year with a lot of forgettable songs. I'm in love with Daniela's voice. A true 80s Chanson. And keeping the camera on her for the performance was a wise choice. And the band at the end showing their appreciation. Classy move. And she, like many others, kept to the outfit colour of the year pink and white. Enjoyed watching this entry again.
🇨🇴 🇫🇮 Alvaro S. – I am surprised this song is from the 80s. 1986 so two years before I was even born. I like the rhythm of the verses and how in some parts it sounds so classic and elegant while in some others when she is singing at a more rapid pace it gives it a more 'modern' tone to the song. The result is very impressive.
🇭🇺 Vangelis M. – Switzerland in 1986 for me was a song that was better than the winning one. Still not my cup of tea but it's an okay average song. The clothes are too white and it reminds me of a marriage ceremony. Also the singer looks like Sakis Rouvas.
Enjoy Daniela Simmons' performance from the 1986 Eurovision Song Contest in the embedded video. Below the video, you can read more about her.
Daniela Simmons – a mini biography
Daniela Borusso-Şereftuğ, aka Daniela Simmons, is a Swiss jazz singer born on the 9th of December 1959. She is the 1986 Swiss representative in the Eurovision Song Contest. Simmons also attempted to attend Eurovision in 1983, 1985 and 1991. She worked with stars like Jeane Manson (France 1979), Richard Clayderman, Patricia Kaas (France 2009), David Knopfler, Al Jarreau, Enrico Ruggieri (Italy 1993), Toto Cotugno (winner for Italy 1990), and Loredana Berte. Her style can be considered as pop-jazz.
She has released many albums and singles throughout her career. She is married to the composer and orchestra conductor of Pas Pour Moi, the Turkish musician Atilla Şereftuğ. Atilla Şereftuğ is also known as the composer of the winning song of 1988 Ne Partez Pas Sans Moi.