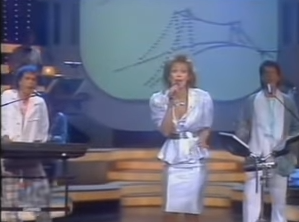 Squeezed in between two second places, Germany's 1986 entry can easily be overlooked in their list of entries as it 'only' finished 8th. Most. Nice enough to listen to, but unfortunately Eurovision fans nowadays find it quite forgettable.
Ein Lied Für Bergen (A song for Bergen) was Germany's national final. In 1986, 12 songs took part. A 500 people jury voted in the format of awarding each song between 1 and 12 points. The maximum number of points a song could get would therefore be 6000. Ingrid Peters won with 4236 points. In second place came the 1979 Germany participants Dschinghis Khan that achieved 4088 points.
Ingrid Peters and her Über Die Brücke Geh'n (Walking over the bridge), which is written by Hans Blum, finished 8th at the Eurovision Song Contest. This consisted of 12 points from United Kingdom, 8 from Austria, Ireland and Luxembourg, 7 from Belgium and Denmark, 5 from Sweden, 4 from Portugal, 2 from Finland and finally, but not least, 1 point from Yugoslavia.
Über Die Brücke Geh'n – opinions from fans
In order to find out what Eurovision fans today think of this German entry from 1986, we asked our Eurovision Fan Panel. It includes team members as well as fans from all over the world.
🇩🇰 Charlotte J. – I have been listening to this tune A LOT in 1986, and the following years. In the beginning without hearing the original version, and without knowing it was a Eurovision entry. That knowledge came to me later. The version I first got to love was Kirsten & Søren (Hoteyes)'s Danish cover version Væk Mig Om Tusind' År. I was 10 years old and fan of that duo – and loved that song, without knowing of any German origin. When I noticed Ingrid Peters version, I liked that too. It's a lovely song and one of Germany's better entries, but for me the Danish version, will always be the one, I love the most.
🇬🇧 Michael O. – This couldn't be anything but a German entry with its Teutonic feel, but I like it, no gimmicks just a well sung song of its age. Ingrid looked as if she kept her boy backing band well under control. Don't mess with this lady.
🇵🇱 🇯🇪 Pawel J. – Very typical 80's number. I would describe it as a nice and easy to listen to, but not really "going anywhere" song. I don't dislike it – just doesn't wow me. I've found it too average and unfortunately very forgettable- one of my least favourite German entries.
🇩🇪 Pascal W. – I don't know why, but even though I am from Germany, I don't like most of the songs that are in German. The same goes for this song. Her voice is great, but the song simply doesn't do anything for me.
🇨🇴 🇫🇮 Alvaro S. – Usually Germany does not receive the results it deserves in Eurovision. In this case, the melody is quite peaceful and so seems Ingrid Peters when she performed in 1986. I am not sure if this is the norm but being a song about crossing the bridge, the performance seems so far away from the audience and that is the only negative aspect that I would highlight. More interactions with the camera would have helped to convey the message. As it was performed, it seemed to me that this German act was singing for herself rather to the people who were watching.
🇺🇸 Grace W. – This song, plain and simple, is boring. It's okay, but halfway in I found myself wishing it was already over. If 1986 hadn't been such a weak year overall, this would have never reached 8th place. Just a mediocre entry sandwiched in between two stronger ones. 6/10.
🇬🇧 Ashleigh K. – Not a bad song from Germany though I do find it quite forgettable. They do get points for singing in German but I wouldn't seek out this song again.
🇦🇺 Vivienne F. – I can't remember this song at all, probably because in the 80s in Australia I only heard the taped version my uncle sent us from Ireland every year. I probably had heard it only once. My Dad would then only play the songs he liked. It has a good big band type of beginning with the band, nice melody, was that a harmonica I heard? or was that the keyboards? It's quite a nice song but not really my taste.
Enjoy Ingrid Peter's performance from the 1986 Eurovision Song Contest in the embedded video. Below the video, you can read more about her.
Ingrid Peters – a mini biography
Born in 1954, Ingrid Peters was 22 years old when she got her breakthrough in 1976 with the album Komm Doch Mal Rüber. She earned the award Goldene Europa and a hectic decade followed. When she made it to the Eurovision Song Contest in 1986, she already had two national final participations behind her.
After the Eurovision Song Contest, a longer break followed in which she broke her record deal and focused on writing her own songs. Her first self written album Aufgewacht was released in 1995.
Ingrid Peters is still active. Her latest single and album followed in 2016, and recently she has been starring in the musical 'Marguerite'. Besides singing, Ingrid is a semi-professional painter too with successful sales exhibitions. In 2017, she received the fine Saarland order of merit for what she has achieved being a great ambassador for the region, she is from.
Three national final and Eurovision participations
1979: Ingrid finished 8th at the German national selection with the song Du Bist Nicht Frei
1983: Together with July Paul, Ingrid finished 2nd at the national selection with the song Viva La Mamma
1986: After winning the national selection, Ingrid finished 8th at the Eurovision Song Contest