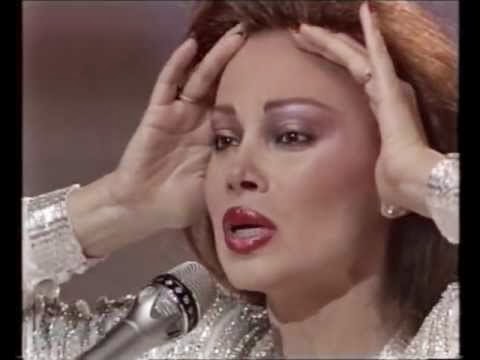 Shoulder pads, fierce make-up and love songs can all be used to describe Eurovision 1985, and no entry encapsulates this more than Spain's entry from Paloma San Basilio with her emotional ballad La Fiesta Terminó. She travelled to Gothenburg, Sweden with high hopes of bringing a victory home, yet it didn't go the way she wanted.
La Fiesta Terminó is a stirring and emotional ballad dealing with the topic of a relationships end written by Juan Carlos Calderón. Paloma sings about leaving things as they are and not trying to make something work which simply won't. Finishing in 14th place with 36 points, this wasn't what Spain expected from one of their most celebrated performers, but they didn't penalise her for this.
Calderón was not new to the contest by 1985, previously he had written Sergio y Estibaliz's 1975 entry Tu Volveras as well as the international hit Eres Tu for Mocedades which narrowly got beaten by Luxembourg in 1973. He would also go on to write the 1989 Spanish entry Nacida para Amar for Nina.
To get an idea of what contest fans think of this Spanish classic we asked some of our team as well as our dedicate fan panel for their opinions below:
La Fiesta Termino – opinions from fans
Egemen O.
In my opinion, the music, the fundamental part is not bad. But I must confess that I have noticed 2 main issues. Firstly, even though I listened to the song 3 times in a row, I couldn't manage to match the music played by the orchestra and the melody of the lyrics. Secondly, her voice is already too deep (like many other Spanish female singers) and during the live performance, she gets even louder in some parts. Spain might have gotten a better place with a smoother voice, for sure.
William S.
This song was one of the first songs I heard when I started looking into the history of Eurovision on Youtube. Paloma is a striking performer and the song, while typical Eurovision fare is elevated by her magnetic on-stage presence. I must say I do love a powerful ballad sang by a female and this definitely fits the mould perfectly for me. Paloma is the definition of a D-I-V-A.
Linete A.
The song is beautiful and has a strong refrain. She has a beautiful voice with high and low key notes. I value that she sings in Spanish, the national language. She's expressive and well dressed and I really enjoyed the song! It's actually very powerful at times and very special with a live orchestra. I feel that the song deserved more than the 14th place it got and should've been in the top 5! Paloma deserved more and she's an excellent singer with a great song.
Josef S.
I usually like Spanish songs and 1985 is not a change from that. Paloma is a top class singer and she proves that in her Eurovision song. This type of Spanish ballad is my cup of tea, even though I don't understand the language. I hope "Me gusta!" is correct in this case. I like it a lot.
Charlotte J.
Admittedly, in the mid 1980's when I started watching the contest, I mostly paid attention to the more uptempo acts. I had forgotten about this lovely song from Spain. I can appreciate it more now, than when I was 9 years old. It won't suddenly be a new favourite of mine, but it's lovely, and she sings it very well.
Milosav T.
Eurovision performances are often all about the drama, and drama it is with Paloma! With the typical 80's clothes, hair and makeup, along with some intense glances and hand gestures,  she delivers quite a performance. Unfortunately,  something is missing in the chorus and the finale,  so this remains a good, although somewhat generic over-the-top entry. A solid 3 out of 5 stars!
Alexander S.
In 1985 Spain chose internally a big star with a unique voice. Elegance would be the adjective that defines her perfectly.
The album the song is included in is produced by the famous Juan Carlos Calderón. Unfortunately the result was not that good. Why? The performance was  flawless, maybe her hand movement was too much and her voice was a bit nervous.. anyway, Paloma is still a big star in the music scene even the result was not what she wanted and what she deserved at all. The party that night ended a bit sad.
Ashleigh K.
Spain have felt a bit lost to me in Eurovision during recent years. This is a very nice entry, the vocals are superb and it's just lovely to listen to.
Alvaro S.
Where do I start? Paloma San Basilio, one of the greatest Spanish artists. She was very successful in Spain and the Americas. I like Paloma's performance, being expressive but not over-dramatic. Her voice is just… wow as usual and the lyrics are touching, the way the song ends gives it that 'diva' touch. Love it.
Michael O.
A passionately performed song, which sounds like a reject from the musical Evita which I believe Paloma starred in. Would have done better in the 60s though the eventual winner also sounded like it came from the sixties, so on reflection this is an example of how Eurovision was behind the time's in the eighties.
Find out more about Paloma's career under this video of her live Eurovision performance.
Paloma San Basilio

– A mini biography
Paloma started her career as a television presenter in the early 1970's before recording her first album in 1975. In 1977 she recorded the album Donde Vas, the title track was also submitted as a potential Spanish entry for the Eurovision Song Contest, ultimately RTVE chose Micky with his song Enséñame a cantar.
1980 saw San Basilio gain international success when she toured the Americas in the titular role of the Andrew Lloyd Webber musical Evita. She garnered a lot of critical praise for this performance, not least from creator Webber himself, stating that she gave one of the best portrayals of the Argentinean First Lady.
When she appeared at Eurovision in 1985 she was a major star in her homeland and while she may not have got the most desirable of outcomes her career was not hindered by her placing. She has went on to release no less than 25 albums (including musical compilations), sang with Opera star Placido Domingo and performed in musicals such as Victor/Victoria and My Fair Lady.