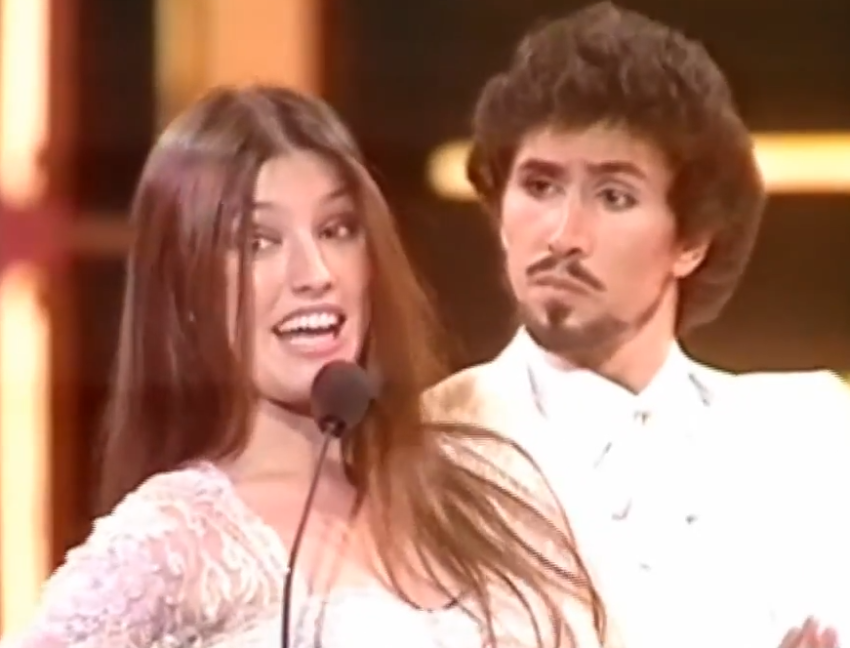 Recently, Spain has suffered at Eurovision, but there used to be a time when we could rely on them to do quite well. One of their many Top 10 results came in 1982 with Lucia's mid tempo romantic tango with Spanish ethnic sounds 'Él'.
18-year-old singer Lucia from Seville was selected internally by the Spanish broadcaster Radiotelevisión Española (RTVE) to represent Spain at the Eurovision Song Contest 1982. The song Él was written by Francisco Cepero and Ignacio Román.
The Eurovision Song Contest 1982 was held in United Kingdom's Harrogate on the 24th of April. Lucia took the stage 12th in line for Spain. She gave a passionate and powerful performance. The dance routine was the highlight of the performance. Eventually, she received 52 points and placed 10th.
Él – opinions from fans
In order to find out what Eurovision fans today think of this Spanish entry from 1982, we asked our Eurovision Fan Panel. It includes team members as well as fans from all over the world.
🇫🇮 Martti I. – An absolutely clever song from Spain. Back then tango was kind of in, but this EL, oh my, I like it a lot, and it's a great practise song for Spanish… But looking at this choreography, it just makes one smile so easily. Still a unique entry to remember.
🇩🇰 Charlotte J. – 1982 was actually quite a bad year. Nicole was an excellent winner, but there were only a few other good songs that year. This isn't one of them. I do like a good tango, but this one really doesn't appeal to me.
🇳🇱 Eric O. – Spain's entries are not always as good as I hope for, but this one is quite interesting. It combines classic tango dance with flamenco sounds, which is quite nice. And the song itself is quite good too, with easy to understand Spanish lyrics. The drawback is the somewhat 'distant' performance. The dancers don't show any facial expression other than the strict ballroom dancing expression, but the singer also doesn't make any eye contact with the audience and camera, which is kind of pity. But other than that, it's a nice song that deserved a top-10 position.
🇬🇧 Michael O. – Sometimes an entry can only come from one country, and this can only be Spain. A bit like the music you'd expect from a matador, it's a fair entry but not the best from 1982
🇨🇴 🇫🇮 Alvaro S. – Spain sending a tango song to the Eurovision was an interesting element to the competition. The song is very sensual, and I like the dance choreography plus rumour says Spain was throwing a subtle shade to the UK which was in war with Argentina that year which is an interesting Eurovision trivia fact.
🇨🇿 Josef S. – Shall we dance? What an amazing tango Spain brought to us back in 1982. Lucia looks pretty good, and she proves she can dance as well and not only sing, which is something that gets her some extra points in my eyes. This is quite a complex performance, perfect for Spain as a country, I can't complain about anything here.
🇲🇹 Luke B. – This is a good tango song, and it was severely underrated on the night. I would not call it my winner… but definitely top 5. The tango influence, complemented with the Spanish language, makes this entry complete and relevant. It may get a bit repetitive after a few listens and one may realise that it simply repeats the same few bars over and over, but it still creates a positive atmosphere and definitely better than others on the night.
🇹🇷 Gunec G. – I love the Flamenco influences in this song. Lucia is so pretty :). And that dance routine rocked it all. Well done, Spain.
🇩🇪 Pascal W. – This song sounds very Spanish in my opinion – not just because of the language 😉. I really enjoyed listening to the song, but it became a bit boring after a little over a minute.
Enjoy Lucia's performance from the 1982 Eurovision Song Contest in the embedded video. Below the video, you can read more about her.
Lucia – a mini biography
María Isabel Lineros Rodríguez aka Lucia was born on the 2nd of April 1964 in Seville, Andalusia, Spain. She is famous for her presence on the Eurovision stage in 1982 representing her country Spain with the song Él and earning a 10th place.
She also worked as a presenter at local radio and TV channels in Seville. In 2005, she participated at La Granja de los Famosos, a TV reality show which is the Spanish version of The Farm. In 2008, she released an album named Bajo los Efectos del Amor including a remix version of Él.