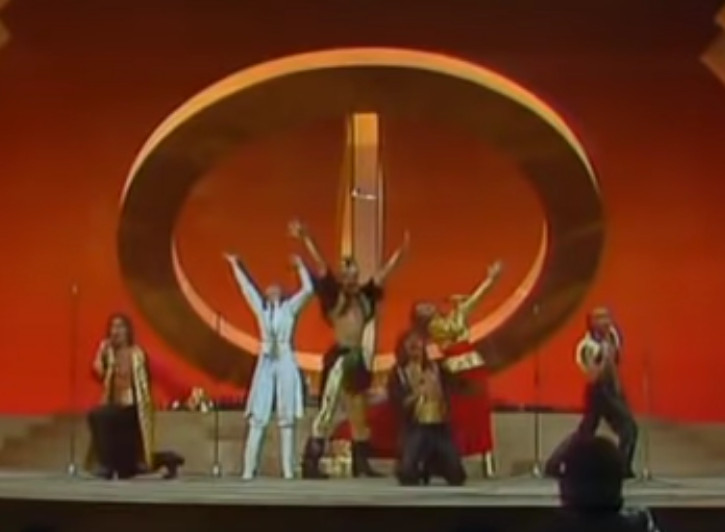 A German group praising a Mongol Emperor. That was the formula that Germany brought to the table in 1979. Fans simply love Dschingis Khan, their song and flamboyant dresses. Many decades later their song is still one of the Eurovision classics fans love to remember.
In 1979 then West Germany organised a national selection to represent the country in Jerusalem, Israel. The national final Vorentscheid 1979 took place on 17 March in Munich. A random sample of 500 people representing the different regions in Germany voted for their favourite song among 12 candidates.
Euro disco band Dschinghis Khan won the national final with a song of the same name. The band was formed to compete in the Eurovision Song Contest.
Dschinghis Khan performed in ninth place on the night of the final. The band performed right before well known Swiss representatives Peter, Sue and Marc and after Milk and Honey, who won the contest. During their presentation lead singer Louis Hendrik Potgieter, who represented a cartoon version of Mongol Emperor Genghis Khan, danced around the band, all of them wearing dresses. Germany received 86 points by the end of the night. It received the maximum 12 points score from Denmark, France, Monaco and Spain.
The song was composed by the prolific Eurovision songwriter Ralph Siegel and Bernd Meinunger. The euro disco song praises Mongol Emperor Genghis Khan's success, both military and with women.
Dschinghis Khan – opinions from fans
In order to find out what Eurovision fans today think of this German entry from 1979, we asked our Eurovision Fan Panel. It includes team members as well as fans from all over the world.
🇵🇹 Inês M. – It is a lively, fun song with a lot of rhythm. It is not something typically chosen by Germany. I think it is an appropriate song for Eurovision, as it is different and original for the time. I had some difficulty in understanding the outfits. The dancer's expressions are priceless, he is full of attitude.
🇳🇴 Stine F. – This is such a cool and iconic performance. They are shamelessly foolish on stage and I love it! Their energy makes a blue day happy and colourful again. Would have loved to watch this live, but unfortunately I wasn't born at the time. Well, this song sure sticks in your mind once you've listened to it. Guess I know what I'll be humming the next few days.
🇩🇰 Charlotte J. – This is one of those Eurovision songs everyone should know. It's a Ralph Siegel masterpiece! It hits the late 1970s extremely well, and yet today, it's very enjoyable. I love it, and it always brings a smile on my face. When thinking about Germany in the Eurovision Song Contest, I first think about this one, Nicole's '82 winner and the Wind contributions. This is Germany to me.
🇪🇸 Alexander S. – The song became a hit all over Europe. I personally like the song, quite catchy and lively and as for the performance the tall man going around stands out. Unforgettable performance even today is nicely remembered
🇬🇧 Michael O. – Of course this should have won in 1979, it was the only entry in the whole contest that was akin to the music of that time. A classic.
🇷🇸 Miljan T. – Germany 1979 is the perfect example that Eurovision was "crazy" long before the 2000s. A flamboyant performance, colourful outfits, bare chests, "wild" dancing and a stomping poppy song and placing 4th when just juries voted? Unbelievable from today's standpoint. So you either like it or you don't. One of its biggest legacies is that you can still listen to it today and not have it feel too dated. It's simply classic and timeless, like Boney M.
🇺🇸 🇬🇧 Mhairi O. – I absolutely love it. It's so catchy and fun. One of Germany's best for sure.
🇨🇴 🇫🇮 Álvaro S. – The first time I saw this entry from Germany I felt confused and did not understand how this song became a Eurovision classic. However, the more you listen to it the more you enjoy the catchy silly tune. It is still funny.
🇩🇪 Andrew G. – This is epic Eurovision at its best. The song is so catchy. Unforgettable for over 40 years. The vocals are on point. The dance routine is full of dynamic and creativity. And the stage outfits fit so well to the theme of the song. Big thumbs up for this classic. Now I will be singing huu haa huu ha hu all day.
Enjoy Dschinghis Khan's performance from the 1979 Eurovision Song Contest in the embedded video. Below the video, you can read more about them.
Dschinghis Khan – a mini biography
Hungarian Edina Pop and Leslie Mándoki, Dutch Henriette Strobel, German Steve Bender and Wolfgang Heichel together with South African lead singer Louis Hendrik Potgieter formed the original Dshinghis Khan. The band was set together to represent Germany in the Eurovision Song Contest 1979 with a song of the same name. Dshinghis Khan ended in 4th place. After their Eurovision participation, the song was versioned in Finnish. Moreover, Dshinghis Khan was successful in Asia after Japanese girl idol group Berryz Kobo made a cover of the song. Dshinghis Khan was certified gold in Japan in 2014.
The band performed during the 80s. Several singles were released. Sadly, lead singer Louis Potgieter passed away of AIDS in 1994. Steve Bender also passed away, in 2006 after fighting cancer. In 2007, the band paid tribute to their former members in the song Wie Feuer im Wind.
Currently, there are two formations performing under the name Dschingis Khan. One of them including original members Henriette Strobel and Edina Pop and the second one including Wolfgang Heichel. All three former members performed their Dschinghis Khan at the opening ceremony for the 2009 Eurovision Song Contest in Moscow, watch their performance below.