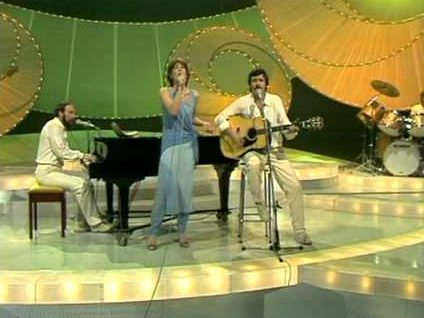 It's perhaps a little unfair to title this article, Eurovision 1981, as this was in fact the last and fourth time, Peter, Sue and Marc represented Switzerland. However we are discussing 'Io Senza Te', their Italian language entry from 1981.
Italian was the  fourth language the trio had competed with, equalling the placing they gained in 1976 with the English, Djambo Djambo.
On February 21, 1981, Peter, Sue and Marc opened the Concours Eurovision in Geneva, competing against future entrant Marielle Farre (Switzerland 1983 and 1985). Whilst on this occasion, Mariella, both performed and finished last, our trio gained an outstanding win, beating second place, Swiss Union, and so they headed of to Dublin, where performing second to last, they gained 4th place with 121 points.
Io Senza Te – opinions from fans
In order to find out what Eurovision fans today think of this Swiss entry from 1981, we asked our Eurovision Fan Panel. It includes team members as well as fans from all over the world.
Michael O. – Despite loving Bucks Fizz, this to me was the song that should have won in 1981. I couldn't believe at the start of the voting many countries ignored the song or scored it low. Others though had it in first place. The song is a classic ballad, made even better with the pan pipes. A wonderful melody and sung in Italian. I love it.
  🇯🇪 Pawel J. – Simple but beautiful song from Switzerland. I feel like it should've been performed by only one person –  it would've made much more of an emotional impact I think. Regardless of that, I do quite like it but could've that song take the Swiss to the very top that year? I doubt it very much.
Charlotte J – This is such a lovely song. I totally adore it and Italian is the most beautiful language to sing in, in my opinion. Unfortunately, I often forget about this song when listening to 'old' Eurovision entries, but that doesn't make it any less good. Every time, I do hear it, I am reminded of its quality once again.
Elena T. – This was before I was even born and this is also the first time I have heard this great song by Switzerland! I love how everything used to be simple and the main focus was the actual song! Lovely love song and very catchy! I enjoyed listening to it for sure!
Josef S. – This ballad is exactly what I love about older Eurovision entries – nice melody, orchestra (I miss it a lot!), national language lyrics and good vocals. I didn't know Io Senza Te before but now I think I have another add-on to my Eurovision playlist. Good job, Switzerland!
Aaron S. – I liked Io Senza Te, although no one was taking the win away from Bucks Fizz in 1981, I think this is Peter, Sue and Marc's strongest entry of their four. I like the use of instruments on stage to support the orchestra and think it all came together very well with the beautiful Italian language.
Alvaro S. –  Although my favourite entry from Peter, Sue and Marc at Eurovision is Djambo, Djambo I like the peaceful feeling this entry gives me. The melody is beautiful in contrast with the sad content of the lyrics and it is the type of song that benefited with the live orchestra.
Ashleigh K. – Well, thank you for bringing this song to my attention. A beautiful entry from Switzerland. I love the pan flute intro and the vocals were also beautiful, the male vocal in particular was very strong. A thumbs up from me.
In the embedded video below you can travel back to 1981 and enjoy Peter, Sue and Marc's Io Senza Te. Below the video you can read more about this trio.
Peter, Sue and Marc – a mini biography
Sue Schell was born in New York and moved to Bern when she was eight years old. She met Marc Dietrich in 1968, and with Marc's friend Peter Reber, they formed the trio that would represent Switzerland four times.
In 1971 they sang in French, gaining 12th place with Les Illusions De Nos Vingt Ans, but they did better 5 years later in 1976 coming fourth with Djambo Djambo.
In 1979 they joined Pfuri, Gorps and Kniri, for the novelty, Trodler und Co, which finished 10th, and then finally Io Senza Te gave them another 4th place in 1981.
The trio were not all about Eurovision though and scored several hits during the seventies, including Cindy, Charlie Chaplin, Amazonas and Birds of Paradise, in Germany and Japan, as well as at home. They released 10 albums and even have a musical written about them.
The group split in 1981 leaving the song Bye Bye Friends as a parting gift, but they have reunited at times over the years for one off concert appearances.