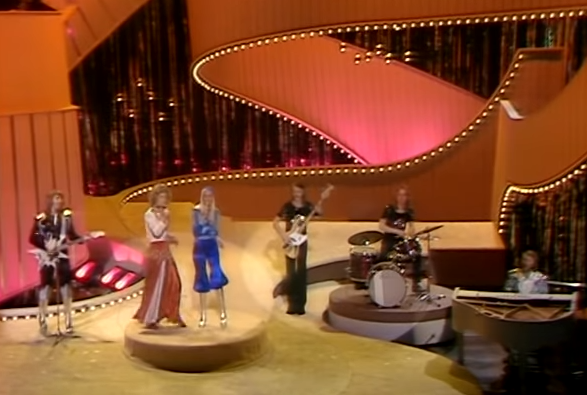 ABBA is legendary. The won the 1974 Eurovision Song Contest with the song 'Waterloo'. Later they went on to become the second best selling band in the world. Their Eurovision winner is still remembered and loved by most fans.

On the 9th of February 1974, the Swedish Melodifestivalen final took place. 10 acts competed, and 11 large cities provided each their regional vote. The Stockholm jury placed Lasse Berghagen's Min Kärleksång Till Dej (My love song for you) ahead of ABBA's Waterloo. Luleå had them equal, but everyone else preferred Waterloo with such a big margin that the overall result made ABBA a clear winner.
At the Eurovision Song Contest, ABBA arrived as one of the top favourites, and they didn't disappoint. They were ahead of it's time musically and also in terms of providing a show. Conductor Sven-Olof Walldoff showed up dressed as Napoleon.
The two male ABBA figures Benny Andersson and Björn Ulvaeus wrote Waterloo together with Stig Anderson who went on to become their manager. The song was in Swedish for the national final, in English for Eurovision, and the group also made German and French versions. Waterloo went #1 on the charts in United Kingdom, Belgium, Denmark, Finland, West Germany, Ireland, Norway, South Africa and Switzerland. Further it came second or third in Austria, France, the Netherlands, Spain and Sweden. In United States, it peaked at #6 just as it reached top 10 in Australia, Canada, New Zealand and Rhodesia. In other words, it became a massive hit all over the word.
Waterloo – opinions from fans
In order to find out what Eurovision fans today think of this Swedish entry from 1974, we asked our Eurovision Fan Panel. It includes team members as well as fans from all over the world.
🇺🇸 Grace W. – If it wasn't for ABBA, I wouldn't be in this Eurovision fandom. It's as simple as that. When I was 14, I heard ABBA for the first time and found the contest after hearing Waterloo, and the rest is history. Hands down this is my winner of 1974 and my sentimental winner of the entire contest.
🇬🇧 🇹🇭 John E. – I remember watching this on the UK preview show as an excited 13 year old and just knew it was a winner. We knew something special was coming when the conductor came out in costume. Waterloo was a whole new sound which, combined with with their costumes, had me entranced from the get-go. I bought the single on vinyl and played it endlessly. ABBA were, and still are, my favourite band of all time and I was destined to have my bedroom wall covered with ABBA posters throughout my teenage years. It is no surprise to me that Waterloo has stood the test of time and is still very popular today!
🇸🇪 Sara T. – Growing up in Sweden, this song was probably one of the first songs I ever heard. I remember being so excited when I discovered the Internet at age 8 and found the lyrics to the song so that I could finally learn them. This song kick-started my love for ABBA which continues to this day. However, I have grown a bit tired of this song, and would rather listen to any of their other amazing songs. But there is no denying that Waterloo changed the course of both Swedish music and Eurovision music. We owe a great deal to ABBA.
🇬🇧 Michael O. – No question or argument here, this is still the best Eurovision entry ever. The only question is why only 24 jury members thought it was the best song? Sweden should have received all top marks and the song that finished second should have been whatever the Swedish jury preferred.
🇩🇰 Charlotte J. – They are legendary for a reason. ABBA had something not many had; the ability to make songs which are still loved all around the world many decades later. In 4 years, we'll see 50th anniversary for Waterloo – and at that time, the song will still sound timeless. Musically, it's not the best ever written Eurovision entry. It's not the best Eurovision performance either. But when you put those two together, and add the year 1974 to it, you get a classic song ahead of it's time, which I still love – and do consider among the finest we have seen on the Eurovision stage. But let's be clear, ABBA had many songs better than this – and that's why, they went on to become one of the best selling acts in the world.
🇲🇹 Amira M. – This song is one of my favourites and it won for all time favourite of the first 50 years. I like that the female singers where not caked in makeup.The song is very catchy but the only drawback I could find is that there was lack of eye contact.
🇬🇧 Ashleigh K. – What is there to say about this song? It's become a classic. This was a time before elaborate stage props, LED screens and it's a song and performance still loved by many. Do I think it's the greatest Eurovision song ever? No, but what ABBA achieved after Eurovision is nothing short of amazing.
🇹🇷 Güneç G. – Aah the legendary ABBA and their legendary song Waterloo. They seem like they have come from far future. And not surprisingly it became a classic. The most worthy winner of Eurovision.
🇦🇺 Vivienne F. – I was 9 years old when I first saw this while watching Eurovision. From the moment the girls came running up to the stage I knew it would be exiting! They all looked futuristic with their fabulous clothes and star shaped guitar, the piano music is a key feature to its success. I love the "my, my"s, the "oh yeahs", and the "ooooos". My Dad loved the reference to Napoleon as he's a fan. The vocals are perfect, singing in unison, perfect, everything perfect.
🇨🇴 🇫🇮 Alvaro S. – Everything has already been told about ABBA. Waterloo was destined to succeed. We are not talking only about the most successful Swedish musicians but with Waterloo they gave it a twist to the pop formula that was used at that time that all the other acts, even Italy's sweetheart Gigliola were overshadowed by ABBA.
Enjoy ABBA's performance from the 1974 Eurovision Song Contest in the embedded video. Below the video, you can read more about them.
ABBA – a mini biography
Björn Ulvaeus, Benny Andersson, Agnetha Fältskog and Anni-Frid Lyngstad developed their professional relationship in the late 1960's and early 70's. First Björn and Benny, later with Agnetha and Anni-Frid helping them out. The first song with all four credited was released in 1972; People Need Love. The song was released in several countries besides their native Sweden such as USA, Japan and South Africa.
In the search for a bigger hit, the four took part in the Swedish national selection, Melodifestivalen, in 1973. Their entry Ring Ring finished 3rd, but did become a hit in more countries. One thing was missing though, no record companies in the the United Kingdom saw potential in the group that called themselves Björn & Benny, Agnetha & Frida.
The following year, everything changed. The name had been shortened to ABBA from the first letters in each their name. ABBA entered Melodifestivalen with the song Waterloo, won, and a few months later also won the Eurovision Song Contest. Now, the record companies were in queue, and the rest should have been history. The following singles however didn't do that well internationally, but just as it looked like they would be forgotten S.O.S released in 1975 brought the Swedish band back to the top. From there on, the success was instant for some years.
ABBA went on to become the word's second best selling band, only beaten by Beatles. They split up in 1982. The divorces were a big part of the break-up. Agnetha and Björn had married in 1971. They divorced in 1979. Frida and Benny got divorced in 1981.
Various compilation albums, musicals and films like Mamma Mia have forever immortalised ABBA.