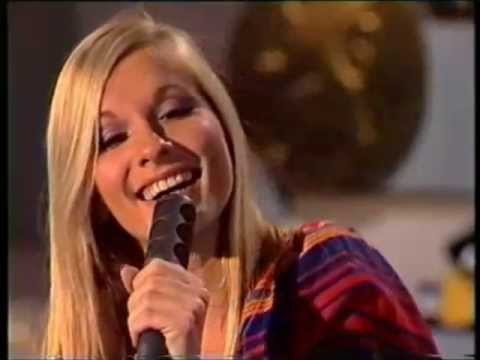 It is always exciting for fans, and the contest in general, when a new country joins the fold.  It gives us all a chance to see what this new market has to bring when it comes to its music and culture, and one of Eurovision's most successful countries debuted in 1973. Albeit in tension filled fashion, as Israel took to the world stage.
In the summer of 1972, the Olympic games in Munich where overshadowed by the massacre of eleven members of the Israeli Olympic team by Palestinian militant organisation Black September. Tensions have always been high in the region and views for and against the formation of Israel continue to be prominent to this day. Therefore their debut in Eurovision didn't come without some trepidation for both the EBU and host broadcaster CLT (Luxembourg).  The potential violent threat that their inclusion caused was seen throughout the organisation of the 1973 contest, tighter than usual security was in force throughout the week. Terry Wogan reminisced about the live broadcast, where the floor manager encouraged audience members to stay seated throughout the show as they may have been shot if they stood up.
The honour of being the first ever Israeli representative went to Ilanit and her song Ey Sham, written by Ehud Manor and Nurit Hirsh who also conducted the song. Hirsh is one of only three women to ever conduct an entry in the contest, and she is also the only female to conduct a winning entry, in 1978.
IBA, the Israeli broadcaster was actually approached by Ilanit as she along with her partner, had first been asked by the German broadcaster to represent them at the 1972 contest.  While they were considering the offer, the duo discovered that Israel was eligible to participate in the contest. Although it was too late to register for the 1972 contest, IBA promised that Ilanit would be given the honour the following year. Ey Sham is a dramatic ballad about finding and enjoying love with someone without the interference of others. It was the last song to be performed on the night and was well received at the contest where Israel finished in fourth place with 97 points.
Ey Sham

– opinions from fans
To get an idea of what contest fans think of the debut Israeli entry we asked some of our team as well as our dedicate fan panel for their opinions below:
Adi S.
Since it's the 1st entry from my country – I grew up with this song. Ilanit has a magical voice and I believe it resonates with people even if they don't understand the language. Well deserved of its high ranking.
Aaron S.
I liked Israel in 1973, and while it wasn't a winner for me, I do think it deserved to finish in 4th place as it did. I especially like the strength of the chorus which Ilanit does well. Another example of a song made better and complimented by the live orchestra.
Josef S.
What a voice! And this soft ballad combined with Ilanit's strong voice is a very good combination. I would put this song on my playlist as I like a lot of Israeli songs. And this orchestral version is very classy. Would be in my TOP 10 for sure.
Michael O.
What a debut, and what a performer. This would have been a deserving winner right off the bat for Israel, so much better than the cheesy dance numbers they sent year after year for a while later. Still a great song after all these years. Go Ilanit.
Alvaro S.
A strong debut entry. Although I don't understand the lyrics, the interpretation of the song is heartwarming and the sound of the live orchestra makes it sound even more beautiful. A truly beautiful gem.
Ashleigh K.
Ilanit has a really strong voice, she is a charismatic performer and she sings the song well. I'd have liked to hear her sing a different song though as unfortunately this doesn't grab me at all. In fact, I listened to it 2 minutes ago and I've already forgotten the melody.
Pawel J.
Surrounded by controversy and many security issues of Israel's debut at the 1973 contest, Nurit Hirsh delivered such a delightful performance of "Ey Sham" (Somewhere) and ended up finishing fourth that year. Very positive song. I just love it, makes me happy every time I listen to it.
Martti I.
Israel arrived with superb power ballad and with a style. Ilanit performed the song strongly, and luckily the jurors loved this song ending 4th. Israel did keep the record of best placed debut for decades. Personally I have adored her both entries. Strong song, best possible artist and a real pearl in eurovision history. Ilanit is a star with a long career with several albums and one of the artists whom career last whole lifetime. Selecting first ever entry for Eurovision could not have been more perfect.
Charlotte J.
I am prepared to be the minority here. I am well aware of that this is a classic loved by many fans. Unfortunately not by me. I have never been able to feel the love for this song. On a really good day, I can tolerate to listen to it, and forget about it afterwards. On a bad day, it really annoys me. I can't explain why I feel so different than many other fans when it comes to this one, I just do.
Find out more about Ilanit's career under this video of her live Eurovision performance.
Ilanit- mini biography
Ilanit was born in Tel Aviv as Hanna Dresner-Tzakh in 1947 to Polish parents, before moving to Brazil in 1953.  She later returned to Israel in 1960 where soon after she became a successful youth act. Throughout the late 60's she formed bands such as trio Gidi, Zach & Hanna and Ilan & Ilanit, the latter becoming a successful act and charting the Israeli charts on numerous occasions.
After going solo in 1968 she took part in the Israel Song Festival 1969 with the song Shir b'arbaah batim she didn't win but it became a domestic hit.  By 1973 she was one of the biggest stars in the country and it was not surprising she was chosen to debut for the country albeit it of her on volition. She would return to the contest four years later with the song Ahava Hi Shir Lishnayim, unfortunately she wasn't able to replicate her success, finishing in 11th place with 49 points.
Throughout the rest of the 70's and into the 80's she continued to be one of Israel's biggest stars and she even attempted to represent them once more in 1984 with the song Balalaika, although IBA pulled out of participating as the date conflicted with Memorial Day.  She released the song regardless and it became a domestic hit once again.
In more recent years she took a hiatus from recording, toured North America and was seen performing Ey Sham at the opening of the 2019 Eurovision Grand Final in her hometown of Tel Aviv.