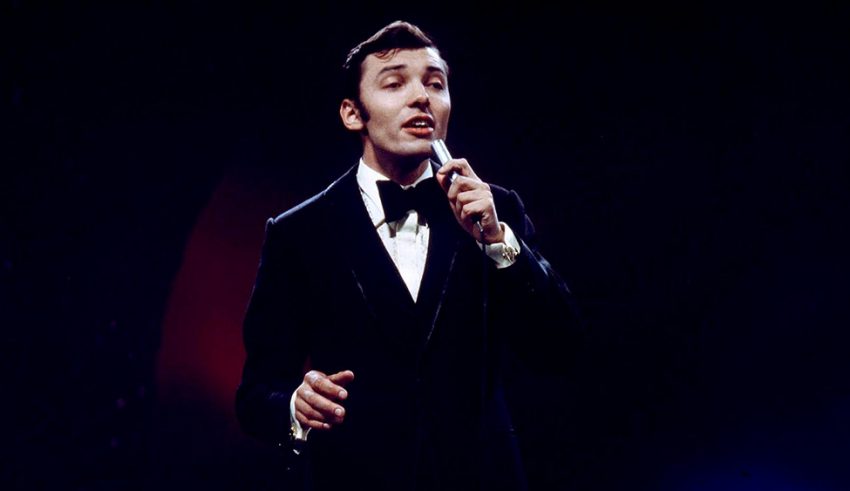 Karel Gott was not an Austrian singer, but a Czech one, but he was popular also in German-speaking countries and further. Therefore it's not a big surprise that he was chosen to represent Austria at Eurovision 1968 with a song 'Tausend Fenster' written by Eurovision star Udo Jürgens.
Back in 1968, there were only 17 countries competing in London's Royal Albert Hall. Austria was represented by a young Czech singer Karel Gott. He had the chance to sing a song, that was composed by nobody else than Austrian Eurovision 1966 winner Udo Jürgens. He performed as number four in the grand final evening.
After a very exciting voting sequence, when Spanish Massiel won with only one point margin over favoured Cliff Richards from the United Kingdom, Karel Gott had received only two points. That was enough for a tied 13th place together with Switzerland and Norway.
The lyrics are in German and actually tell a very sad story. In the city that is already under the blanket of the night, the singer is going and he sees a lot of lighted windows ("A Thousand Windows" as the title says) and he wonders who is behind them. Someone who is as lonely and alone as himself.
Tausend Fenster – opinions from fans
In order to find out what Eurovision fans today think of this Austrian entry from 1968, we asked our Eurovision Fan Panel. It includes team members as well as fans from all over the world.
🇬🇧 Michael O. – Well considering the 1967 contest was held in Vienna you'd have expected Austria to at least send something a bit more contemporary after Sandie Shaws win. But no, they plumped for something that wouldn't have been out of place in the 1956 debut contest, what a step backward.
🇨🇿 Josef Š. – Karel Gott is a top-class performer, even though in 1968, he was only at the beginning of his career. Tausend Fenster is a nice, but sad song. It's sung really well in regards to the lyrics. The German language can be very nice and this is proof. I love listening to this song over and over again, even in its Czech language version.
🇨🇴 🇫🇮 Alvaro S. – I like the solemnity feeling that this song gives me. This feeling grows deeper after I read the translation of the lyrics. The lyrics sound so personal and introspective, talking about loneliness. It sounds deep and authentic.
🇬🇷 Kostas C. – In general a very good song. The music sounds so beautiful. His voice is fantastic. His appearance is excellent. But as a Germanspeaker, I hardly understand what he is singing. Very bad pronunciation. But except this, everything else is brilliant. A good case to search for an English version.
🇳🇱 Eric O. – This was a classic ballad in a time where these kinds of Eurovision entries were still popular, as it was all about the song and not so much about the performance. For me, this is really a boring song, even though I don't recall having heard it before. So other than mentioning that the song is sung quite well by the singer, it doesn't do much for me.
🇩🇪 Pascal W. – Definitely one of my least favourite entries from Austria – unfortunately. His voice is good, but the song is just a bit too depressing for me.
🇬🇧 Paul G. – Not too bad a song. Could be seen by some to be a bit boring. Not a song that would have bothered the upper parts of the scoreboard in any year to be honest!
🇵🇭 Vance T. – I really love how Eurovision back then is so simple yet marvelous.
On the other hand, this one is very lovely song, well, all of the songs are lovely. Though, if I were to ask, I think it deserve a higher placing.
🇹🇷 Gunec G. – I've heard the song for the first time and I liked it. A very romantic song sung by a very powerful and good voice. '60's was a decade where romance was really very important. The stage, the costumes are so classy, noble and chic.
Enjoy Karel's performance from the 1968 Eurovision Song Contest in this embedded video. Below the video, you can read more about Karel Gott.
Karel Gott – A mini biography
Karel Gott was a famous Czech singer, probably the most internationally well known singer from this central European country. He was nicknamed "The Golden Voice of Prague" (also "Sinatra of the East" or "Divine Charlie") and outside of Czech Republic and Slovakia, he had the biggest fanbase in the German-speaking countries – mostly in Germany and Austria. Some of his songs, therefore, had also German language versions for concert tours in those countries.
During his work with the German label Polydor, over 120 albums were released as well as around 70 singles. He travelled to Las Vegas many times during his long career. He have had many famous hits which almost everybody in the Czech Republic knows. That iconic he was. The public also loved Karel Gott's sense of humour which he proved in many TV sketches.
He had some health problems and fought with cancer which he defeated, but in the end, he died in October 2019 at the age of 80. He has four daughters and with one of them, Charlotte Ella, he recorded a song Srdce Nehasnou (Hearts Will Go On), which was composed especially for him. It is a confession from a father to his daughter. This song became a massive hit even before his death, but includes some philosophical themes hinting to the fact he knew he was dying.