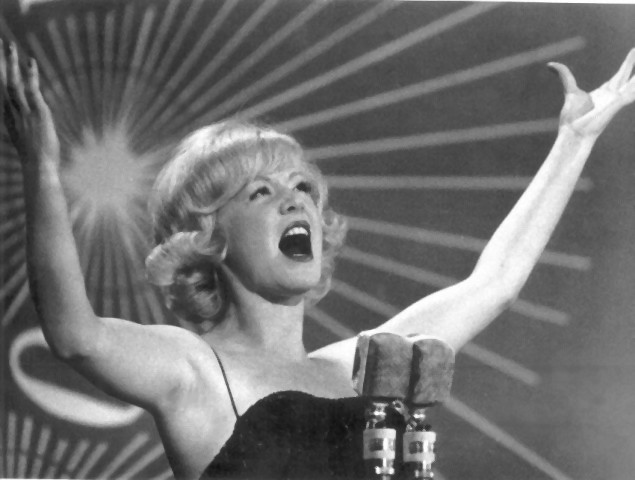 Hailed as the United Kingdom's own version of Marilyn Monroe for her blonde locks and figure, Kathy Kirby was selected to represent her nation at the 1965 Eurovision Song Contest in Naples, with the song 'I Belong'.
Kirby went to the contest as the favourite to win with this upbeat number, it encapsulated her effervescent personality and was the perfect accompaniment for her performance style. Kathy finished with 26 points, 6 points short of eventual winner France Gall and her song Poupée de cire, poupée de son, for Luxembourg. 
I Belong gave the U.K. their fifth second place finisher in six years and cementing them as eternal front runners in the early years of the contest. She had a moderate hit at home in the UK where it reached 36 on the charts. 
I Belong – opinions from fans
As a big fan of early contests, I always want to know what newer/modern eurovision fans think of the older contests and entries.  As part of the 'in focus' series of articles, I asked fellow team members as well as our fan panel for their thoughts on U.K. 1965.
Kat H.
Being a self confessed modern Eurovision fan, I hadn't heard this song before so when I was asked to comment on it I was keen to do as much research as possible. After listening to all 18 songs I came to the conclusion  that I Belong was one of the strongest that year and could well have won on a different night. Kathy herself reportedly being the best paid female singer of her generation shows with her professional presentation and flawless vocals delivering a well written song. I was saddened to find out of Kathy's subsequent mental health struggles but I have definitely found a new excellent UK entry to put on my favourites playlist!
Josef S.
 I don't know much of the older Eurovision songs so UK 1965 is a new song for me. I Belong fits perfectly the genre "Eurovision classic". Catchy 60's melody and happy and positive energy. That's something worth appreciating so I like this combination a lot.
Sara T.
 I always seem to forget about this song, and I can't say that I particularly enjoy it. I actually prefer all other UK entries from the 1960s over this one, with my favourite being Are you sure from 1961. The verses of I Belong are not memorable enough, and the chorus is annoying. The middle part of the song is all right though, but not enough so to make it a favourite. Luxembourg was the right winner in 1965.
Steinar M.
The 60s spawned some of the best voices and most charismatic performances ever in ESC I think. The good old days when ESC was ONLY about music, not the visuals on stage. I think ESC was better in that respect back then and this song is a great example of it. The song itself is a modern, fresh, jaunty, powerful, catchy, sonorous MOR pop song. Definitely one of my favourites from ESC 1965. Having said that, I think the right song won. France Gall's winning song was groundbreaking and unique, and it is to me one of the most iconic entries ever. Even if it was many years before I was even born.
Michael O.
Poor Kathy coming up against France Gall this year, as her song was a worthy winner too. Very powerful performance and one of the better entries from the black and white era.
Charlotte J.
I am a bit mixed when it comes to this one. There's something sweet and catchy about it which I like as I hear it, but unfortunately I forget it again basically as soon as I finished listening.
John E.
Clearly a song of its time, Kathy was a huge star and familiar face. I love the orchestra and sincerity of her performance. In those days, there was a sense of elegance, formality and occasion that went with the ESC and it was, yet again, one of the second placings that the UK was to become famous for.
William S.
Kathy for me is only one of a few United Kingdom entries I truly love. It is definitely a little less exciting than her other music, but then the view at that time was that Eurovision was a light entertainment programme and something like I Belong definitely felt like a safer bet than songs like Dance On, one of her biggest chart hits. Still a brilliant performance in a by-gone era for the contest. 
Pascal W.
I really like the vibe of 60s music, and this song is no exception. Very upbeat and uplifting song and amazing vocals. Deserved 2nd place. 
Alvaro S.
 It is a catchy song. Kathy looked very charismatic and she had a powerful voice. If it wasn't for Poupée de cire, poupée de son which I think is more memorable it would have been a deserved winner.
Ashleigh K.
This song was a Eurovision entry even before my mother was born so this is the first time I have heard it. The song sounds a bit old fashioned even for 1965, it reminds me of something that would be more fitting for the 50's perhaps? That being said, because of this I also listened to the winning entry from that year and though it sounds more current for it's time, I do prefer Kathy Kirby's entry.
Enjoy Kathy Kirby's performance from the 1965 Eurovision Song Contest in the embedded video. Below the video, you can read more about Kathy Kirby.
Kathy Kirby

– A mini biography
Kathy signed to Decca records in 1962 and recorded her first album (He's a) Big Man, although it was her single Dance  On that brought her flying up the UK charts. She then recorded the Doris Day classic Secret Love from the musical Calamity Jane.  Kirby brought her striking vocals to this up tempo version of the popular 50's ballad and it reached number four in the charts where it stayed for over five months and was her biggest hit in the UK. At the height of her career Kirby was reportedly the highest paid female performer in the country.
After Eurovision she continued to have success and the The Kathy Kirby show, which was used for her National Final performances in 1965, was recommissioned for a second series. After retiring in 1983 Kirby made very few appearances and only gave one public interview in 2008 as part of a documentary on her life and career.  She passed away at the age of 72 in 2011.