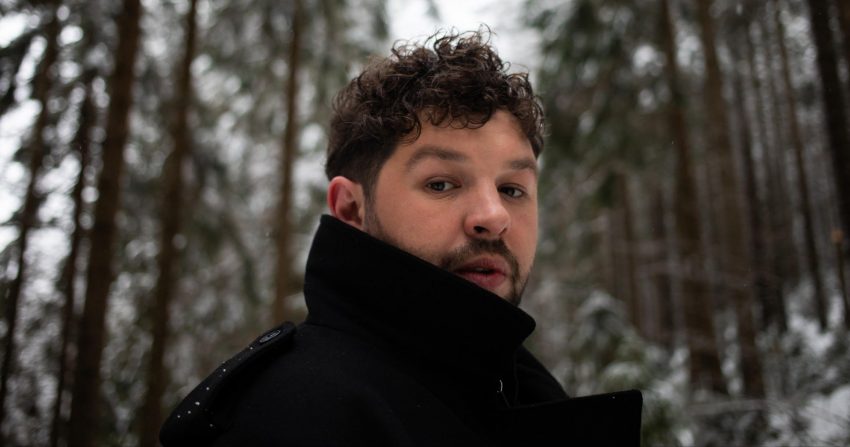 With Rotterdam 2020 having been cancelled due to the coronavirus outbreak, we thought we would keep our Eurovision spirits up by discussing the entries that had been selected for the event. Today, we are revisiting the UK entry, My Last Breath by James Newman.

This year, the UK opted to drop Eurovision: You Decide, the public selection it had been using for the last few years. Instead, the BBC approached record label BMG with the view to selecting the British entry internally. Thus, on 27th February, it was announced that singer/songwriter James Newman was to represent the United Kingdom with the song My Last Breath.
James Newman's achievements include winning the 2014 Brit Award for British Single of the Year for co-writing Waiting All Night, the UK chart topper for Rudimental and Ella Eyre. James has also collaborated as a songwriter with famous names such as Toni Braxton, Kesha, the Backstreet Boys and Olly Murs, as well as the 2016 Australian entrant for Eurovision Guy Sebastian. Along with renowned music producer Calvin Harris and his brother John Newman, James also co-wrote UK chart topper Blame, which was sung by John.
Apart from James Newman himself, the co-writers of My Last Breath include Iain James, who previously worked on the Azerbaijani 2011 Eurovision winner Running Scared by Ell & Nikki. According to Newman, the inspiration for My Last Breath came when the artist and the fellow co-writers watched a documentary about a diver being rescued in the North Sea: 'it got us thinking about what you would do for other people,' he had told BBC Radio 1's Newsbeat, a news programme tailored specifically for a younger audience.
The song ranked 24th in the betting odds for Eurovision 2020 prior to the event's cancellation but what do we think about it? Would it have managed to turn around the UK's more recent track record? These are some of our views here at EuroVisionary:
Theo – 'This is a good song. The video, too, looked well-made. I also enjoyed the live session video. And yet… I am not sure it would have managed to turn around the UK's luck in the contest. Somehow, I get the impression that the UK lost its mojo a long time ago and does not appear to have a feel for what could do well at Eurovision anymore. Eurovision being a televised show, it may be that its recent track record can be explained by the fact that the UK has not been as attentive to the visual impact of its entries (i.e. staging) compared to countries that are in it to win it. It might also be that the UK's chances are not helped by the fact that, due to its renowned music industry, the average viewer at home probably has higher expectations compared to other countries. In any case, I'd like to think that this would at least get the musicians' vote or, if I let myself go wild, even do an Austria 2018 (I'm probably being in the sphere of fantasy though).'
Michael – 'Last year I preferred Freaks to Bigger Than Us. Even so, I still liked Bigger Than Us, played it quite a lot but didn't have that great expectations for it. Did it deserve last ? – who knows, so let's get BMG involved this year. In whose imagination did anyone think this would help? I like My Last Breath less than Bigger Than Us. I play music all the time and have no great desire to play our entry much this year. The report card says must do better and we never do.'
Charlotte – 'I like the song, and I am not afraid to place it in my personal top 10 this year. I would even predict this to score a top 5 result – had Eurovision been a radio show. While it's a radio friendly song, I feel it it would fail miserably on the Eurovision stage where people vote for the overall impression. I think so because that's what the UK fails with year after year. I don't buy silly excuses like the United Kingdom not being able to win due to politics. Take a look at the past ten entries from the country. I would like to believe that, with a significantly different performance, close to half of them could have scored a top 10 result. It has nothing to do with politics, but everything to do with the people in charge of the stage performance having no clue as to what they are doing.'
Ashleigh – 'I think more time and effort was spent on the music video than on the song itself. But unfortunately the video would not have been shown in Eurovision, the song would have and unfortunately the song does lack originality and 'oomph', despite James being a good singer. I think the song would have fared better with the jury vote than in the public televote. It would have been interesting to see the difference.'
Álvaro – 'The UK has always been an unpredictable country for me as a fan. Some years, like this one, they seem to care to send a decent song and some others it seems to me that they send an "average" song just to send something. I have no problem with the lyrics and it is clear that James Newman is a good singer. If only the good visuals of the music video could be present on stage.'
Giannis – 'I find the BBC's effort this year quite good. They sent an interesting radio friendly song with a professional voice. I don't think they could get a good result, especially in the televoting, though I enjoy listening to the song. Hope they will send the same artist next year, too.'
William – 'This is the year that the BBC seemed to turn a corner with their attitude towards the contest. Loosening their grip on the song selection could only be a good thing after the last couple of years. James is a good singer and the song is very radio friendly. It wouldn't have won and at best it would have been mid-table. Yet BMG really did have a clear future for the contest and this was a credible start to their assault on the contest.'
Josef – 'James Newman was a good choice this year. After bad results in the last two years, The UK could have achieved something a little bit better. But who knows. The song itself is not bad at all, it is interesting that it is actually only 2.5 minutes long, quite unusual at Eurovision where many songs need to be cut to the limit of 3 minutes. Good step forward for the UK so I hope they will stay on this track and will get better results, not only in 2021, but also in the following years.'
Stay tuned – tomorrow, we will be discussing another entry for what would have been Rotterdam 2020!
In the meantime, you can revisit the video for My Last Breath, featuring Dutch cold water swimmer Wim Hof:
This reflection article is based on the author's own personal experience. Views expressed belongs to him or her, and are to be seen as unrelated to EuroVisionary.com.