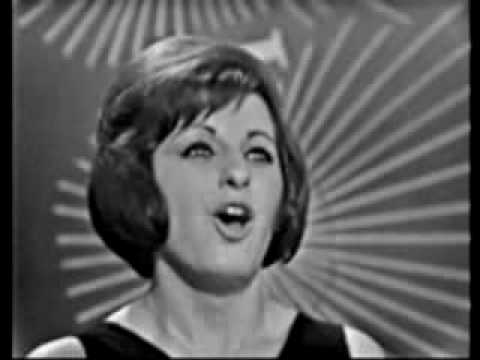 Naples 1965 is seen as a milestone contest in regards to many countries attempts to modernise the contest in the music produced. This is best exemplified by the winning entry from Luxembourg which became a major international hit. Although Germany decided to play a little safe with their entry, opting for a more traditional sound that unfortunately didn't help their chances.
Other than winning a contest, there is one result that is remembered with great admiration, if a little sarcastically, and that is coming last with zero points or 'nil points' as it has come to be affectionately known. Between 1956 and 1974, twenty entries received this feat,. In the 45 years since the new points system was introduced in 1975, only 14 entries have received 'nil points' in the final, showing that it is increasingly difficult in the current iterations of voting (1-12 points). Sixteen of the twenty early entries that received zero points was during a period of four consecutive contests (1962-1965).
Within those four years one country that experienced two consecutive zero points, was that of Germany in 1964 and Ulla Wiesner's 1965 entry Paradies, wo bist du? A mid-tempo ballad about finding paradise after falling in love, the song was written by Barbara Kist and Hans Blum.  Blum came to prominence in German speaking countries over a decade later when he released the novelty song Im Wagen vor mir, under the pseudonym Henry Valentino.  Originally a minor hit, it was covered by many artists including punk band Die Toten Hosen.
Paradies, wo bist du? – opinions from fans
To get an idea of what contest fans think of this forgotten German entry we asked some of our team as well as our dedicate fan panel for their opinions below:
Michael B.
To be honest; although I'm Eurovision Fan for more than 40 years, I had to look up for our german entry in 1965, the year I was born. I remember, when I heard this song for the very first time, I was shocked, that such a song could be chosen in a broadcast german final. An uptempo song with depressive lyrics. I was not surprised that poor Ulla Wiesner received zero points. Nobody in Germany, beside the german Eurovision fans, remember this song.
Alvaro S.
I like the rhythm of this song. It makes me think about the soundtracks of the TV series from the 60's. When I watched Ulla Weisner performance however, there is something that does not make me connect with the song. Was she nervous? There is something in her facial expressions that makes her look uncomfortable. Like if she did not want to be there.  Or was it intentional?
Michael O.
Now for its time this was an upbeat enough entry and arguably Ulla may have had a better voice than France Gall, but its hard to think that had Germany won, the song would have been so well loved as Poupée De Cire, Poupée De Son.
Josef S.
Even though I usually love oldies and music from 50's until today in all decades, Paradies, Wo Bist Du? is not my cup of tea. But I have to admit, that Ulla Wiesner is a good singer, only the song and its style is not something I would love. I think that Eurovision in 60's had better songs than this one.
Ashleigh K.
Ulla Weisner gave a nice performance of Paradies, Wo bist du? Her voice was very typical of the time and I give points for singing in German. I can't remember the last time I heard a German language song at Eurovision. I'd like to hear more of that. The song does fall a bit flat for me though. I think it's the melody, it doesn't catch me.
William S.
When writing this article and receiving opinions, I was shocked that Alvaro pointed out so many of the aspects I have always thought about this entry. For me, my love of Paradies, wo bist du?, comes largely from the studio version. The song reminds me of a song from the soundtrack of a 50's Sci-fi b-movie, and her vocals compliment the song well, even live. Although in Naples, Ulla seemed to be very nervous and somewhat vacant from her performance and it is not hard to see that. I feel that this is mainly the reason for the zero point result. As a song it is possibly my favourite last place entry ever, it is a forgotten gem. A big statement I know!
Grace W.
The song has all the characteristics of a sixties song, kind of reminiscent of the beach movies popular around the world during the middle part of the decade. To me, the arrangement in the verses is kind of messy, and the performance is kind of boring, but the song overall is fairly good. It didn't deserve last place, but it's understandable considering the year. Maybe it's just my soft spot for sixties music, but on a scale of 1-10, I give it an 8.
Paul G.
Oh dear a nul points for Germany from the Juries and a nul points from me too. The lyrics just seem out of step with the beat of the music or maybe that's just me!
Paul K.
It has to be said, there is a level of respect that I have for the classics, as it was all about the music and used as a way to unite all of Europe! While the modern contests are well known and absolutely entertaining, it is also riddled with too much politics and that kind of kills the point of eurovision. In terms of the song, I think it is a good classic! It is a lovely, melodic song that definitely focuses on music alone, which is what makes classic eurovision the purest form of eurovision. I give it a 7/10.
Find out more about Ulla's career under this video of her live Eurovision performance.
Ulla Wiesner – mini biography
Wiesner was only starting out in her singing career, when she took part in Eurovision. While her result hindered her solo career, she became known throughout Germany in the decades to come for her singing.  Most famously she was a chorister for the Botho-Lucas-Chorus, known for their association with German TV show Musik ist Trumpf.
In later years she went on to record numerous singles and released a solo album in 1970, Twilight Mood, with very little chart success.  She became one of the most experienced session singers, providing backing vocals for bands such as Triumvirait. She retired from singing in 2002.
She is a mother to two sons who she had with late husband, German TV producer, Alexander Arnz.