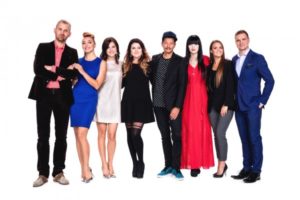 The Estonian Broadcaster, ERR is making it's national selection Eesti Laul 2016 even bigger. For the first time, the Estonian national final will be held in Saku Suurhallis, the same venue that hosted the Eurovision Song Contest in 2002.
The Estonian broadcaster ETV will once more hold the well known Eesti Laul contest to pick the artist who will wave their flag in Stockholm. The 20 contestants that will take part in this year's competition will be announced on 5th of November.
There will be two semi finals on the 13th of February and on the 20th, while the final will take place on 5th of March. This year it seems that ERR wants to make the show even bigger, so they transfer the live shows of Eesti Laul from the smaller Nordea Kontserdimajas (Nordea Concert Hall) to Saku Suurhallis which is Estonia's largest indoor arena and used as venue for the 2002 Eurovision Song Contest.
Producer of Eesti Laul 2016 Mats Normet says:
We are expanding because we are proud of Estonian music and everyone who has been watching the national final in Nordea Kontserdimajas (Nordea Concert Hall) knows what kind of excitement and electrical emotions can be expected. And now we are gonna try and create that atmosphere once again!
Tarmo Hõbe, CEO of Saku Suurhallis, is proud to have the national final take place in his venue, Estonia's largest indoor arena and adds
I'm sure it will be a great springboard for the further development of Estonian music.
The song submission closes on the 2nd of November already, to give the producers of the show more time to work with the artists and create the best show possible. Tickets for the live shows will go on sale on the 10th of November.
In order to promote the 2016 edition of Eesti Laul, broadcaster EER released a video featuring the previous winners of Eesti Laul, the national selection in Estonia since 2009:
Estonia in the Eurovision Song Contest
Estonia has participated in the Eurovision Song Contest 21 times since their debut in 1994. Their first appearance would have taken place in 1993, however a qualification round was put into place for seven Eastern European countries hoping to make their debut and Estonia failed to qualify. The country has won the contest once, in 2001, making it the first former Soviet state to win the contest.
Last year, the nation was represented by a duet. Elina Born & Stig Rästa with Goodbye To Yesterday reached 7th place with the 106 points they received. This was the 9th top10 result for Estonia in the contest, more than any other Baltic country so far.
Below you can watch Elina Born & Stig Rästa performing last year's Estonian entry, Goodbye To Yesterday: