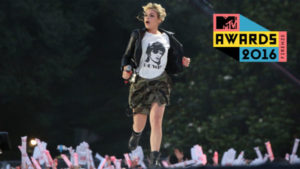 Former Eurovision participants Marco Mengoni and Emma have been awarded as best artists in Italy. They won their categories in the most popular music award show in their country, MTV music awards. With her victory, Emma beat this year's entrant Francesca Michielin.
The MTV Awards (known as TRL Awards from 2006 to 2012) were established in 2006 by MTV Italy to celebrate the most popular artists and music videos in Italy. Originally beginning as an annual event to celebrate the most request videos and artists on Total Request Live, from 2013 the MTV Awards are a celebration of what MTV Italian viewers consider the best in music, cinema and fashion. From 2006 to 2010 the show changed its host city every year, but since 2011 it is set in Florence. The awards are presented annually and broadcast live on MTV Italy, as well as online. This year's awards were given out on Saturday in Florence, where all the biggest Italian stars gathered to sing and celebrate with more than 10.000 people who attended the music event.
Marco Mengoni (Italy 2013) and Emma (Italy 2014) won their respective categories as best male and female artists, the Best Band went to Benji and Fede, who also won the Best New Artist. The Best Performance went to The Kolors, This year's Italian representative in Stockholm was also there, but Francesca Michielin didn't manage to win any of the awards.
Annalisa, Lorenzo Fragola, Dear Jack, Alessandra Amoroso and many others Sanremo participants sang for the audience who was there to support their favourites' s artists. Marco Mengoni didn't go to the ceremony, while Emma where there to receieve her award.
In the video below you can watch Emma perform her latest hit Il Paradiso Non Esiste, live in MTV music awards.