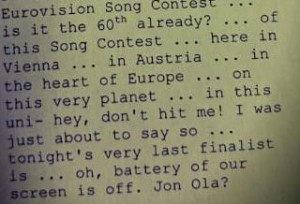 An early draft of the script for the 2015 Eurovision Song Contest have been published on Twitter. It shows the script for the situation where 9 semi-finalists have been announced and they are waiting for the 10th country to be called out.
The script which is quite long, and likely to be shortended, shows the hosts dragging the tension by not immidiately revealing that Iceland (or someone else) is the last country to qualify for the final – it also reveals that one of the hosts will hit anotherone, and that Executive Supervisor of the Eurovision Song Contest Jon Ola will be called as the battery on their screens run out.
Hosts of 2015 Eurovision Song Contest are Mirjam Weichselbraun, Alice Tumler and Arabella Kiesbauer, plus Conchita Wurst, last year's Eurovision winner as greenroom host.
The script which was published by Twitter account ESC2015CP,Creative Producer & Script Writer of ESC2015, can be read below:
Rewriting #eurovision scripts. Grammar check, pls. And do you think, I'm stretching it too far? Just a bit? pic.twitter.com/O1lUgtWyN0

— ESC2015 CreativeProd (@ESC2015CP) May 5, 2015