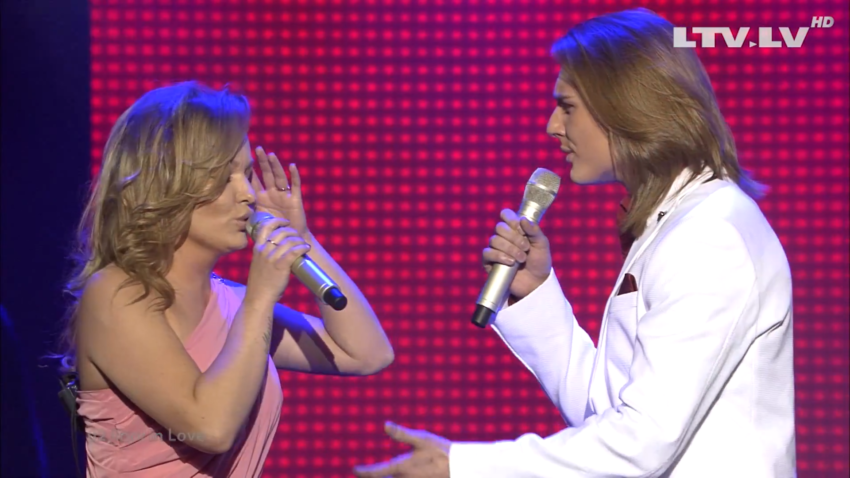 The duo reached the Latvian final in 2013, but after that, it was more or less forgotten. Dāvids Kalandija & Dināra's national final entry 'Fool In Love' is now brought back into the spotlight when Eurovision fans react to it.
Dāvids Kalandija & Dināra qualified for the final of Dziesma 2013 with a 5th place in the semi-final. In the final a week later, they finished 11th out of 12 participants.
The male duo PeR won the Latvian Eurovision ticket that year with the song Here We Go. They were the favourite with both jury and televoting. As such, it's hard to argue that they were what the Latvian's wanted. At the Eurovision Song Contest, they however finished last in their semi-final. As such, it's obvious to wonder if another act from the Latvian selection would have done better. Maybe even Dāvids Kalandija & Dināra?
Fool In Love is written by Swedish and Danish songwriters; Jonas Gladnikoff, Camilla Gottschalck, Christina Schilling and Liza Petersen.
Fool In Love – opinions from fans
In order to find out what Eurovision fans today think of this song from the 2013 Latvian national final, we asked our Eurovision Fan Panel. It includes team members as well as fans from all over the world.
🇷🇸 Miljan T. – I wasn't a fan of Latvia 2013 and didn't follow their NF that year. So I basically hear Fool In Love for the first time now and I'm surprised it didn't win. I like it much more than the actual winner and I think it would have done better.
🇨🇴 🇫🇮 Alvaro S. – From the first verse I could easily conclude that Fool In Love would have been a better song than Per's Here We Go. Having said that, I think that if Latvia had chosen this song it was still possible that it did not qualify to the Grand Final. It is just "an okay" couple singing a love song which is far better than PeR's cringefest.
🇩🇰 Charlotte J. – It's not a bad song. It does have potential. I am afraid that what is pulling it down is first of all the singers. Davids and Dināra simply aren't strong enough for this one, it's in particular her, which is the issue here. Second of all, I would have liked some more power on the chorus. Would it have done better than Here We Go at Eurovision? Yeah, it might actually. I am not ruling out that it could have sneaked into the final. With other singers, it most likely would have.
🇮🇪 John D. – Latvia have sent a lot worse than this to the final. Two competent singers working well together on a ballad reminiscent of A moment Like This from Denmark a few years earlier. The dancers are a bit distracting but this could have made the final for Latvia in 2013 with better staging.
🇬🇧 Ashleigh K. – I actually quite liked Latvia's entry for 2013. Of course it was a bit cheesy and a bit Jedward-esque but I was surprised on hearing it that it failed to qualify. Fool In Love probably would have been a safer bet but it doesn't stand out as much as Here We Go.
🇱🇻 Janis O. – I really love Dinaras voice. She is an amazing singer, but in this strange duet she sounds weak. The song is boring. I also hate PeR's song, but their attitude on stage was coll. I LOVE this performance from Latvia.
🇬🇧 Michael O. – A very run of the mill song which in 2013 was very dated. Although Latvia did not do well in 2013 by choosing Per, they went for a East 17 sound which was more appropriate. I fear too that Fool In Love would have stayed in the semis.
🇧🇷 Amir B. – Fool In Love is a better song than Here We Go. I think that it'sa little bit generic ballad but still a good song. It reminds me of the Fire Saga movie songs, and this is a positive point. I think that would be a NQ in Eurovision but still a better position than Here We Go.
Enjoy Dāvids and Dināra's performance from the 2013 Dziesma in the embedded video. Below the video, you can read more about them.
Dāvids Kalandija & Dināra – a mini biography
Life hasn't been easy for Dāvids Kalandija. He reportedly broke his neck, which stopped his career as a judo and MMA fighter. He was on the national team, but of course forced to stop after that incident. He picked up singing after that.
He first appeared in the Latvian national final Eirodziesma 2012 where he sang a duet with Samanta Tīna (Latvia 2020). With the song I Want You Back, they finished second in the super-final. They were the jury favourite, but only third with televoting.
Dinara Rudan began singing from an early age. Her talent for singing was recognised in school. She took notice, and in 2001, she finished her masters in opera at the Latvian Academy of Music. She has been singing with bands, duets and solo – and works as a voice coach.