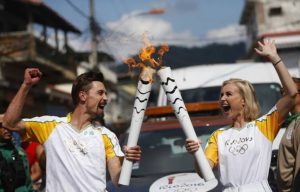 Two former Eurovision participants for Russia Polina Gagarina and Dima Bilan traveled to Brasil in order to be torchbearers at the torch relay in Rio de Janeiro for the Olympic Games which starts next week. Dima was first and passed the flame to Polina.
Traditionally, before the beginning of the Olympic Games the Olympic torch relay take place. It culminates on the day of the official opening of the games. This year the relay started on the 3rd of May and will end next week on the 5th of August when the Olympic Games will start.
Polina Gagarina (Russia 2015) and Dima Bilan (Russia 2006, 2008) ran yesterday with the Olympic flame in the streets of Rio and both of them expressed their honour and happiness for that.
I go to Rio and take part in the Olympic torch relay with one purpose – to support our athletes in a very difficult time for them. Today it is especially important to emphasize that the Olympic Flame and the Olympic Games are a symbol of not only the competition between countries for superiority and victory, but first and foremost a symbol of solidarity, justice, peace and friendship. It is a great honour for me.
Watch Polina's reactions right after she ran with the Olympic Flame:
Now you can relax @Gagaraofficial! 😀 Thank you ☺️ #FlameInRioDeJaneiro #OlympicFlame #RoadToRio pic.twitter.com/JOLExSrMUi

— Olympic Flame (@OlympicFlame) July 30, 2016
Dima passed the flame to Polina who travelled to Brasil with her in order to be one of the torchbearers a few days before the Olympic Games starts. Dima said:
The right to be a torchbearer is a great honour for me. The Olympic torch relay represents the Olympic values — respect, friendship and equality. Taking part in the Olympic torch relay, I feel part of the Olympic movement, which strives for peace and harmony through sports. I am very glad that I have this opportunity,
In the video below watch Dima Bilan's reactions after this unique moment:
The Olympic games in Rio de Janeiro, Brazil will be held from 5th to the 21st of August, with a few sports disciplines starting in the days up to the official opening though.