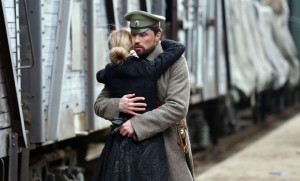 Russian pop star and Eurovision 2008 winner Dima Bilan is coming to London to open Russian Film week and lead the red carpet premier of his latest film. He will also be providing a 'special musical performance' at the opening party.
Dima Bilan is coming to London on Wednesday 30th of November to take part in red carpet premier of The Heritage of Love (Russian: Герой, The Hero). This will be premiered at London's Russian film week. The premier is the first film to be screened at the event and will include a Q&A session at the end of the film.
Bilan, who won the 2008 Eurovision Song Contest with his song Believe will then be staring in the official opening night celebrations and providing a 'special musical performance'.
The Heritage of Love is a historical action and love story set in two different eras. Bilan plays Andrey Kulikov, a young man who travels to Paris to buy a car. While in Paris he meets a woman called Vera. In Paris he visits the grave of his great-grandfather, Andrey Dolmatov (also played by Bilan) who was an officer in the White army. On the headstone he sees the face of a young woman who looks a lot like the lady he met earlier. This starts the love story which spans a century.
Attendees of the film week include Elliot Grove (founder of the Raindance film festival), alongside actors Egor Beroev, Justine Waddell and Dmitri Dyuzhev.
Other films to have their European and UK premiers at the festival include Icebreaker (Ледокол), Moscow Never Sleeps and Ptitsa (Птица). British actor Ralph Fiennes will also star in a film called Two Women (Две женщины). All films screened during the festival will be subtitled and most films will be followed by Q&A sessions with the directors.
When is Russian Film Week?
Russian Film -Week runs from Wednesday the 30th of November until Sunday the 4th of December 2016. The opening party will take place at the Maddox Club, London on the 30th November. It is scheduled to start at 21:00 and is expected to continue until the early hours of the following day. Films will be screened at the Regent Street Cinema in London. Tickets for the event are still available on the official website.
You can see the official trailer for Dima Bilan's film The Heritage of Love below: