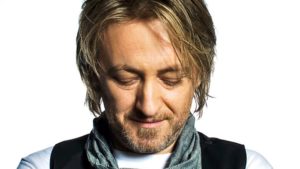 Very sad news are coming from Bosnia and Herzegovina as Denis Čabrić, the bassist of the rock band Regina, who represented Bosnia and Herzegovina with the song Bistra Voda in Moscow in 2009, died 49 years-old. This was confirmed on Regina's official website today.
Denis Čabrić died from a heart attack as he was spending holidays together with his family in Zadar in Croatia.
Together with the guitarist and the songwriter Aleksandar Čović and the drummer Bojan Miličević, Čabrić was a co-founder of Regina in 1990 in Sarajevo. In the beginning of their career the band was inspired by music from U2. Before the war officially started in Bosnia and Herzegovina in 1992, Regina published two albums and rapidly they became one of the most popular bands in the former Yugoslavia.
From 1992 to 1999 Aleksandar Čović continued Regina's activities in Belgrade, but without Davor Ebner, who was the very first vocalist in the band. In 2006 Čović and Ebner renewed their cooperation, and in 2009 Regina represented Bosnia and Hercegovina in the Eurovision Song Contest in Moscow with the song Bistra Voda. They finished 9th with 106 points.
Denis Čabrić worked for many years for BHRT – the Bosnian and Herzegovinian National Public Broadcaster. He also wrote music for many movies, documentaries and tv-shows for children.
Here's a clip of Regina performing their entry Bistra Voda in Moscow in 2009: