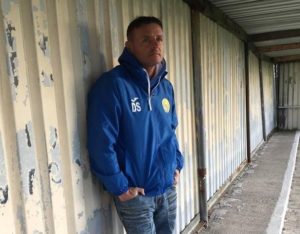 The UKs rapping contestant Daz Sampson has swapped the stage for the dug out as the newly appointed Manager of Cheshire's highest ranking amateur football team. After teams abroad, this will be first managing job in the UK.
Teenage Life's Daz Sampson who represented the United Kingdom at the Eurovision Song Contest 2006 has returned to his roots.
Sampson started his career playing for Stockport County. Unfortunately for him, an injury cut his playing career short and instead he began to focus his attention onto music.
Daz represented the United Kingdom in 2006 with Teenage Life. After failing to impress the European audience, Daz finished the contest in 19th place.  However, all was not lost as despite the rest of Europe's thoughts, the UK liked the song so much that it reached number 8 on the national singles chart.
Following his stint on Eurovision, Sampson took part in some reality TV shows before returning to his first love, football. But now as a manager. After initially finding it difficult for people to take him seriously after his music and TV career, Sampson got a job managing a team in Poland's third tier, then managing teams in Guam and the USA.
As the newly appointed manager of Halebank FC, Sampson has one goal: to achieve two promotions in two years to enable his team to play in the North West Counties League. As ever, Sampson exude's confidence "I was a rank outsider when I went on Eurovision (you decide), against the lad from Blue who everyone thought would win. But I knew I was going to win and this is the same".
In the video below, remind yourself of Daz Sampson's Eurovision performance: