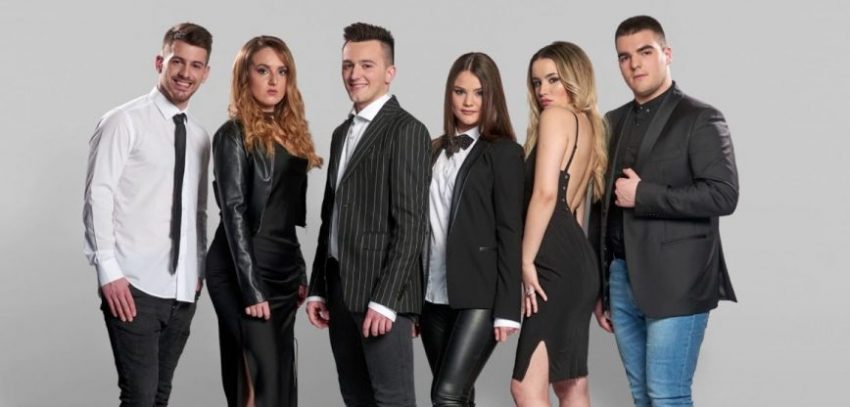 Tonight, Montenegro held the Montevizija 2019 show to decide who will represent them at The Eurovision Song Contest 2019. After five competing entries it was D-Moll who won the honour of representing the country this year.
Five entries competed in the Montevizija show of which the Montenegrin public decided on the eventual winner.
The Show
A Montenegrin choir opened the show performing Knez's Adio. We also got a run through of past entries from Montenegro, all the way back to the Yugoslavian days. To its credit there was no time wasting showcasing the songs as all five were run through at lightning speed. After the songs were done, several past winners wished the five competitors good luck. Hari Mata Hari made an appearance before the results singing his Eurovision classic Lejla, third for Bosnia Herzegovina in 2006.
The Songs
D-moll – Heaven
Opening the show was this six piece, three male, three female band. This floaty  melodic gospel like ballad seemed a little more of six individual singers at first,  rather than a collective troupe. The song sped up a bit and got a bit better at the half way mark, as their voices began to harmonize. They performed on a stage of white boxes with musical notes behind them, all dressed in black. The judges all seemed to love it.
Andrea Demirović – Ja sam ti san (I am your dream)
Andrea is back after her 2009 candy floss Just Get Out If My Life, which just failed to qualify to the final. This song couldn't be any more different from that. A bit of a techno introduction breaks into a ear pleasing electro song. Quite original and perhaps good enough to take it to Tel Aviv. The stage was full of smoke surrounding Andrea. She did indeed have a backing dancer with her, some people never learn.
Monika Knezović – Nepogrješivo (Unmistakable)
Back to the ballads in an instant. Well at least for a while until at the second verse a banging drum pops up.  After that it's like taking a train ride home, at your destination you get off and forget all about it. This is a co-write of Vladimir Graić-Graja, who also wrote Serbia's debut and winning entry Molitva. Monika was dressed in a nice gold number and had two dancers behind her, so talented they could also play the cello. Very Balkan sounding.
Ivana Popović-Martinović – Nevinost (Innocence)
Back after her fourth placing in last year's Montevizija , this is another slow one. However, Ivana wastes no time with an introduction before she starts singing with her crystal clear voice. This is a strong ballad, which the Balkan countries do so well. A long string break in the middle of the song adds some warmth, before Ivana takes it to a rousing finish. After waiting for a gold dress to come along. two come at the same time, as Ivana had hints of gold in her costume. Two floaty dancers were also back too.
Nina Petković – Uzmi ili ostavi (Take it or leave it)
A country like guitar introduces Nina, who placed fifth in last year's Montevizija and will be hoping to better, or even beat Ivana, who scored one place higher last year. Unfortunatley pleasant as the song was, even performing last didn't really leave much of an impression. The costume certainly did, a kind of black leotard with a lacey skirt. Her male dancer wore much the same.
The Results
In the first round, the public and a group of expert juries voted. The top two songs went forward for a battle off.
| | | |
| --- | --- | --- |
| | First Round | Second Heat |
| D-moll | 17 | Winner |
| Andrea Demirović | 7 | |
| Monika Knezović | 4 | |
| Ivana Popović-Martinović | 12 | |
| Nina Petković | 4 | |
Montenegro In The Eurovision Song Contest
This will be Montenegro's eleventh participation in the contest. They debuted in 2007 with Stephen Faddy with the song Ajde, kroči. He failed to qualify to the finals. In fact it wasn't until 2014 that Montenegro reached the finals when Sergej j Ćetković performed Moj svijet taking the country to 19th place, in Copenhagen, Denmark.
The following year in Vienna, Austria, Knez gave the country their best result to date, when he took the song Adio to 13th place.
In the subsequent years Highway, Slavko and Vanja Radovanović  returned to business as usual by failing to qualify to the finals again. Will this year see a change in Montenegro's fortunes.