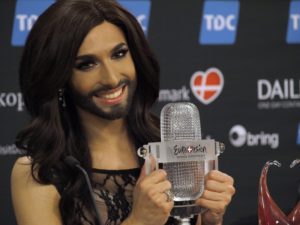 Conchita Wurst has refused to perform at the Edinburgh International Festival following a visa ban. Conchita was set to perform as part of the New European Song Book this month in the Scottish capital.
Conchita has cancelled all plans to perform at the Edinburgh International Festival this month after members of her band were denied visa entry to the United Kingdom. All three members of the band Basalt namely Amjad Khaboura, Noor Eli Khoury and Almonther Alshoufi were denied visas to enter the country.
Standing by her band, Wurst has refused to perform without them. The actions of the UK Home Office has baffled the organisers of the festival as the purpose of the festival is to promote co-operation of the people who start new lives in a new country.
The 2014 Eurovision winner was set to perform as part of the New European Song Book which presents music from across the continent. Each night will see a selection of musicians collaborating and performing pieces of music to be heard for the first time. This includes Europeans alongside people who have recently moved to Europe and now call this their home.
Despite refusing to perform at the concert, Conchita will still have some involvement. There will be a specially recorded introduction of Conchita and Basalt including a film of their performance.
The Home Office have refused to comment on this specific case and stated that "All visa applications are considered on their individual merits and inline with the immigration rules". However, it is believed the band were denied entry due to their Syrian heritage despite them living in Austria for the past 3 years.
A statement from the festival said "The international festival has issued an open invitation to Conchita and Basalt to perform later at this year's festival. If this is not possible, the invitation will be extended to the 2018 international festival."
Conchita at Eurovision
Conchita Wurst brought Austria's second win with her performance of Rise Like A Phoenix. Conchita won by a landslide in Denmark with a total of 290 points, receiving the maximum points from 13 countries. You can remind yourself of her performance at the B&W Hallerne, Copenhagen below.