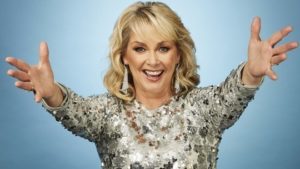 Tonight Cheryl Baker will take part in the newly revived ice skating competition Dancing On Ice. Teamed with one of the most popular professional skaters in the show's history, can Cheryl earn another victory?
One quarter of 1981's winning United Kingdom entry will participate in the newly revived series of Dancing On Ice. Tonight UK viewers will see Baker take to the ice in competition with 11 other celebrities and their professional dance partners. Cheryl was part of the quartet Bucks Fizz who won the Eurovision Song Contest for UK with their memorable performance of their song Making Your Mind Up.
Cheryl's ice skating partner is Daniel Whiston who has been with the show since it's conception in 2006. Being one of the public's favourite professional skaters, Whiston won more times than any other. He won the first series in 2006 with British actress Gaynor Faye, in 2010 with soap actress Hayley Tamaddon and in the shows 8th series with Olympic gynmast Beth Tweddle. Could he help Cheryl Baker achieve success in series 10?
On 19th of December during the show's official launch, Baker almost took a tumble on the ice having to quickly grab ahold of her partner Daniel Whiston to stop her from falling.
Despite being a revived show there have been a lot of changes made to the format. This year, each professional skater is tasked with having to choreograph each of their routines and teach it to their celebrity couples within just one week. Unlike before when the routines were choreographed by skating legend Christopher Dean.
In an interview with his local newspaper, Whiston teased that there will be a familiar move in their first routine. Although he couldn't divulge too much information about their first performance he did say "I'm putting my neck on the line. We are going to do something in our first routine that everybody will recognise from somewhere." No prizes for guessing that viewers are probably going to see Whiston whipping off Bakers skirt as part of their performance.
Career after Bucks Fizz
Cheryl has had a varied career after her time in Bucks Fizz and has ventured into reality TV, Presenting and has formed a new band with some of her former Bucks Fizz bandmates. Cheryl has joined Mike Nolan, Jay Aston and newcomer Bobby McVay to create The Fizz. Earlier this year they released their album The F-Z of Pop which peaked at no:25 in the UK album charts.
You can see Cheryl getting to grips with the ice and see the full line up of celebrities in the video below.