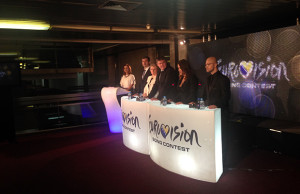 The Board of BHRT met today to discuss the state broadcaster's deepening financial woes. The fear is now that the public TV company may have to shut down completely and Eurovision fans wonder whether Dalal and Deen featuring Ana Rucner and Jalia will get the chance to represent their country in Stockholm 2016 after all.
The government of Bosnia and Herzegovina approved last year a funding proposal for the TV company but, six months after its approval, it is still to become law. A funding of collection fees from the public had been proposed as a short term fix.
Unfortunately, a new funding model needs to be proposed and approved if BHRT is to stay open. A new tax collection method will need to be considered but  the people of BHRT feel that the government does not care.
Unpaid bills are continuing to grow at the company and BHRT claims that it needs a minimum of 500,000 Bosnian Marks per month to keep the company afloat.They have already cut costs by a million BM's per month.
Today, the Management Board of BHRT recommended the accounting board to accede to the gradual reduction of the program until its complete extinction. This would leave Bosnia and Herzegovina the only European country without a public broadcaster.
Bosnia and Herzegovina has already confirmed its participation at this year's Eurovision Song Contest. The act to represent them has already been chosen: Dalal and Deen featuring Ana Rucner and Jalia are supposed to be singing a song in their native tongue.
Due to the very serious significance of this story, we will be keeping a close eye on developments.
Below, enjoy Bosnia and Herzegovina's debut entry from 1993, Fazla and Sva Bol Svijeta (All The Pain In The World).