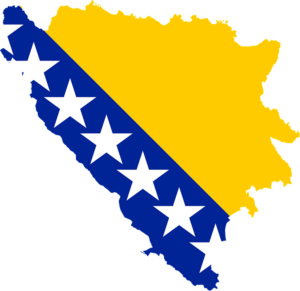 Several Eurovision media recently reported that, Bosnia and Herzegovina won't be able to come back next year. Lejla A. Babović, responsible for the Eurovision project within BHRT (Bosnia and Herzegovina's Radio and Television) explains why it however is too soon to conclude anything.
According to Babović, nothing has been decided yet although she is pessimistic about Bosnia and Herzegovina's chances to participate in the Eurovision Song Contest next year: "I cannot confirmed anything right now. But I have to make you aware of that the EBU has sanctioned BHRT which means that we are not allowed to participate in the Eurovision Song Contest".
The sanctions, Babović is talking about here, has been imposed in december 2016 as BHRT's debt to the EBU is over 3 million euros.
We also asked Lejla A. Babović if BHRT would consider to make comeback to the contest, if the sanctions are lifted. She explains that the current situation makes them unable to decide such things yet. Next month's Football World Cup is used as an example of something they want to broadcast, but currently haven't secured yet.
It is still too early for BHRT to make any decision about participation in the Eurovision Song Contest even if we weren't sanctioned. Why? Because for many years, the financial situation and working conditions on BHRT didn't make it possible for us to make plans in good time. Especially when it comes to such a demanding project as the Eurovision Song Contest is. The present model of collecting the licence fee (through electricity bills) provides the minimum level of existence for BHRT. At the current moment we are struggling to acquire the broadcasting rights for FIFA World Cup in Russia this summer, so people in Bosnia and Herzegovina can follow this prestigious event on the public broadcaster. Nobody knows what will happen after that. 

Lejla A. Babović (BHRT)
Financial difficulties have been a serious issue for the national broadcaster for a very long time threatening them to shut down in the worst-case scenario. A year ago, EBU, BHRT, the Bosnia and Herzegovina Journalist Association, the Council of Europe, the Office of the OSCE Representative of Freedom of the Media, the European Federation of Journalists and the South East Europe Media Organisation held an international conference in Sarajevo, where they concluded that the collapse of public service media (PSM) in Bosnia and Herzegovina is unacceptable. Back then, Marko Filli, who is EBU Board Member, said that BHRT's debt towards the EBU is the slightest problem, and that is very easy to make an agreement regarding the repayment. 
It seems that there is a lot of goodwill to help BHRT, but we still need the decisive mesaures to be taken by the broadcaster and the EBU, so that Bosnia and Herzegovina again can become a full member of Eurovision family. The country last took part in 2016. In the video below, remind yourself of their entry Ljubav Je.