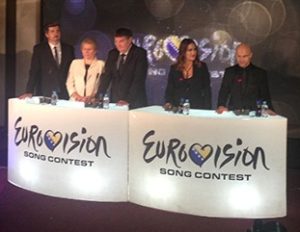 Radio Television of Bosnia and Herzegovina, BHRT, announced today that they have internally chosen Dalal Midhat-Talakić and Deen to represent the country in Eurovision 2016. This will be Deen's second time in Eurovision and the duo, to be joined on stage by cellist Ana Rucner, appeared enthusiastic in their statements.
Today's announcement comes as a relief to fans as there had previously been  financial concerns in regards to the country's ability to participate in Stockholm. During the press conference given earlier today, both Deen (real name Fuad Backović) and Dalal Midhat-Talakić expressed their gratitude for BHRT's confidence in them. Deen said that he will give his best in the hope of making Bosnians proud whereas Dalal confessed that this is a dream come true for her, adding: 'This is a great honour and we will use the three minutes (i.e. on the Eurovision stage in May) as best we can.'

'This is a great honour and we will use the three minutes as best we can.' Dalal Midhat-Talakić

Bosnia and Herzegovina joined the Eurovision Song Contest as an independent state in 1993 while war was still raging in the country. As part of Yugoslavia, artists from Bosnia and Herzegovina competed in Eurovision in 1964 (the only time ever that Yugoslavia finished last), 1965, 1973, 1976 and 1981. Bosnia and Herzegovina has managed to qualify for the final of every contest they have participated in. The country's best result to date was a third place in 2006 in Athens with Hari Mata Hari and Lejla. This year's entry is expected to be presented to the public during a tv show in February.
Deen previously represented Bosnia and Hezegovina in 2004 when, singing In The Disco, came ninth. Due the qualification system at the time, his top ten ranking automatically secured a place for the country in the following year's final. In the following video, you can watch Deen performing In The Disco in Istanbul.