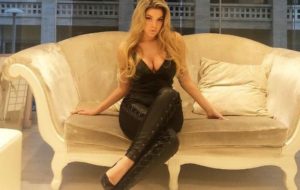 An early Christmas present came tonight with the broadcast of Albania's Festivali i Këngës 58 where the countries Eurovision participant was selected.
After twelve excellent performances tonight from an earthquake recovering city in Tirana, Arilena Ara was chosen as the winner of this years Festivali i Këngës 58 and will go forward to represent Albania at the Eurovision Song Contest 2020 in Rotterdam, The Netherlands.
The Show
As per the semis, the final took place at the Pallati i Kongreseve in Tirana. Our hostess with the mostest, Alketa Vejsiu opened the show with a rousing number featuring a large drum section. She was dressed in her favourite shocking pink colour.
When it came time to introduce the songs Alketa had changed into a space age white contraption, she is indeed a fashion goddess as well as a singer, dancer, producer and host. Too much talent for one person.
For the second half, Alketa is dressed in a royal red dress fit only for a princess, or Alketa herself. She now introduces Cyprus's Queen of Dance, Eleni Foureira, altough really she could be Albania's Queen of Dance. Anyway along with her four female dancers in zebra print like cat suits Eleni ran through her hits including Fuego and a version of Eurythmics Sweet Dreams (Are Made Of This) , Haddaway's What Is Love and Madonna's Like A Prayer.
For the last half of the songs Alketa is into a black slinky number, the costume budget alone must be close to bankrupting Albania. By the time Era Rusi has finished singing, Alketa has changed into yet another costume, a red coat with frills. These costumes could have their own festival themselves – wonder which one Christer liked best – Petra Mede and Katie Boyle never had this many costumes. Alketa then sang an Albanian folk song and after two hours we still await Giusy Ferreri.
Sure enough and now after two and a half hours in, Italian  seaon one X Factor runner up and Amy Winehouse influenced, Giusy appears to run us through her latest release Momenti Perfetti  – wonder if she'd consider representing Italy at Eurovision. Then of course what could be better than a duet with our fabulous host and indeed that's what we were treated to. Finally Giusy runs through a selection of her hit singles of which she has many to choose from.
Then of course Alketa changes into yet another dress, this time,shocking pink again, for the results (we hope).
However it was not to be as next on was Ema Qazimi to give a performance. However as she has been a great supporter of the festival in the past, all is forgiven.
The Judges
The winner of the competition was chosen by a jury  composed of Christer Björkman, producer of Sweden's Melodifestivalen and prominent Eurovision Song Contest alumni.
He was joined by Dimitris Kontopoulos, the Greek composer of such favourites as Hold Me, Azerbaijan's entry in 2013 and You Are The Only One for Russia in 2016.
Felix Bergsson was an actor in Iceland in such films as Eleven Men Out and The Icelandic Dream before joining RUV and becoming Iceland's Head of Delegation. Until this year Iceland had not made the finals for four years.
Mikaela Minga  is a music theorist who often leads seminars and talks about music folklore.
Finally, Rita Petro is a famous Albanian poet.
The Songs
Valon Shehu – Kutia e Pandorës
The first song comes blasting on stage like a runaway train and is a great opening number to the show. Valon hasn't really changed anything since his semi final performance. He is all in black while fire pumps out behind him. The composer Eugent Bushpepa would have been proud of this performance – a real rocker.
Sara Bajraktari – Ajër
Nothing has changed in Sara's performance and this is a real grower the more you hear it. It sounds a but like a sea shanty with its lilting verse and chorus. Considering Sara's age this is a very confident performance, very much in the Balkan genre of music. Very pleasant and if Sara doesn't win tonight there surely must be more from her in the future.
Robert Berisha – Ajo nuk është unë
Robert has changed into a black ensemble for tonight. The backing singers open this song which gets it off to a good start. The song has a sultry summer feel about it with prominent violins in the instrumental break. The performance may just not stand out enough to be tonight's winner but there was nothing wrong with it either.
Tiri Gjoci – Me gotën bosh
This an extremely slow song yet still managed to feature two female dancers, one in a black dress, the other white. This type of song went out of Eurovision fashion in 1978 but no-one must have told Tiri. This is a pity as he is a very good singer. The three minute experience was pleasant enough but it doesn't scream winner.
Bojken Lako – Malaseen
Three men drawn in a row, which is unusual as there are still six ladies to come. Bojken, this time has an unfavourable draw coming later than Valon's entry which had more life to it. Still this does sound very much like David Bowie in his Boys Keep Swinging era, and would make a good album track.
Arilena Ara – Shaj
Huge cheers before this one even got started. This is a very standard ballad at the start of the song, albeit very well sung. However before long Arilena is belting out the notes and the orchestra gets very involved. The backing singers do very well in the chorus, which definitely brings the song to live. In her black costume Arilena uses every note in the song to show of her voice. An audience favourite for sure.
Gena – Shqiponja e lirë
Gena once again blatantly ignores the Eurovision rules by filling the stage with as many dancers as possible to get on the stage. This is similar to Valon's opening number in style and gets the contest back on track as it was starting to get a bit boring. This probably has no chance of winning but it certainly woke everyone up with the drumming and wooaahh's in the refrain.
Kamela Islamaj – Më ngjyros
A sole piano introduces this performance with Kamela in gold and white wearing a hat to remember. This is a very powerful performance but the tune isn't that memorable, more vocal acrobats than anything but nothing wrong with that. Albania really does have a lot of great female singers.
Albërie Hadërgjonaj – Ku ta gjej dikë ta dua
This is a nice calm down again following the previous two songs. The violins are put to their full use and once again Albërie has a broadband receiver on her head. Dressed in pink and gold the performance is more than satisfactory but probably won't be winning tonight.
Elvana Gjata – Me tana
Elvana is the other favourite going into this contest but is the hype overblown – we shall soon see. This is an ethnic dance number, sort of like Qele Qele and features six female dancers all in white like Elvana herself. Much dancing from them, before they are joined by two men and take over the whole stage. This will be a fine entry from Albania and the odds are that after a ballad from The Netherlands won last year, it is time for an uptempo Eurovision winner for 2020.
Olta Boka – Botë për Dy
Olta is another good female Albanian singer and has some power in her voice too. This is a real belter of a ballad cleverly written to show case Olta's voice. However with Dimitris as one of the judges, he may frown upon the box prop which is very similar to Azerbaijan 2013. Not to worry, at least Olta has had a chance at Eurovision so she may be OK stepping aside this year for someone else.
Era Rusi – Eja Merre
This starts with a similar rhythm to last year's Albanian entry but soon changes tempo into a rousing folk type song. There doesn't seem to be as much buzz around this song, but there is no reason why this couldn't be Albania's entry this year. Lots of energy and a fine way to end the contest. Now we wait and wonder how long until we get some results.
The Results
Jonida Maliqi came on stage also in a shocking pink gown as they called on Christer to come and announce the results. Sara was announced in third place, second went to Elvana. The winner was Arilena Ara.
Albania In The Eurovision
Since their stunning debut in 2004, Albania has yet to set the Eurovision stage alight. Sure, Anjeza Shahni and Rona Nishliu did quite well coming 7th and 5th respectively in 2004 and 2012 but these two artists were the exception.
Usually Albania struggles to make the left hand side of the board, with six 16th and 17th placings.Worse on seven occasions Albania failed to qualify to the final, with the likes of Eneda Tarifa, Hersi Mutmuja and Aurela Gace all missing out.
The most fancied Albanian entry pre contest was generally accepted to be Elhaida Dani with the song I'm Alive in 2015 but she too was struck with the 17th position curse. Perhaps Albania's luck will change this year.