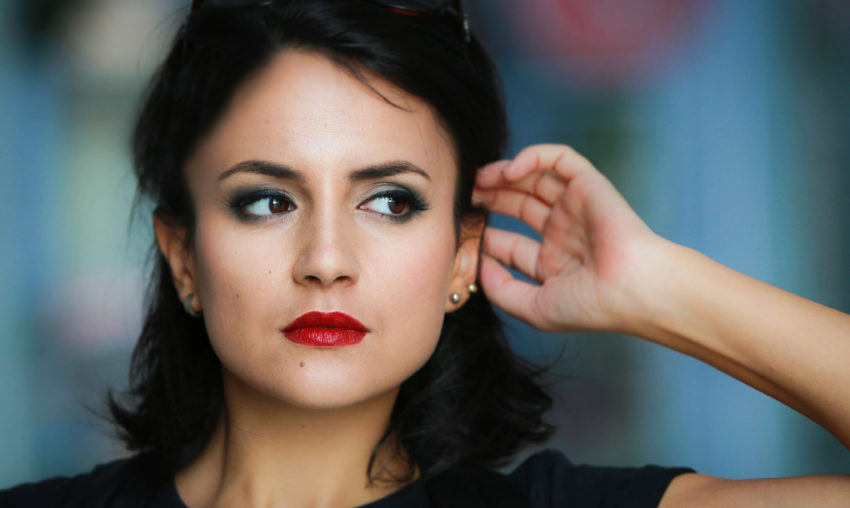 Albania is finding out who is representing the country at next year's Eurovision tonight. The two semi finals have been held and 14 finalists will compete for the title.
While Albania has been struggling to score good results, this year's Festivali i Këngës could make a difference if the jury takes a different approach in their choices and leaves behind the powerful divas that have represented the country previously.
Out of 22 acts divided into two semi finals, 14 made the final cut and will perform one last time tonight at Festivali i Këngës 56 hoping to be the jury's selection to represent Albania at next year's Eurovision Song Contest. As stated, the public will not have a say in the decision but EuroVisionary would like to share a few thoughts before the final saying.
It's time to let go of powerful vocalists and untouchable divas. 2016's Eneda Tarifa and 2017's Lindita were the needed evidence that the Eurovision audience wants more than that and this year's Festivali i Këngës has more to offer. With this being said, let's exclude straight away Denisa Gjezo, Mariza Ikonomi and the fan favourite Inis Neziri's Piedestal out of the picture.
Despite having a great voice and a tolerable song, Elton Deda lacks the Eurovision appeal and will certainly not make a difference for Albania in the competition. The same can be said about Voltan Prodani with the difference that his song – E Pamundur – isn't that great either. On the other hand, while Tiri may have a sense of Eurovision in him, his song Orë e ndalur sounds all over the place and will also be unable to create a momentum in the competition.
And while duos tend to do good in the competition, NA & Festina Mejzini will not stand a chance next to the Eurovision repeater Luis Ejlli who teamed up with Rezarta Smaja for an incredible vocal performance that could end up on a new trip to the Eurovision main stage.
Moving on to stronger entries, let's talk Artemisa Mithi. While she can certainly fall within the "powerful divas" mentioned above, the song's break can certainly make a difference with the right staging and outfit. On top of that, Artemisa seems to be more loose and less serious than the two previous selections from Albania.
We're down to two female artists and three male ones. While Redon Makashi may as well fall outside of the Eurovision prototype, his song can indeed create a peaceful moment on stage and bring back the traditional elements of a country that acts such as Knez brought back in 2015 for Montenegro. Nonetheless, Albania still has the chance of bringing completely new elements with Eugent Bushpepa who not only presents himself with a very modern look but can certainly sing his lungs out. Who needs a diva when Eugent is ready?
Orgesa Zaimi, Manjola Nallbani or Bojken Lako
We reached the final three and best acts of this year's Festivali i Këngës. They are all so different and they have so many different things to offer… It's incredible. Due to their difference and alternative style – look at Orgesa's look or Bojken's – they would certainly be a breath of fresh air to Albania in the competition. It worked for Portugal so why wouldn't it work for Albania?
While Bojken Lako would completely break the mold for Albania with a very unique tone, song and performance, choosing Manjola would not break the country's trend yet it would break what's expected for this year's Eurovision after Salvador Sobral's victory. The song is the only one in Albania's national final that brings electronic pop music back and while one can be easily bored with the genre, Manjola's powerful vocals brings our darling Kaliopi back to our minds with her incredible high notes.
There's one last standing: Orgeza Zaimi. Why? Because Orgeza includes everything that Albania needs for Eurovision. Not only does she deviate from the Pop Divas group that Albania has been sending in the past years by delivering a very unique style that could remind one of international acts such as Sky Ferreira or Halsey, but she also delivered a great catchy song that while not excluded from the Pop genre has way more to offer than just vocals. It ends up mixing more than one music genre and will certainly be one of a kind in next year's competition. She would obviously have to work her stage performance, arragements and looks but so far, so good!
Did we get your interest? Check her performance out!
This reflection article is based on the author's own personal experience. Views expressed belongs to him or her, and are to be seen as unrelated to EuroVisionary.com.