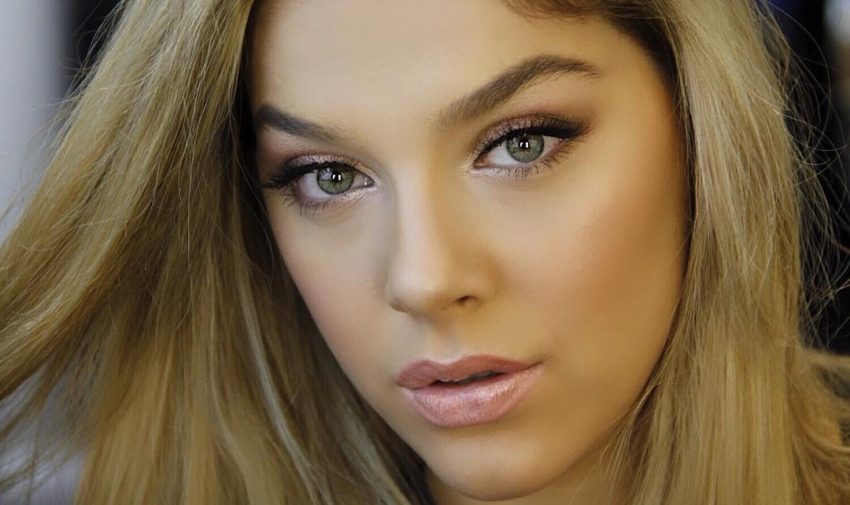 Tonight the second semi final of Albania's Festivali i Këngës 58 took place with a further ten acts performing after last night's first semi. The artists who will appear in the final on December 22 2019 have yet to be announced.
The show will be used to choose Albania's Eurovision 2020 entrant, although the winner of Festivali i Këngës 58 may not necessarily be the act that is sent to Rotterdam, The Netherlands. We will just need to wait and see.
The Show
As per last night the contest took place at the Pallati I Kongreseve and was hosted by Alketa Vejsiu. She had her hair tied back tonight and entered the stage in a long black lace dress, much more classy than last night's more outrageous costumes.
For the second half, Alketa changed into a long lemon coloured dress accessorized with a number of feathers on top. After a long monologue she was joined by a dancer and the pair pranced around to Nat King Cole's Smile, before being rudely interrupted by eight Joker like clowns dancing along to Gary Glitter's Rock N Roll Part 2.
After lots more talking, with Albanian composer, Agim Krajka, Lindita Theodhori, came on to perform one of his songs, Kafe Flora Plot me Burra as it seemed everyone had forgotten there was a competition going on.
Finally Alketa retuned in a white dress and the contest started up again.
The international judges who will help decide the finalists were Christer Björkman, Dimitris Kontopoulos and Felix Bergsson.
The Songs
Robert Berisha – Ajo nuk është unë
All in white it was Robert's job to open the show. The song has a slow salsa beat and was the perfect opener, with the contrasting violins competing with the marimba type feel of the song.  Very well sung and should see him into the final.
Wendi Mancaku – Ende
Wendi sat and played along at the piano while she performed this slow tuneful ballad. Her electric blue dress went on forever. At the second verse she stood up and walked centre stage before bursting out with a change of key big chorus. Another good performance and if simplicity is in this year, this is one to watch.
Kastro Zizo – Asaj
The backing singers were put to good use here on this gypsy type song. There was a nice back drop with a man heading of somewhere with a suitcase. This was very sing a long for anyone who understands Albanian. A trumpet player got in on the act, and although not a Eurovision winner, it was a lot of good fun.
Tiri Gjoci – Me gotën bosh
This looked as if it was going to be good with a nice nature back ground, a pleasing piano and two dancers poised and ready to go. To be honest though it quickly turned in to a plodding slow boring number just meandering along. With no significant tempo or key change this could be doomed.
Era Rusi – Eja merre
Era gave us a little bit of a more rock sound without totally breaking out. All dressed in black, Era had three male backing dancers with her, as the song changed tempo and turned more into a folk type number. There was lots of chanting and prancing around, the drummer seemed particularly enjoying himself. An entertaining enough three minutes.
Olta Boka – Botë për dy
After waiting forever Olta finally got to take to the stage with what can only be described as a power ballad. Totally dressed in white, Olta used a bit of the box theme that Azerbaijan used in 2013 with their Hold Me entry. Her name alone should take her to the final and then we can wait and see where it goes from there. Anguished indeed.
Valon Shehu – Kutia e Pandorës
Valon couldn't have been drawn in a better position as he woke the audience up with this Eugent Bushpepa song. It sounded very much like a raucous version of Slovenia's Sestre entry from way back when. All dressed in black, if Albania want to send something with a bit of life about it, this is the one.
Arilena Ara – Shaj
Quickly back to the ballads then with Arilena all in black leather looking like cat woman. This is quite powerful particularly when the backing chorus comes in which lifts it up a bit. Arilena can definitely sing with some of the longest held notes in the competition. This should make the final easily.
Eli Fara & Stresi – Bohemë
Bohemian and ethic indeed. The flamenco guitar accompanied this very Spanish sounding song, The temo was broken up with Stressi rapping along in the singing breaks. A unique blend which certainly had everything thrown into it including a large violin section. May be noticed due to being a little different.
Gena – Shqiponja e lirë
A big and dramatic finish to the contest with the stage filled with twelve dancers. This was another song which had everything in it, lots of rock drums, ethnic strings, a catchy chorus with more roaring than there were words, This could make it difficult for the judges to choose.
Albania In The Eurovision Song Contest
It took Albania nine years to achieve its best placement to date, when in 2012, Rona Nishliu came 5th with Suus. This has been only their second  top 10 place, since their debut year in 2004.
Albania has failed to qualify for the finals on seven occasions, the last time being in 2017 when Lindita missed out with World. When they do make the final, the odds are on for them to finish in 16th or 17th place, a feat they have accomplished six times out of nine attempts. The only other time they did not finish in these two places was in 2018 when Eugent Bushpepa finished 11th with the song Mall.