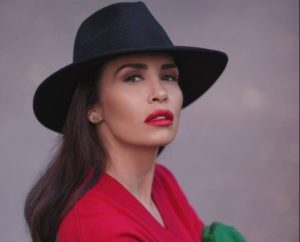 Beating 21 other contestants, Jonida won the 57th Festivali i Këngës, which serves as Albania's national selection for Eurovision. Their entry is the first song known for the 2019 Eurovision Song Contest. 
Late November, Armenia presented Srbuk as their participant for the contest in Tel Aviv. Friday, the Cypriot broadcaster announced Tamta as their representative. Tonight Albania picked theirs who are then the third act – but the first song – known for next year's Eurovision Song Contest.
Tonight's Festivali i Këngës final were a little different to previous years. The music festival still ran over three days, but featured only one semi-final. On the first evening, all acts performed their entry with a big orchestra. On the second evening, the orchestra was gone and instead focus was on presenting a stage show similar to what we can expect in Tel Aviv. 14 songs continued to the final where an expert jury selected the song that will represent the country in May next year.
The participant
22 acts competing in this year's Albanian selection:
Bojken Lako – Jeto Jetën
Alar Band – Dashuria -nuk Mjafton
Lidia Lufi – Rrëfehem
Kujtim Prodani – Babela (Eliminated in the semi-final)
Gjergj Leka – Besoj
Dilan Reka – Karma
Mirud – Nënë (Eliminated in the semi-final)
Soni Malaj – Më E Fortë 
Jonida Maliqi – Ktheju Tokës
Elton Deda – Qetësisht
Elona Islamaj – Në Këtë Botë Kalimtare (Eliminated in the semi-final)
Klodiana Vata – Mbrëmje E Pafund (Eliminated in the semi-final)
Klint Çollaku – Me Jetë
Artemisa Mithi & Febi Shkurti – Dua Ta Besoj
Kelly – A Më Ndjen (Eliminated in the semi-final)
Bruno Pollogati – Nuk Ka Stop (Eliminated in the semi-final)
Marko Strazimiri & Imbro – Leyla
Lorela Sejdini – Vetmi
Eliza Hoxha – Pengu
Eranda Libohova – 100 Pyetje
Aurel Thëllimi – Të Dua Ty (Eliminated in the semi-final)
Orgesa Zaimi – Hije
Albania at the Eurovision Song Contest
The small country in South-East Europe debuted at the contest in 2004. With the song The Image Of You, Anjeza Shahini came 7th. Today, that is still their second best result, only beaten by Rona Nishliu and her Suus in 2012 which finished 5th.
With 15 participations, Albania qualified for the final eight times. This year, in 2018, Eugent Bushpepa brought the country into the final after two years missing out. Eventually, he came in as 11th showing off his powerful voice with the song Mall.
In the video below, enjoy Engent perform his Eurovision entry live in Amsterdam for the 2018 Eurovision In Concert.