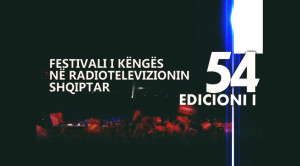 It was announced a month ago that the songs of Festivali i Këngës, the Albanian national selection, would be revealed in advance of the contest. Earlier today, the official site of Festivali i Këngës uploaded all 30 songs participating in its 54th edition, giving a taste of what to expect later this month.
The songs of the first semi final seem to be faithful to the formula we are used to see in Festivali i Këngës. The songs are mainly ballads and rock ones. The  second semi final on the other hand offers more variety with songs that bring a more modern sound to the contest.
Past Eurovision participants Adrian Lulgjuraj (Malmo 2013), Luiz Ejlli (Athens 2006) and Erga Halilaj (back vocalist in Copenhagen 2014, Vienna 2015) have all gone for a more classic Festivali i Këngës formula. Adrian's Jeto dhe ëndërro is a more modern rock song, unlike his Malmo 2013 entry, while Luiz's Pa mbarim and Erga's Monolog are both ballads which showcase their vocals.
A surprise occured when Edea Demaliaj, expected to compete in the 1st semi final, withdrew from the contest due to the fact that she wanted to change her entry – such a change is not allowed by the rules however. Thus, Orgesa Zaimi, who had applied for the 54th edition, took her place with the song Një shishe në oqean.
The list of the composers and lyricists of each song was also made available by state broadcaster RTSH and is as follows:
Semi Final 1:
1.Egzon Pireçi- Triumf (Faton Dolaku-Egzon Pireçi)
2.Grupi Simbol-Artist(Martin Çipi-Grupi Simbol)
3.Voltan Prodani- Dëgjoje këngën o Atë(Voltan Prodani-Zhuljana Jorganxhi)
4.Adrian Lulgjurai-Jeto dhe ëndërro(Adrian Lulgjuraj)
5.Sigi Bastri-Ëngjëll i lirë(Endrit Shahi-Sigi Bastri)
6.Dilan Reka-Buzëqesh(Endri Sina-Ergisa Cenuka)
7.Luiz Ejlli-Pa mbarim(Marian Deda-Agim Doçi)
8.Nilsa Hysi-Asaj(Indri Topi-Nilsa Hysi)
9.Orgesa Zaimi-Një shishe në oqean(Diana Ziu-Agron Tufa)
10.Erga Halilaj-Monolog(Gjergj Kaçinari-Erga Halilaj)
11.Florent Abrashi-Të ndjek çdo hap(Fabian Asllani)
12.Teuta Kurti-Në sytë e mi(Sokol Marsi)
13.Kozma Dushi-Një kade(Vladimir Kotani-Jorgo Papingji
14-Aslajdon Zalimaj-Merrmë që sot(Briz Musaraj-Big Basta)
15.Egert Pano-Mos ik(Egert Pano-Enrieta Sina)
Semi Final 2:
1.Krsisti Popa-Ajo çfarë ndjej(Kristi Popa-Jorgo Papingji)
2.R.Smaja&Klodian Kaçani-Dashuri në përjetësi(Edmond Zhulali-Agim Doci)
3.Revolt Klan-Dashurinë s'e gjejmë dot(Revolt Klan)
4.Jozefina Simoni-Një det me ty(Enis Mullaj-Sokol Marsi)
5.Andi Tanko-Dielli vazhdon të më ngrohë(Etmond Mancaku)
6.Entela&Niku Zhula-Muza(Entela Zhula)
7.Genc Tukiçi-Sa të dashuroj(Genc Tukiçi)
8.Evans Rama-Flakë(Gent Lako-Helena Halilaj)
9.Besa Krasniqi-Liroje zemrën(Besa Krasniqi)
10.Enxhi Nasufi-Infinit(Klodian Qafoku-Florian Zyka)
11.Flaka Krelani-S'je për mu(Qëndrim Krelani)
12.Renis Gjoka-Ato që s'ti them dot(Renis Gjoka)
13.Lindi Islami-Për një mrekulli(Lindi Islami-Big Basta)
14.Eneda Tarifa-Përallë(Olsa Toqi)
15.Klajdi Musabelliu-Ndodhë edhe kështu(Klajdi Musabelliu-Perikli Papingji)
The songs will also be broadcast daily on Radio Tirana at 16:00 CET and through RTSH's Gjithçka Shqip, which is presented by Albania's commentator and spokesperson for Eurovision for the past 4 years Andri Xhahu and Artemisa Deda.
You can listen to this year's participant songs through the following link:
http://festivali-rtsh.al/new/
Also, through Radio Tirana following this link:
http://tunein.com/station/?StationId=68418
Festivali i Këngës will kick off by late December and will last 3 nights. 18 songs will compete in the grand final on December 27 for the chance to represent Albania in Stockholm 2016 in May.
Albania at the Eurovision Song Contest
Albania's debut in the Eurovision Song Contest happened in Istanbul 2004, when the country was represented by Anjeza Shahini with The Image of You. However, it took 8 years for the country to achieve its best result to date with Rona Nishliu and her song Suus which, with 156 points, achieved a 5th place in 2012.
Elhaida Dani, the winner of The Voice Italy 2013, represented Albania in Vienna 2015. Even though she managed to qualify from the semi final stage, she ended 17th in the Grand Final with 34 points. In the following video, you can watch Elhaida performing her entry I'm Alive during the dress rehearsal for this year's Grand Final in Vienna.