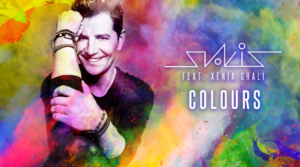 Double Eurovision participant Sakis Rouvas is back with a new song titled "Colours". It's the official soundtrack for the Greek festival Colour Day, which takes place every year in the capital of Greece, Athens.
Colour Day is an annual summer festival in Greece, where people throw small balloons filled with colour powder at each other. At the end of the night, everyone is covered by this powder. There is one large stage where DJ's and artists perform for the crowd. This is one of the most famous festivals in Greece with more than 40.000 people attending every year.
This year, Sakis Rouvas (Greece 2004 and 2009) collaborated with famous Greek DJ Xenia Ghali who is featured on the song, but also Tyler James Bellinger for the official anthem for this year's edition. The song is titled Colours, and Mr. Rouvas invites the Greek people to quickly join the party through the lyrics of the song: "Say that we can paint the sky -we are running out of time".
Sakis and other famous artists, such as Tamta and Josephine (Greek NF 2014), are waiting for the people to join them on the 30th of June and the 1st of July in OAKA Stadium. In the video below you can listen to the song: