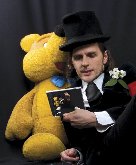 Bosnia have chosen the famous (in the Balkans anyway) singer Elvir Lakovic Laka to represent them in Belgrade. He will sing the song Pokusaj (Try) in the first semi-final on Tuesday 20th May.
He was chosen from a shortlist of 31 entries by a panel of seven 'experts' in December.  Not only will he perform the song, he wrote it as well. It's more than likely that the song will be altered and the title changed before the song is presented to the Bosnian public on March 2nd.
When asked what he thought of his chances of being chosen as his country's representative he said "When they told me to sign on, maybe I had a little hope to be the next representative. But, knowing what kind of songs succeed there, I did not have much hope. And it looks like they've decided to "break" that concept of songs that go to Eurovision. Every year there  are innovations, which means that nothing is excluded. The most important thing is to make it to the final night."
Links
In my view
Judging by some of his other songs, he will provide the viewer with something different and original. In my experience, original usually means dreadful. My mind is open so we'll see.

The opinion expressed in "In my view" are those of the author and are not necessarily the one of EuroVisionary.com.