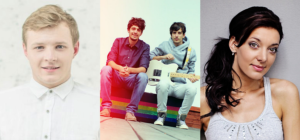 The Czech broadcaster, Česká Televize (ČT), confirmed in late summer 2015 that the Czech Republic would be present in Stockholm for the 61st Eurovision Song Contest. Later, in November, ČT announced that it would select its 2016 representative internally. Who could it be? 
New Czech Head of Delegation, Jan Bors, confirmed in January 2016 that the jury inside ČT has shortlisted three songs. Amongst these three songs are, according to ČT's spokesperson Alžběta Plívová, both well established musicians and also young bands. She also said that the selection process is still running and the professional jury to select the Czech entry for Stockholm is yet to be composed, but more information should be revealed in February.
One of the biggest Czech newspapers, Mladá fronta Dnes (MF Dnes), has revealed that the three acts rumoured to have been shortlisted are Dasha,Thom Artway and duo Light & Love. Let's now introduce you to all these three possible Czech representatives…
Dasha
Dagmar Sobková (better known by her stage name Dasha, 34 years old) is a Czech musical actress and professional singer. She became famous after her victory at a children's singing competition in 1996. She started her musical career as a backing vocalist for more famous Czech singers and later she started acting and singing in musicals. In 2010, she won the annual Thálie award, given for the best theatre acting. Now she sings as a vocalist in TV shows (mostly for the Czech version of dancing show Strictly Come Dancing, called Stardance in the country, where she sang in all seven seasons) and with some Czech bands like Pájky Pájk and Moondance Orchestra. She has released only one CD on her own, titled Dasha… Do Peřin from 1997. She mostly sings cover versions of Czech and worldwide hits.
Thom Artway
Tomáš Macek (better known by his stage name Thom Artway, 20 years old) is a young singer, songwriter and guitar player from the most eastern part of the Czech Republic. He sings in English and his music style could be defined as a combination of pop, rock and folk. He performs alone or with a band and he gained experience during his travels to Australia and New Zealand. He became famous in 2015 after he released his song I Have No Inspiration, but he had already released a few songs, e.g. Towards The Sun of 2012 from the original soundtrack of Czech movie Křídla Vánoc. In 2016, he plans to release his debut album, having already released an EP titled Still Standing In The Unknown in 2013.
Light & Love
The brothers Jan Balcárek and Lukáš Balcárek (better known by their stage name Light & Love) are a duo from the northeast part of the Czech Republic. Jan is better known by his nickname Johnny Rainbow, he is 24 years old and he is also a producer for some other musicians. His brother Lukáš uses the nickname Kosak and he looks after the image of the duo. Light & Love released two successful videos in 2015 – Blueberry Sky and True. In 2016, they plan to release their debut CD, just as their colleague Thom Artway.