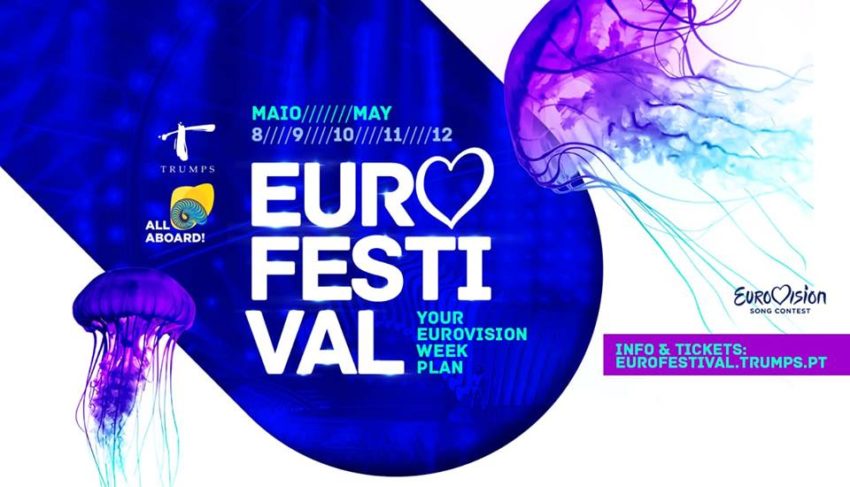 Trumps are asking for your thoughts on which Eurovision or national final songs, they should put on their playlist. What do you want to hear? The ticket sale has also started. Are you ready for a big party?
Trumps' Eurovision parties have been a verified success. On week one, two times Festival da Canção contestant – Catarina Pereira – headlined the party and in its second week, Filipa Azevedo (Portugal 2010) was the initial headliner but was eventually joined by this year's Finnish representative, Saara Aalto, that took the stage for roughly 20 minutes.
As if that wasn't enough, the club has made a commitment of mixing its iconic Pop nights with Eurovision music and has prepared its own Eurovision show by having its outrageous Drag Queens paying homage to some of the most remarkable Eurovision participants.
Following the club's owner words, Trumps aim to be this year's biggest unofficial EuroClub for the Eurovision Song Contest 2018 and has now announced an entire agenda for the Eurovision week. Not only the club will have its doors opened all week (8th-12th of May) for the first this this decade but it will also host social livestreams of the three Eurovision shows for those who may have not been able to get tickets, or for those who are simply interested in watching the show with company.
The live coverage of the respective semi finals and of its Grand Finale will feature the club's Drag Queens that will be commenting the shows as everyone watches. By the end, an after party will take place with Eurovision, Pop and House hits. The club is selling a main pass for 50€ that will give access to all the parties and respective events as well as discounts to restaurants and bars near the club and can be purchased online. On top of that, because Trumps is generally busy, pass holders don't have to wait inline.
There are single night prices as well, take a look:
| | | |
| --- | --- | --- |
| Week day | Price before 23:45h | Price after 23:45h |
| 8th of May | 15€ (includes the live transmission) | 10€ |
| 9th of May | 10€ | 10€ |
| 10th of May | 15€ (includes the live transmission) | 10€ |
| 11th of May | 10€ | 10€ |
| 12th of May | 15€ (includes the live transmission) | 12€ |
All the prices in the table are to be paid at the entrance of the club. These single tickets are only meant for the respective night and give no discounts outside of the club. Instead, it includes a free drink for that specific event.
Help Trumps design its Eurovision playlists
It is the very first time Portugal is hosting the Eurovision Song Contest, and also the first time Trumps is hosting Eurovision parties. The club wants to make sure the fans will be satisfied and, therefore, wants to have everyone's opinion on what Eurovision songs can not be left out of the Eurovision after parties.
In order to gather opinions, EuroVisionary is asking you to suggest up to ten songs which you think you should be a part of the playlist. This ten songs are not exclusive to Eurovision entries, but can also be national selection's songs as well. Let us know in comments, what you want to hear? The lists will be shared with Trumps' owner and, of course, build the future Eurovision nights.