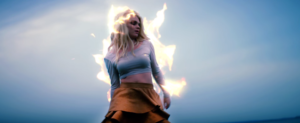 Polish singer Margaret who finished second in the national selection this year released an official music video for her song Cool Me Down. Following the release of a lyric video, the young singer released a full music video to promote her single.
On March 5th 2016, Margaret entered Krajowe Eliminacje 2016, the Polish national selection program responsible to select the entry for Poland at the 2016 Eurovision Song Contest. Despite great reviews online of her entry Cool Me Down, she finished second place behind Michał Szpak with his song Color Of Your Life.
Last month, it was announced that Margaret's single Cool Me Down received an international release by Warner Music Group, and she has now released yesterday the official music video for the song.
In the video, Margaret is seen in various outfits and surroundings such as, in the water at a beach or in some sort of factory. The singer eventually starts catching up on fire (hence the lyrics "nothing can cool me down"), but don't worry, it's all done through special effects!
Watch Margaret's music video below and let us know what you think. Should Margaret try out to represent Poland again next year?