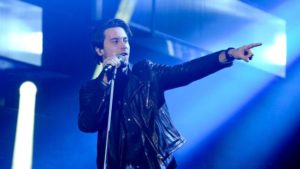 Estonia held its annual Eesti Laul tonight to choose who will represent them at this years Eurovision Song Contest to be held in Tel Aviv on May 18. Twelve acts performed tonight with Victor Crone being the ultimate winner.
The country has drawn the second half of the first semi final, which means Victor will sing Storm on May 14.
The Hosts And Show
The Eesti Laul 209 final was held in Tallinn at the Saku Suurhall, where so many finals have been held before. The hosts were the same pair from the semi finals, Ott Sepp and Piret Krum. Ott made a name for himself in the 2002 movie Names In Marble. Piret can be seen in the 2017 classic trilogy Mehetapja/Süütu/Vari playing the part of Lilith. Piret wore a purple silk dress.
The show was opened by Karl-Eric Tauker singing his Estonian hit Need Read. There then followed a parade of the competing acts down the middle of the audience. And with that Eesti Laul 2019 began. At regular intervals during the show, the acts were interviewed in the Estonian green room. Lack of knowledge of Estonian prevents one from knowing what they are chatting about, but they all seem to be having a great time.
After the first reprise of the songs, Estonia's entrant from 1996 treated everyone to a song. After the international jury had voted Elina Nechayeva came back to sing last years Estonian entry La Forza with a full size choir. Getter Jaani, Estonia's 2011 entrant then sang a new song, while the public re-voted between the top 3.
Next up was Elina Born with her new song Tagasi Me. She was then joined by Juri Pootsman for a duet.
The Songs
Sissi – Strong
This is, to quote the name of the song, a really strong entry. Sissi can sing really well. Obviously she's learnt from her father, Dave Benton, part of Estonia's only winner and everyone's all time favourite duo from Eurovision 2001. The backing singers, two males, one male are competent and professional too, so it may be the case of first song on, ends up in first place. Sissi wore the same blue suit she wore in the semi final and was joined mid song by two female dancers. Mid temp dance with a bit of a choral finale.
Lumevärv ft. Inga – Milline päev
Ginger Inga comes next with a typical Euro dance song that has, deservedly so, picked up its share of pre Eesti fans. The Lumevärv stay well hidden, letting Inga run around the stage on her own, selling the song. Very Eurovision friendly and also must be in with a chance. Inga has her name on her braces and around her waist with whatever she was wearing – a mix of shorts and leggings. Christmas bell type sounds coming from the keyboards lifted the entry higher. 
Victor Crone – Storm
Storms don't last forever, yet here is Victor, hoping to make it last a little longer with this sing a long song, written by Stig Rästa. A kind of lightweight version of Denmark's Higher Ground from last year. This is one of Stig's premium songs and Swedish singers have done very well representing Estonia before.  Victor had his leather jacket on to sing this anthem making it three good songs in a row.
Kerli Kivilaan – Cold Love
With a song she co-wrote herself, Kerli starts on a stool with an intimate start. This is a classic pop song with no frills. It turns out to be a pleasant listen . Her boy band backing band seem competent players and so far it looks like being a difficult choice for Estonia to make, Very nice.
xtra basic & Emily J – Hold Me Close
The sound in their semi can't have been the best because this is a vast improvement. Emily's vocals seemed to have more power which is needed for this, the second dance song of the night. Emily was in a blue and black blouse with black trousers. The xtra basics played their instruments in the back ground while two dancers danced around. Emily joined them in some hot footin' before the song ended. Great for the clubs.
Kadiah – Believe
Bringing the first half to an end, is this gentle and sad ballad from Kadiah. The cello weeps along with her and suddenly the song becomes a joyous celebration, yet sung in a fragile manner. This has a really nice melody even adding a hip hop rhythm as it progresses. Understated.
Synne Valtri – I'll Do It My Way
This is so old fashioned but the backing track is so addictive that who cares. A simple verse bursts into an irresistible chorus that is so commercial, Monaco or Luxembourg would surely have sent this in their hey days. If a no-nonsense simple bop is required this is the one.
Stefan – Without You
Stefan is another great singer who starts his song playing his piano. There are hints of Rag N Bone man in the chorus when the drum kicks in. The cell phones are swaying away in the audience and if Estonia want to send an easy listening number this will be the one. Towards the end Stefan gets up of his stool and moves over to a box handily waiting for him on the stage. Very popular with the audience.
The Swingers, Tanja & Birgit – High Heels in the Neighbourhood
Tanja (2014) and Birgit (2013) are looking and sounding mighty fine tonight in their black dresses. This has everything in it including the kitchen sink.  A saxophone, white double bass,  drums and a white keyboard make up the musical accompaniment. A rousing crowd pleasing dance piece for sure, but will it translate over to the full Eurovision arena.
Uku Suviste – Pretty Little Liar
Uku seems to be suffering from a touch of stage fright during the first verse, allowing  a dancer to take the stage alone. Either that or he didn't have his make up on time. This is another powerful pop song that' going down well with the audience. Another favourite going into tonight's show, this also would be a good entry for Estonia. The rousing chorus comes in at the right places and it appears a choir is singing along, but there is no sight of them. The golden shower effect shows Uku is ready to head to Tel Aviv,
Inger – Coming Home
This is a great little country number and Inger's little guitar just seems right. The audience have the flashlights out again guiding Inger home. A simple piece also instantly likeable. Inger has a weird vocal tone when singing the Home refrain but this would also go down well in the actual Eurovision.
Sandra Nurmsalu – Soovide puu
Closing out tonight with her haunting entry this year, Estonia's 2009 favourite is now without her Urban Symphony. This is the second song tonight sung in Estonian and it sounds so much fresher for it. A dreamy little number that the fans sent to this final.  A flashy dress lit up at the right moments, while another old Eurovision favourite – the growing tree effect was used to enhance the song. A nice closing number in tonight's competition.
The Results
The international jury gave their votes. This was then followed by the public vote. Both results were added together to send the top 3 to the super final. They were Victor Crone, Stefan and Uku Suviste.
After the second vote, Victor Crone was announced as the winner. Uku was second and Stefan came third.
Jury
Converted Points
Public
Total
Position
Sissi
46
8
6
14
4
Lumevärv ft. Inga
46
10
2
12
5
Victor Crone
25
2
12
14
Top 3
Kerli Kivilaan
43
7
0
7
9
xtra basic & Emily J
21
0
0
0
12
Kadiah
25
3
3
6
10
Synne Valtri
4
0
4
4
11
Stefan
70
12
7
19
Top 3
The Swingers
26
4
5
9
7
Uku Suviste
36
5
10
15
Top 3
Inger
24
1
8
9
6
Sandra Nurmsalu

 

40
6
1
7
8
Estonia In The Eurovision Song Contest
This will be Estonia's 25th appearance at The Eurovision Song Contest. One thing that can be said for Estonia is that they have sent a wide selection of different kinds of music.
The commercial sound of Ines in 2000 with Once In A Lifetime and Sahlene with Runaway in 2002 both brought top 5 results.
However since the introduction of the semi finals Estonia have failed to qualify for the final, nine out of fifteen times. Not such a good record.
Two sixth places have been their best results in the semi final years with Urban Symphony with Randajad in 2009 and Ott Lepland and Kuula in 2012.
Estonia won the contest in 2001 with Everybody by Tanel Padar, Dave Benton and 2XL.