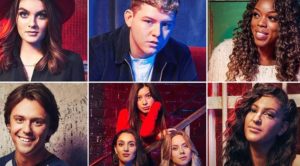 The BBC are revealing the contestants that will be competing head to head for a ticket to Tel Aviv. After 20 years since their last win, do you think that any of these contestants have what it takes to bring victory back to the UK?
Six artists will be competing in this years Eurovision: You Decide. These were revealed by the broadcaster – one by one. You can hear them in full length by clicking the link at each song title:
Interesting songwriters
Bigger Than Us is partly written by Swedish John Lundvik. He is taking part in the Swedish Melodifestivalen selection this year, so potentially, he could represent Sweden as a singer and United Kingdom as a songwriter, the same year.
The song Sweet Lies is written by Danish songwriters Maria Broberg, Lise Cabble and Esben Svane. Lise wrote several Eurovision entries for Denmark, among others their winner from 2013 Only Teardrops. Esben was a part of the band A Friend In London who represented Denmark at the 2011 Eurovision Song Contest with the song New Tomorrow, which was also written by Lise Cabble.
Old, yet new format
The United Kingdom have used the Eurovision: You Decide format  since 2016 following some bad results from internal selection. However, there will be a change this year. In past editions of the show each contestant competed with their own song and the winner was decided using a combination of the public and jury vote. This year, there will be six acts and three songs. Each of the three songs put forward will be performed in two different musical styles by two different acts – with three rounds of 'song-offs' being performed by the six acts.
Mel Balac, Creative Director for Entertainment BBC Studios and Executive Producer of Eurovision: You Decide said: 'This year the three songs presented to the United Kingdom have been selected with the help of an international jury. Our exciting "euro-version" format will give fans the chance to compare and contrast these fantastic songs in a fresh, new way and deliver the United Kingdom the artist it deserves to fly the flag out in Tel Aviv in May.'
As well as a new format, Eurovision: You Decide has a new home. The show will be broadcast from Media City UK in Salford on Friday 8th February. This is the first time that the show has been broadcast in the north of the country and will give a new set of fans the opportunity to enjoy the show. Like last year, the show will be presented by Mel Geidroyc and 2015 winner Måns Zelmerlöw with the show being aired on BBC 2.
Last year, the United Kingdom sent SuRie to Lisbon with her song Storm. As a member of the Big 5 SuRie automatically had a place in the Grand Final. She finished in a disappointing 24th place. Her performance wasn't without controversy as part way through her song she was interrupted by a stage invader who took her microphone shouting "Modern Nazis of The UK media, we demand freedom! War is not peace!". This left SuRie without her microphone for over 10 seconds. She was offered the chance to perform again but declined.
You can enjoy the uninterrupted version of Surie's Storm by watching her performance at last year's Eurovision In Concert below.