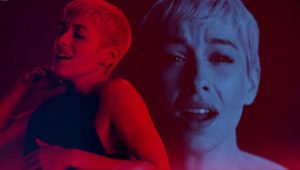 The BBC has dropped the video for the revamped version of "Storm",  which has received mixed reviews from fans. Does the new version of the song have what it takes to better last year's result?
Today the BBC have released the official video for the United Kingdom's entry for the upcoming Eurovision Song Contest. The song Storm which will be performed by SuRie has undergone a revamp in preparation for the contest. The new video has been released on the online streaming service BBC iPlayer and on youtube.
In what appears to be a low budget video, it shows SuRie performing her song in a variety of different outfits in front of a dark screen with psychedelic shapes and lights. The camera goes between close ups of SuRie to clips of her passionately performing her song.
SuRie was announced as the British act for the 2018 contest on 7 February 2018, after being selected to represent the United Kingdom on Eurovision: You Decide. As a member of the Big 5, the United Kingdom go straight through to the grand final which will take place on 13th May. SuRie is no stranger to Eurovision, she provided the backing vocals for Loic Nottet in 2015 and Blanche in 2016.
You can listen to the revamp of Storm below. Does the psychedelic video show us what we should expect from the performance in Lisbon?