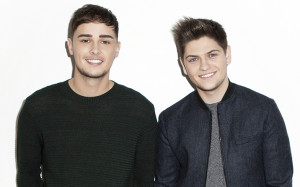 The United Kingdom entrants, Joe and Jake have released an official video for the song You're Not Alone. The video release follows last week's news that the duo have been signed to Sony Music.
The boys have filmed a new video as their official promo to You're Not Alone, which as one of the Big 5 countries, is directly qualified to the final on May 14th.
The video is mainly a performance video with Joe and Jake performing in a studio. The video starts out dark with the spotlight on the pair, before bursting into a hue of purple and pink lights. Two drummers feature in the background.
Towards the end Joe and Jake rush forward on the stage and are met and surrounded by a group of jumping fans.
The United Kingdom at the Eurovision Song Contest
This will be the United Kingdom's fifty ninth performance at the Eurovision Song Contest. In recent times, as has been said so often, the country has failed to shine, with only Jessica Garlick in 2002 and Jade Ewen in 2009 managing to make the Top 10. The glory days of 15 second places and 5 wins seem to be in the distant past, but maybe Joe and Jake are the right guys for changing that?
As one of the Big 5, the United Kingdom are qualified direct to the final, where recent attempts from Blue, Engelbert Humperdinck and Bonnie Tyler have not lived up to expectations. A change in the selection process in 2014 saw the BBC send Molly to Copenhagen with Children Of The Universe, but saw her land in 17th place, while last year Electro Velvet took home only 5 points.
You can watch our highlight from the recent UK entries below: