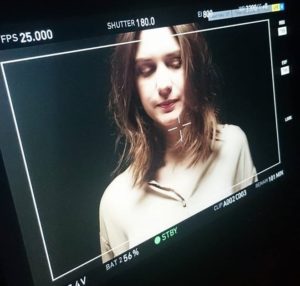 Martina Bárta is the Czech representative for Kyiv and she will sing her song My Turn. The song was finally released today, and the question is now if this song will keep the country in the final they reached for the first time last year?
The Czech Republic had its internal selection just as in the last two years, but, this year, it was the biggest so far. We already summarized that process before in the article Martina Bárta chosen. Now it is the time to take a deeper look at Martina, her life, work, and experience. And of course what is the most important thing – the song, which you can listen to in the video below.
Who is Martina Bárta?
Martina Bárta is a 28-year-old jazz musician, currently living and working in Berlin, Germany. She started her music career when she studied in the selective high school of Jan Neruda. There she studied classical music and also the French horn that she plays until now. After high school, she was accepted to study at the Faculty of medicine of Charles University in Prague, but her love for music (and especially jazz music) was stronger. So she decided to go instead to a state conservatory in Prague to study singing in the class of famous Czech singer and vocalist Naďa Wepperová.
In 2010, Martina (still under her surname Bártová) participated in the competition Robin Hood – Cesta ke Slávě (Robin Hood – The Road to the Glory). The winners of this musical theatre contest (one male and one female) were guaranteed a main role in the cast of new Czech musical Robin Hood by famous composer/lyricist duo Ondřej Soukup and Gabriela Osvaldová. Ondřej Soukup was also one of the composers in charge of choosing the Czech entry for Vienna in 2015. Martina not only took part but also won this competition, so, in the following years, she played the main character of Lady Marianne. One year later, in 2011, she was accepted to study at prestigious Jazz Institut Universität der Kunste in Berlin, Germany. There she studied under many famous jazz professors just as Judy Niemack, David Friedman, Peter Weniger, John Hollenbeck and Greg Cohen.
After some time spent in Germany, Martina decided to change her surname from the Czech version Bártová to the 'international' version Bárta (in Czech, this is the male version of the name) because many people asked her after her concerts if she was Russian due to the -ová ending of her proper surname. During her studies in Berlin, Martina worked as a guest with many jazz groups and projects, also during various jazz festivals, not only in Germany but also in the USA. It was in 2016, after she had finished her studies, that she finally had the chance to go to the United States and work with the best jazz musicians. When Martina had her graduate's concert at the Jazz Institut, she created a unique Czech-German project called Martina Barta & her Jazz Orchestra. She also set up her own project Scotch & Soda with jazz singer Marcus Gartschock during her studies and is successfully continuing with it at present. Another collaboration of Martina was a guest performance with the band of German rock legend Henning Protzmann.
In the Czech Republic, Martina performs as a soloist with the Big Band of one of the most famous Czech band leaders and saxophone players, Felix Slováček. From other projects and groups she worked with, one ought to name the Prague Film Orchestra or, in 2015 and 2016, Sinatrology. That is a project consisting of jazz concerts sung by famous Czech and foreign musicians and singers such as Dasha, Martina Bárta, Jan Smigmator, Jumaane Smith or EN.DRU. Martina's older sister, Kristina Bárta, is a successful jazz composer and pianist and they both enjoy working together. Their biggest success was their original, co-written song Find Peace of Mind, for which Kristina wrote the music and Martina the lyrics. This song was awarded as The Best Jazz Composition at the Bohemia Jazz Fest. You can listen to the song below.
About the song
The Czech Republic's entry for Kyiv was chosen after a long internal selection. In the last round, there were two songs. One was by the Swedish team that composed I Stand (Czech 2015 entry for Gabriela Gunčíková) – Christian Schneider, Sara Biglert and Aidan O'Connor. The other one is called My Turn and is written by a team from the United Kingdom, the composer of which is Kyler Niko. Martina was one of the five chosen singers to record these songs and then the best combination was chosen as the winner. It was the song from the UK team My Turn that made it and Martina was glad that this one won because she felt it is close to her heart from the first time she heard it. If the other song had won, Martina would have considered a withdrawal. That is because the Swedish song is a typical pop song, similar to the style of Katy Perry, as Martina explained in an interview for Czech news server iDnes.cz.
My Turn then got some finishing touches in a London studio to fit Martina's voice and expectations. Maybe that is one of the reasons why the song is not deemed to be just another boring pop ballad. It is a more of a soul ballad, so not too far away from Martina's area of expertise – jazz. The song only has a piano in the background and, later, some strings and chimes are added. It starts with a very calm first verse and builds with every single second passing. Verse 2 is longer and different from the first one and it all leads to the bridge and final chorus with no long notes (like Pastora Soler's for example), but it has a lot of feeling in its last part. Throughout the song, Martina's voice is as soft as silk and that's what can make it different from the other Eurovision-type ballads in Kyiv. The style may be somewhat reminiscent of Emeli Sandé (her song Clown perhaps), but, in any case, it is a contemporary English pop ballad. The official audio of the song was released today at 18:00 CET via the official YouTube channel of Eurovision Song Contest 2017.
The official music video was shot two weeks ago at the Czech Television studios and it features people of different ethnicities and body types. During that week, Martina and the Czech delegation shared many photos from the shooting to tease Eurovision fans around Europe. Executive Producer of the Eurovision Project in the Czech Television, Jan Potměšil, also revealed why they used this particular concept for the video. My Turn should be about intimacy and that's why the video is so diverse – hinting at the motto of Eurovision 2017, Celebrate Diversity. The song could also be about relating to the unknown people we meet every day on the street or elsewhere, that's why we see so many people involved. The atmosphere of the official video is expected to be similar to the song itself – calm and intimate. The official video will be released on Saturday 11th March.