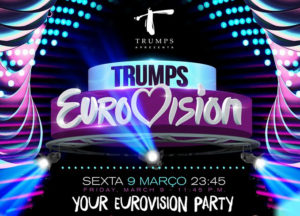 The biggest gay club in Lisbon, Trumps, is getting ready to host Eurovision themed parties starting next week. EuroVisionary caught up with the club's director to check up on what fans can expect from visiting these parties.
While the EuroClub will be held this year at Lust In Rio in Cais do Sodré (Lisbon), and become a space exclusively for delegations, officials, artists, journalists and a few fans, another venue will open its doors to everyone who wants to celebrate the Eurovision feel at a big party. That will take place a few kilometers from Cais do Sodré at Trumps in Rato (Lisbon).
EuroVisionary caught up with Marco Mercier – Trumps' director – to find out more about the dates, respective prices and what fans can expect from the parties. Starting from 9th of March, Trumps will, every Friday, be hosting Eurovision themed parties that will bring guests such as Festival da Canção's veterans Rui Andrade, Catarina Pereira or Ricardo Soler. Anabela and Dora, former Portugal's representatives, are also on the wishlist.
"We're trying to give fans an alternative to the EuroClub", that's what Marco Mercier wants the Eurovision fans to know. The club promises to be this year's biggest unofficial EuroClub for the Eurovision Song Contest 2018.
Besides the special guests, the famous drag queens of the venue will also entertain the audience with their outrageous costumes and lipsyncing.
Catarina Pereira to cover Euphoria
Trumps is divided in two dancefloors. A smaller one where House music remixed with Pop plays all night and a main one Pop prevails every Friday. Nonetheless, Marco tells us that with the Eurovision party things will change: "For the first time, we will have Pop music in both dancefloors. The main one will be a mix of Pop music and Eurovision songs while the smaller will focus mostly in acts such as Britney Spears, Beyoncé, Lady Gaga and other Pop acts."
The first Eurovision party will take place next Friday, 9th of March, and the first guest will be Catarina Pereira who has attempted to represent Portugal in Eurovision twice now. The Portuguese singer will cover Euphoria and sing her own Canta Por Mim. The admission for an Eurovision party in Trumps will be of 10€ and will include a drink.
Take a look at the event's promotional video below: